3 Reasons Netflix Is Down but Not Out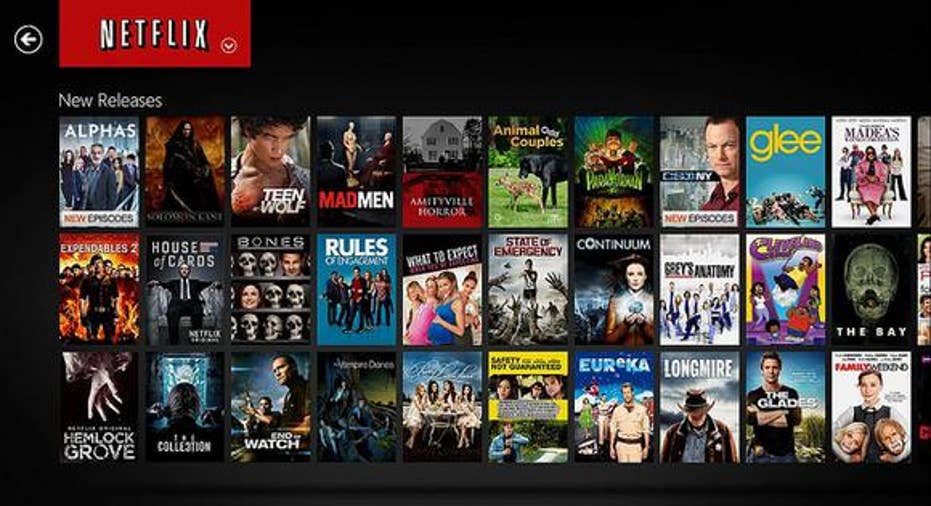 Wall Street didn't like the financial results Netflix. announced yesterday afternoon. The disruptive video content distributor posted mixed quarterly results, but the real dagger came in the form of its subscriber-growth projections for the current quarter.
Netflix sees just 2.5 million net additions for the current quarter. That's well below the record 6.74 million that it just scored during the past three months, but that's not the problem. Signups are seasonal, and the second quarter is historically its weakest period when it comes to wooing new accounts. However, it's still fewer than the 3.28 million in net additions it rang up during last year's second quarter. It was also well short of where Wall Street pros were perched.
"Don't be surprised if the stock takes a hit even after a blowout report if it's targeting less than 3.3 million net additions for the new quarter," I warned over the weekend ahead of the report. That turned out to be the case, unfortunately.
Netflix sees year-over-year subscriber growth decelerating both here and abroad. Its guidance calls for 500,000 domestic and 2 million international net additions. Analysts were modeling growth of 586,000 in the U.S. and 3.5 million internationally.
That's problematic, and the stock taking a hit on the news isn't surprising. However, there were also several catalysts touched on during Netflix's shareholder letter and subsequent interview to give opportunistic investors hope that better days are ahead.
1. Contribution margin is improving on both streaming frontsNetflix's guidance calls for revenue to climb 33%, but with operating profit and earnings falling sharply it may seem to suggest that the wheels are starting to come off. That's not the case. Contribution margin for its streaming operations is actually inching higher domestically while the deficit is shrinking internationally.
Net margins are taking an overall hit as a result of prolific content releases and associated marketing campaigns. There's also Netflix's ever-shrinking DVD rental business. It's still a good place to be. Netflix's flagship streaming business -- accounting for the lion's share of its revenue and 95% of its subscriber base -- is still living up to its end of the bargain.
2. Longtime subscribers will be paying more soon -- but not too soonNetflix charges $9.99 a month for its most popular streaming plan that comes with high-def access on two screens at the same time. This is important, since Amazon.com just announced that it will start offering its similar Amazon Prime Video platform as a standalone service at $8.99 a month.
The price point is important because roughly half of Netflix's domestic streaming audience is paying $7.99 or $8.99 a month. They were grandfathered in when the dot-com darling boosted its rate for new subscribers in May of 2014 and this past October. The first wave could be seeing increases as soon as May 9 -- the two-year anniversary of the increase -- but Netflix promises that it will take its time.
"We are rolling this out slowly over the year, rather than mostly in May, so we can learn as we go," CEO Reed Hastings writes.
3. Netflix loves to lowball its guidanceWith the stock taking a hit on weak subscriber guidance, it's important to remember that Netflix loves to underestimate its magnetism. It has issued conservative guidance nearly every quarter over the past several years.
The 6.74 million net additions it lined up during the first quarter was just 6.1 million in its January forecast. It had pegged the 5.59 million it delivered in net additions during the holiday quarter to clock in at 5.15 million in late October. Does this mean Netflix's guidance, calling for it to close out the current quarter with 2.5 million more streaming subs than it had when the year began, could approach the 3.28 million it secured a year earlier? That will be a challenge. It would represent a 31% beat when it has exceeded expectations by just 9% to 10% over the past two quarters.
However, a delicious nugget is that its guidance for the second quarter last year was also 2.5 million. That worked out well. It could work out well again. Netflix stock soared the day after last year's report. It's going the other way this time around. It won't always stay that way.
The article 3 Reasons Netflix Is Down but Not Out originally appeared on Fool.com.
Rick Munarriz owns shares of Netflix. The Motley Fool owns shares of and recommends Amazon.com and Netflix. Try any of our Foolish newsletter services free for 30 days. We Fools may not all hold the same opinions, but we all believe that considering a diverse range of insights makes us better investors. The Motley Fool has a disclosure policy.
Copyright 1995 - 2016 The Motley Fool, LLC. All rights reserved. The Motley Fool has a disclosure policy.