3 Reasons MGM Resorts International Stock Is Ready for a Rebound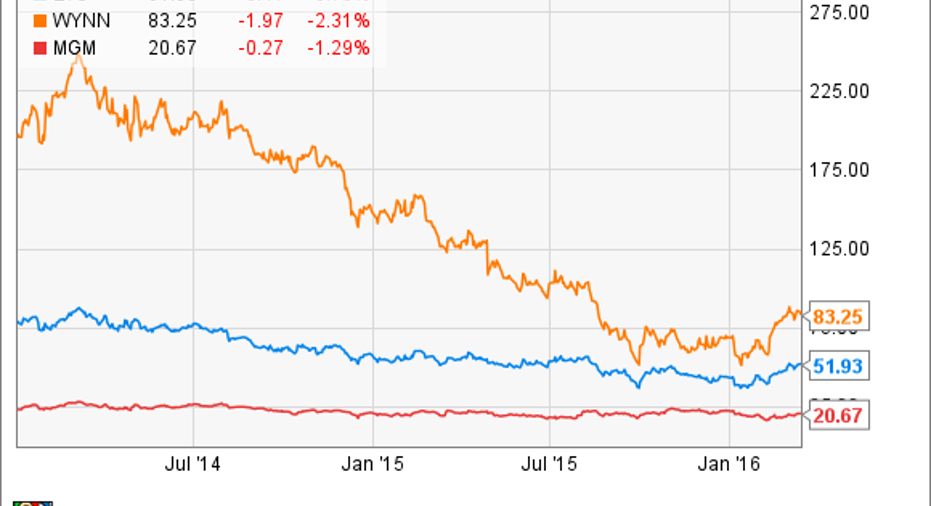 MGM Resorts International stock has fallen almost 20% over the past two years. However, that is a small loss compared with the 35% drop forLas Vegas Sands and 60% decline forWynn Resorts over the same period. MGM's saving grace has been its well-timed regional bets in Las Vegas and a focus on non-gambling revenue. Here's why those bets are positioning the company and its stock for future success.
Data byYCharts
1. New Las Vegas arena opening in JuneLas Vegas recorded a record 42.3 million tourists in 2015. However, gambling revenue has been almost stagnant in recent years, as visitors are increasingly turning to other activities like dining and entertainment. MGM has been taking advantage of this shift as the operator of more hotel rooms in Vegas than any other company -- around 27% of the total base. The company also has more properties, live shows, and convention space than its competitors.
A rendered view of the arena. Source: ArenaLasVegas.com
Convention attendance surged more than 13% in Las Vegas last year. Over 21,000 conventions and business meetings were held during 2015, hosting nearly six million attendees. Las Vegas is also the home to many major athletic events and concerts as it lobbies to be the home of the next NHL team. Fortunately for investors, MGM is helping to build an arena to accommodate all of that as well.
The 20,000-seat T-Mobile arena is set to open its doors this summer. Excitement around the new event space, coupled with a focus on non-gambling growth in the region, could help push MGM shares higher.
2. The $1.1 billion sale of Las Vegas MallMGM Resorts has reached a deal to sell the Las Vegas Mall, a 324,000 square-foot piece of MGM's City Center property. The company has been pursuing such a sale for some time, and the reported deal with Simon Malls, a brand of Simon Property Groupand Invesco, is finally ready to go through this year.
For MGM, the sale represents an opportunity to use this substantial windfall to help pay down debt that MGM has added to its balance sheet for other investments, including the Las Vegas Arena and properties in the Northeast. The extra cash and leaner balance sheet should comfort investors looking to bet more on MGM.
3. Macau's timely turnaroundThe strongest headwind driving down gaming industry stocks over the past few years has been the fall of Macau. The Chinese gambling enclave generated about seven times as much revenue as Las Vegas in early 2014, only to be crushed by government regulations as China moved to curb illicit and VIP gambling activity. However, MGM has fared much better than its competitors as the company had much less exposure to the region. As of the first quarter of 2014, Wynn and Las Vegas Sands were generating about 75% and 66% of their total revenue in Macau, respectively. MGM, on the other hand, logged only 33% in the region.
It now appears that Macau hit its bottom as year-over-year gambling revenue has flattened, and month-over-month revenues have started to grow again recently. MGM has a massive new resort opening in Macau in early 2017 when the market is hopefully well on its way to recovery. The well-timed opening of this newest casino could help the stock see major upside going forward as MGM results get a boost from the bigger bet in Macau.
Rendered view of what MGM Cotai is expected to look like. Source: MGM Macau
Worth a bet?MGM is not without its risks, including its industry-high debt load and untested new resorts opening in the Northeast. However,between the Las Vegas Arena opening this summer, the sale of the Las Vegas Mall, and the opening of MGM Cotai in Macau next year, things are looking good for MGM and its stock.
The article 3 Reasons MGM Resorts International Stock Is Ready for a Rebound originally appeared on Fool.com.
Bradley Seth McNew owns shares of Las Vegas Sands.. The Motley Fool has no position in any of the stocks mentioned. Try any of our Foolish newsletter services free for 30 days. We Fools may not all hold the same opinions, but we all believe that considering a diverse range of insights makes us better investors. The Motley Fool has a disclosure policy.
Copyright 1995 - 2016 The Motley Fool, LLC. All rights reserved. The Motley Fool has a disclosure policy.