3 Reasons Medivation Is the Juiciest Target in Biotech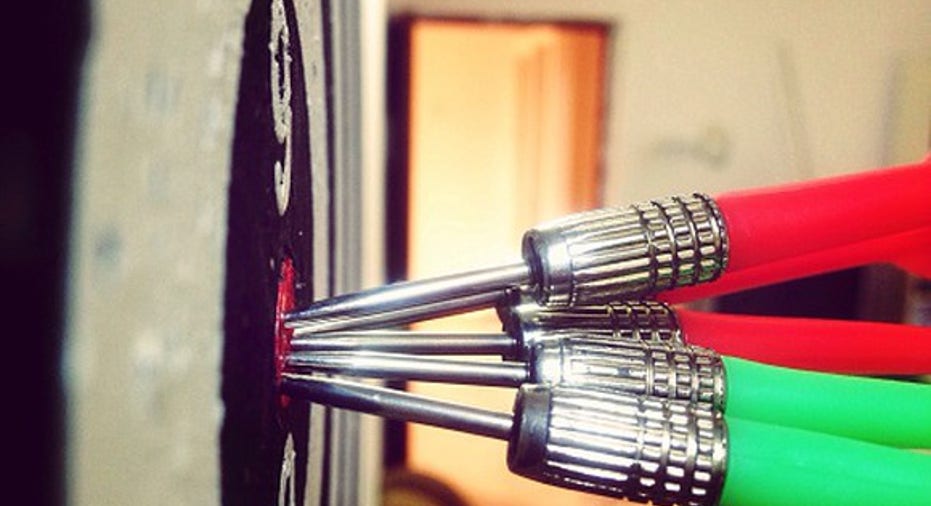 Image source: Getty Images.
When the going gets tough, the tough go shopping -- especially when the tough run a major drug company. And given how many big pharmas are facing serious patent losses, it's no surprise that seemingly half of the world's drug companies are rumored to be falling all over themselves to snap up cancer-focused biotech Medivation (NASDAQ: MDVN).
Investors should take note, because Medivation could add a much-needed new revenue source to a flatlining big pharma's sales. The biotech has a prostate cancer drug on the market, Xtandi, whose blockbuster sales could deliver a quick top-line increase to any buyer.
But which companies are really in the hunt? That depends on whom you listen to, but Medivation recently said it had entered into confidentiality agreements with several potential bidders. The list of possible contenders for the $11.1 billion company includes: Pfizer (NYSE: PFE), AstraZeneca (NYSE: AZN), Novartis (NYSE: NVS), Amgen (NASDAQ: AMGN), Gilead Sciences (NASDAQ: GILD), Celgene (NASDAQ: CELG), and Roche Holding Ltd. (NASDAQOTH: RHHBY).
But Medivation won't be bought for a dime -- or even $11 billion. The company has already swiftly rejected at least two bids from formerly hostile bidder Sanofi (NYSE: SNY); the last one the French drugmaker sweetened to $11 billion, or $58 a share.Medivation CEO Dr. David Hung called the offer "opportunistic," and the company's board decided it substantially undervalued the company.
Here's what makes Medivation such a mouth-watering takeover target for big pharma and big biotech.
One drug to rule them all
Medivation's drug Xtandi brought in $638 millionin the U.S. in the past six months, as reported last quarter. That's a 22% jump from the six months previous, putting Xtandi ahead of its former rival, Johnson & Johnson drugZytiga. Xtandi now owns 51%of this market -- and for the best of all reasons: More prostate cancer patients are using the drug, and they are taking it for longer -- nine months on average now. Medivation is also studying Xtandi for other indications, including breast cancer, where a mid-stage trial is expected to show results in the fourth quarter this year.
Xtandi's peak annual sales in the U.S.are estimated to climb as high as $5.5 billion, but that is a best-case scenario that assumes expanded approval in several indications. Still, this superstar drug has a lot of appeal to prospective bidders. And Medivation has other gems hidden deeper in its pipeline.
Hopes for Medivation's PARP inhibitor are sky-high
Medivation has been loudly touting another drug in its pipeline: talazoparib, a potential partner with Xtandi for combination treatment. The company claims talazoparib has the potential to be "best-in-class" among so-called PARP inhibitors -- a new type of medicine designed to stop tumor cells from multiplying by damaging their DNA.
Medivation expects late-stage data on talazoparib next year in breast cancer. The drug also has potentialas a treatment in cervical, lung, and ovarian cancers. Assuming talazoparib makes it through the FDA gauntlet successfully, it could be used alongside Xtandi in a cancer-fighting cocktail. If that happens, it could help boost Xtandi's sales while adding sales of its own.
While the focusfor acquirershas been on talazoparib and Xtandi, Medivation has several other potentially big drugs in its pipeline. Those include immuno-oncology drug pidilizumab, a treatment for diffuse large B-cell lymphoma that's in an ongoing phase 2 trial. Medivation has also initiated an early-stage trial for acholesterolregulator itdevelopedin-house, adding diversity to its potential product line.
Profitable oncology biotechs are rarer than hen's teeth
Many factors make acquisitions attractive for traditional big pharmas. But in recent years, deals have tended to focus on targets that provide a blockbuster drug that can pump up the acquirer's sales. A second major focus has been on companies with a strong pipeline to beef up the acquirer's future prospects. Medivation fits into both categories perfectly. And it's profitable, giving it significant scarcity value as one of the very few profitable oncology companies on the market.
So how high could Medivation's stock go, assuming a deal pans out? In the best-case scenario, where its drugs are assumed to meet or beat expectations, Jefferies analystBiren Amin estimated its valuation as high as $71 to $75 a share. Amin attached those values to specific possible buyers, saying it should be worth $71 a share to Sanofi and $75 to Amgen. That's one analyst's opinion, however, and reality may not look so rosy.
Getting top dollar is the company's obligation to its shareholders, and Medivation is pressing hard to make it happen. In July, Medivation's chairman of the board, Kim Blickenstaff, said that opening its books "will allow interested parties to fully understand the significant value of our Xtandi franchise and the enormous potential of our pipeline, including talazoparib, our promising, potential best-in-class PARP inhibitor."
You can almost hear the "ka-ching" behind hiswords.
A secret billion-dollar stock opportunity The world's biggest tech company forgot to show you something, but a few Wall Street analysts and the Fool didn't miss a beat: There's a small company that's powering their brand-new gadgets and the coming revolution in technology. And we think its stock price has nearly unlimited room to run for early in-the-know investors! To be one of them, just click here.
Cheryl Swanson owns shares of Johnson & Johnson, GileadSciences, and Amgen. The Motley Fool owns shares of and recommends Celgene and Gilead Sciences. The Motley Fool has the following options: short October 2016 $95 puts on Celgene and short October 2016 $85 calls on Gilead Sciences. Try any of our Foolish newsletter services free for 30 days. We Fools may not all hold the same opinions, but we all believe that considering a diverse range of insights makes us better investors. The Motley Fool has a disclosure policy.