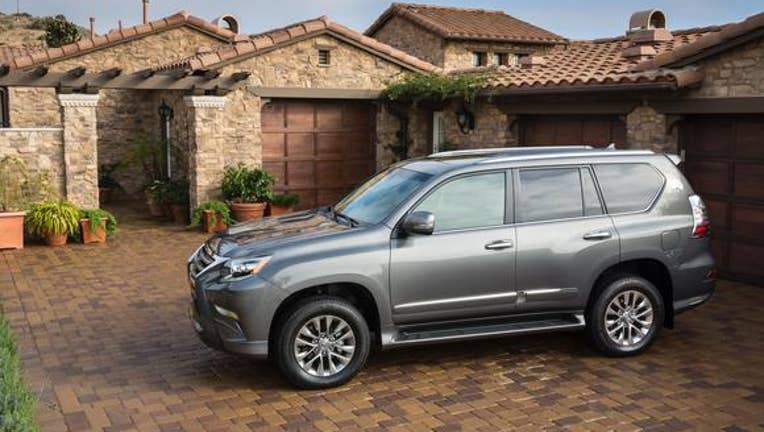 The Lexus GS was one of several models called out for praise in the latest edition of J.D. Power's influential Vehicle Dependability Study. Image source: Toyota.
Last week, J.D. Power released the latest edition of its influential and widely watched Vehicle Dependability Study. The VDS, as it's called in the industry, asks consumers who have owned a vehicle since it was new to report any problems that showed up in thethird year of their vehicle's life. It then aggregates the data to draw conclusions about which models -- and whichbrands-- have the fewest problems.
So which brand had the fewest this time around? It wasToyota's vaunted luxury brand, Lexus. Lexus had just 95 problems per 100 vehicles. That may sound like a lot, but it's actually a terrific showing.
Still, that doesn't seem like much of a surprise. Ho-hum, another year, another quality study with Toyota's luxury brand at the top, right? It's like a study that concludes that the sky is blue.
Or is it? Three Foolish contributors weigh in below.
Daniel MillerListen, you would have to be as argumentative as Skip Bayless on ESPN to say that Lexus placing atop J.D. Power's VDS isn't as good as it seems. Lexus placing No. 1 in the study for five consecutive years should really speak for itself. Even if you dive into the details, each of its vehicles individually beat the competition head-on. The study shows that the Lexus ES ranked higher than direct competitors for compact premium cars -- the BMW 1 Series, Acura ILX, and Audi A4. The Lexus GS also beat out the Mercedes-Benz E-Class for the highest ranked midsize premium car.
However, if you're still not convinced, the only thing to do is check a secondary source for a similar bit of information.
Consumer Reports 2016 Annual Brand Report Card,a respected indicator of which brands make the best vehicles, shows that Lexus rates very high. Out of the 30 brands CR ranked, Lexus placed third behind only Subaru and Audi. Furthermore, CR goes as far as to indicate how many cars of each brand that it tested it would "recommend." CR recommends 88% of Lexus models, and the brand is one of only five that scored such a high percentage.
It's simple: Lexus' ranking atop J.D. Power's Vehicle Dependability Study is as good as it seems.
Rich SmithIs Lexus' 2016 VDS score as good as it looks? Absolutely not!
I realize this is sort of a contrarian take on the news that Lexus topped the report's list, beating out even Porsche by two points, and reporting barely 62% as many problems per vehicle as the average carmaker. But really, if Lexus was as good as that score makes it sound, don't you think that more Lexus car models should have been winning their segments as well?
As it turned out, though, while the Lexus ES was J.D. Power's top-ranked compact premium car for dependability, and the Lexus GS was Power's favorite midsize premium car -- that was basically it. No other Lexus cars even placed in the rankings.
The Lexus ES sedan won top honors in the compact premium car segment. Image source: Toyota.
Fact is, Lexus' performance basically tied with the achievements of several other carmakers. Hyundai placed twice in the "top three models per segment" contest with its Sonata and Accent sedans. Nissan won accolades for the Maxima and Versa. Buick won the compact car and large car contests outright with its Verano and LaCrosse, respectively. And Chevy scored two absolute "top model" picks -- winning in midsize sedans with the Malibu, and winning the midsize "sporty cars" segment with its Camaro.
Much more important to Toyota's success, I suspect is the fact that the parent company's own brand won honors left and right in the VDS report. Toyota nameplates took home four top-three trophies, for the Corolla, Prius, Camry, and Avalon. That's twice as many honors as Lexus notched.
Long story short, Lexus' victories are great for bragging rights, but it's the recommendations Toyota is racking up in more mass-market cars that really get me excited about Toyota stock.
I'll start by noting that Lexus also placed an SUV among the segment leaders. Its GX line was the highest-ranked Midsize Premium SUV in the study, giving it three total segment wins, not just two. Overall, Toyota products won six of the segment crowns, second only toGeneral Motors with eight. (Yes, GM really did win more than Toyota. And that was no fluke, as GM's four brands also did very well in the rankings.But that's another story.)
But to the larger points that my Foolish colleagues have made, here are my two cents. On the one hand, it's just one study, a single data point. But on the other hand, its results were no surprise. The latest edition of the VDS only reinforces the impression of Lexus that we've had for years and years. The brand is known for quiet, smooth-riding, effortless, quiet, no-fuss, and quiet vehicles that will run for years with few problems. (Did I mention quiet?)
The J.D. Power study ranked the Lexus GS as tops in the midsize premium SUV class. Image source: Toyota.
I'm joking (sort of) about the quiet. But like its parent Toyota's mass-market models, Lexus' vehicles arecelebrated, quite rightly, for quality and durability. That's a big part of what the Lexus brand represents, and it's a big part of how Lexus managed to get established as a credible competitor to the big three German luxury giants that have come to dominate the global market for luxury vehicles.
So what about this study? Its results reinforce something that most of us already thought we knew -- Lexus' vehicles are, generally speaking, exceptionally reliable. And if CEO Akio Toyoda's efforts to make Lexus' products more exciting pan out, the brand could be in for some big gains in market share. Stay tuned.
The article 3 Reasons Lexus' Superb Dependability Isn't as Good as It Looks (Or Is It?) originally appeared on Fool.com.
Daniel Miller owns shares of General Motors. John Rosevear owns shares of General Motors. Rich Smith has no position in any stocks mentioned. The Motley Fool recommends BMW and General Motors. Try any of our Foolish newsletter services free for 30 days. We Fools may not all hold the same opinions, but we all believe that considering a diverse range of insights makes us better investors. The Motley Fool has a disclosure policy.
Copyright 1995 - 2016 The Motley Fool, LLC. All rights reserved. The Motley Fool has a disclosure policy.