3 Reasons Lennar Stock Could Rise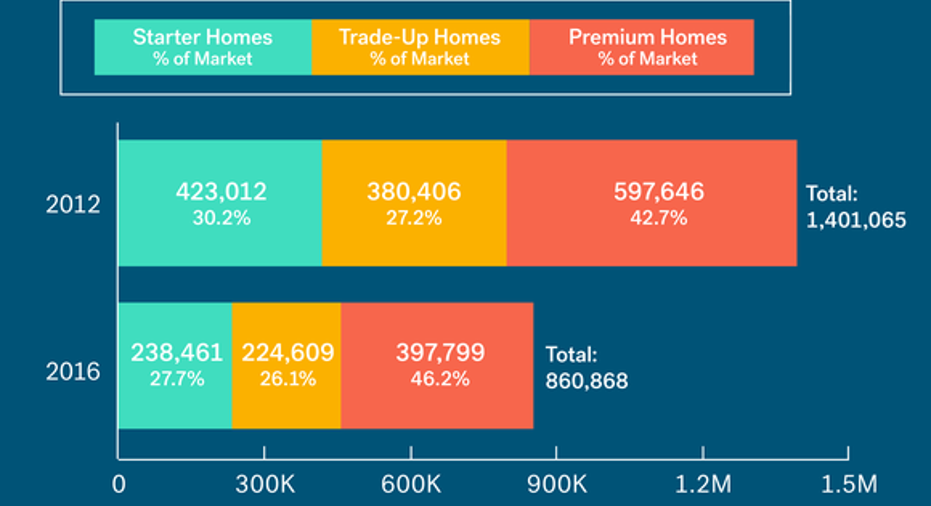 Image source: Lennar.
Home builderLennar's business isn't by any means devoid of risk. While those risks should not be overlooked, there are several trends that could help to drive the homebuilder's stock higher in the months ahead. Here are three of the most significant.
Low inventories
"America is experiencing a housing shortage," says a March report by online real estate site Trulia. Indeed, with a third less premium homes and 40% fewer starter and trade-up homes on the market compared to 2012, housing inventory is tighter than it's been in years.
Image source: Trulia.
As a supplier of new homes, Lennar and its fellow homebuilders stand to benefit from this situation. In April, sales of new single-family homes surged 16.6% to a seasonally adjusted annual rate of 619,000, according to the Commerce Department. That was the fastest pace in more than eight years.
Yet there's still plenty of room for new home sales to trend higher, as years of under production have depressed supply. For example, The Wall Street Journal notes that Americans bought 501,000 new homes last year -- a figure that, while the highest since 2007, is still far from the 716,000 annual average during the decade between 1990 and 2000. And Trulia reports that even after their strong rise in April, new home sales are still less than 80% of their 50-year average. So, while new home construction certainly appears to be on the upswing, we're likely still in the early innings of a housing rebound.
Rising prices & declining negative equity
Tight inventory levels are also helping to boost home prices. In turn, the number of homeowners with negative equity -- meaning they owe more on their mortgages than their homes are currently worth -- is decreasing rapidly.
Online real estate marketplace Zillow notes that while six million homeowners were still underwater in the fourth quarter of 2015, that's down from eight million homeowners who were upside down on their mortgages a year ago, and a peak of nearly 16 million in the first quarter of 2012. As those numbers continue to improve, more people will be able to afford to sell their homes, which tends to increase demand for new homes, particularly in the trade-up category.
And declining negative equity will allow many homeowners -- and by extension, homebuilders -- to benefit from another favorable trend, namely...
Historically low mortgage rates
The 30-year fixed-rate mortgage averaged 3.39% on Zillow on June 14, down from 3.42% the prior week and close to the all-time low -- according to records by Freddie Mac going back to 1971 -- of 3.31% reached in late 2012.
Even better, with Federal Reserve officials deciding to hold off on raising interest rates at their June policy meeting and scaling back their rate forecasts for the rest of the year, it appears that mortgage rates may stay at their historically low levels for longer than many market prognosticators predicted.That should help with housing affordability, as borrowers are able to qualify for larger mortgages and/or lower their mortgage interest expense (and thereby monthly housing costs).Both of these benefits should be a boon to homebuilders like Lennar, since borrowing costs are often a major factor in the new home sale equation.
Investor takeaway
All told, low mortgage rates -- together with tight housing inventories, rising home prices, and declining negative equity levels -- should help to boost new home sales in the months ahead. As one of the nation's leading homebuilders, Lennar -- and its shareholders -- are well positioned to profit handsomely from these trends.
The article 3 Reasons Lennar Stock Could Rise originally appeared on Fool.com.
Joe Tenebruso has no position in any stocks mentioned. The Motley Fool owns shares of and recommends Zillow Group (A and C shares). Try any of our Foolish newsletter services free for 30 days. We Fools may not all hold the same opinions, but we all believe that considering a diverse range of insights makes us better investors. The Motley Fool has a disclosure policy.
Copyright 1995 - 2016 The Motley Fool, LLC. All rights reserved. The Motley Fool has a disclosure policy.