3 Reasons Investors Should Keep an Eye on Shopify Inc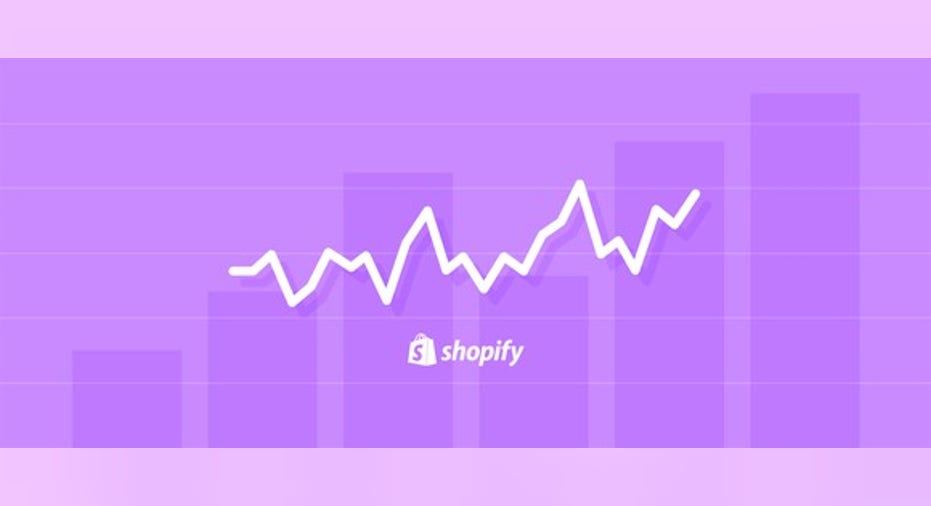 Image source: Shopify.
Shopify(NYSE: SHOP)stock has been on a tear, rocketing up over 180% since the company went public in May of 2015. The company's business model is pretty simple: Sign up merchants, charge merchants to use its platform, help merchants sell stuff, and take a small percentage from each sale. Then, rinse and repeat at alarger scale with more profitability. Shopify is executing this strategy extremely well, posting strong third quarter 2016 results with record growth in total merchants, sales volume, and revenue.
Most importantly, management remains focused on the long-term, giving investors the potential for even better returns in the future. Below are the three primary reasons I am excited about Shopify's future.
1. A relatively small company in a growing industry
According to AMI, a global small and medium business (SMB) insights company, in 2014, there were 46 million SMBs with 10 million operating in Shopify's core markets. With over 325,000 merchants already signed up, Shopify claims just 3.3% of its core addressable market and less than 1% of its global addressable market. There are decades of growth potential in Shopify's industry, and management plans to gain a larger percentage of market share each year.
Shopify falls nicely into the "relatively small" basket of companies, weighing in at a $4.3 billion market capitalization.
2. Innovative management with a long-term vision
During the company's third quarter 2016 release, founder and CEO Tobi Lutke said, "Our accomplishments over the last few months support the strategy we have made clear from the beginning, which is to do the things that help merchants succeed."
He continued:
Shopify has stuck to its mission of putting merchants first while maintaining an innovative spirit, staying at the tip of the e-commerce spear by integrating with the newest, most popular apps and technologies. Its long-term vision reminds me of Amazon.com's intense focus on customer satisfaction and Netflix's transition from DVDs to streaming content. Both companies have rewarded investors handsomely by forgoing short-term profitability to secure decades of future growth.
3. A product that sells
The company's ability to sign up merchants is crucial. If it fails to do so, then game over.In the last quarter, Shopify had over 325,000 merchants on its platform, an increase of 60% from the prior year -- no signs of weakness there.
Once merchants are onboard, Shopify collects revenue from them through two methods: merchant solutions (the small percentage merchants pay Shopify when they make a sale) and subscription solutions (the fees merchants pay on a monthly basis to use the platform). There are also two key terms investors must understand to evaluate the quality of merchants on Shopify's platform.
The first is gross merchandise volume (GMV): the total dollar value of orders processed on the Shopify platform, counting refunds, and including shipping and handling, duty, and value-added taxes. GMV drives Shopify's merchant solutions revenue.
GMV for the third quarter of 2016 was $3.8 billion, an increase of 100% over the third quarter of 2015. Merchant solutions revenue was $49.7 million, an increase of 115%. The fact that revenue in this category is growing more than volume shows Shopify is succeeding at helping merchants sell goods and becoming more efficient while doing so -- two great trends.
Image source: Shopify investor presentation.
The second key term is monthly recurring revenue (MRR), which is calculated at the end of each period by multiplying the number of merchants subscribed with Shopify at the period end date by the average monthly subscription plan revenue in effect on the last day of that period. MRR for the third quarter was $16.3 million, up 67% from the prior-year period. We can get a good estimate of the average monthly subscription fee per merchant by dividing MRR of $16.3 million by Shopify's roughly 325,000 merchants: $50, up 2% from last year.
Image source: Shopify investor presentation.
Finally, by adding $49.7 million of quarterly revenue from merchant solutions and $49.8 million from quarterly subscription solutions, we know Shopify brought in revenue of $99.6 million for the quarter, an 89% gain from the third quarter last year. This is the type of growth investors should get excited about.
Image source: Shopify investor presentation.
So what's not to like?
The chart below shows quarterly gross profit at $52.5 million. When calculating that number, only expenses directly associated with those lines of revenue were subtracted. It is important for investors to understand these are not the only expenses, and the company is not currently profitable. After deducting operating expenses of $61.9 million, Shopify was left with a loss of $9.5 million for the third quarter. At this stage in the game, a lack of profitability is not a deal-breaker, but it is an area investors need to keep an eye on. If merchant or revenue growth unexpectedly slows, or expenses get out of hand, investors may want to reconsider their thesis for this stock.
Image source: Shopify investor presentation.
Shopify is a young company in a growing market with a product that clearly sells. The stock has soared, while the performance of the business has managed to stay in step with the stock. More transactions take place online every day, and Shopify has positioned itself as a key player with a powerful platform that resonates with businesses of all sizes. If it can continue growing its merchant rolls, help them sell more products every day, and keep expenses in line, Shopify has the potential to be a home run for investors who give it a spot in their investment lineup.
10 stocks we like better than Shopify When investing geniuses David and Tom Gardner have a stock tip, it can pay to listen. After all, the newsletter they have run for over a decade, Motley Fool Stock Advisor, has tripled the market.*
David and Tom just revealed what they believe are the 10 best stocks for investors to buy right now and Shopify wasn't one of them! That's right -- they think these 10 stocks are even better buys.
Click here to learn about these picks!
*Stock Advisor returns as of January 4, 2017
Austin Liebermanowns shares of Amazon.com, Netflix, and Shopify. The Motley Fool owns shares of and recommends Amazon.com, Netflix, and Shopify. The Motley Fool has a disclosure policy.