3 Reasons Intuitive Surgical's Shares Soared $20 Today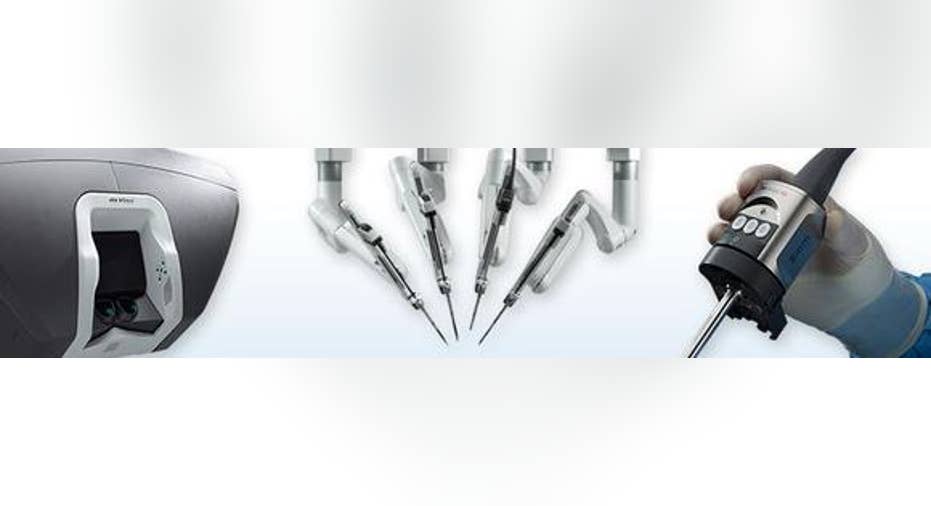 Image source: Intuitive Surgical.
After reporting strong first quarter sales and earnings, shares in robotic surgery industry-leader Intuitive Surgical surged higher by more than $20.85 per share. The jump in the company's share price is due in part to improving sales, surging earnings, and importantly, soaring procedure growth.
Booking revenueIntuitive Surgical makes its money from selling its million-dollar robotic surgery systems and then selling disposable consumables, like instruments, that are used to perform procedures.
Exiting last year, nearly 3,600 of Intuitive Surgical's da Vinci surgical systems had been installed at hospitals and other surgery centers worldwide, and as a result, the company's top line increased 11.8% to $595 million in Q1.
Peering behind the curtain of those sales reveals important trends that could drive sales higher in the future.
Specifically, the company benefited from the delivery of 110 new da Vinci systems, up from 99 systems a year ago, and that resulted in system revenue increasing 5% to $148 million. System revenue growth was held back by stable average selling prices for its systems, and because stable pricing resulted in more installs, that's good news for future recurring sales of disposable instruments and accessories, and service contracts.
In Q1, Intuitive Surgical's instrument and accessory revenue jumped 16% to $322 million, and service revenue rose 9% to $125 million. Combined, those recurring revenue sources represented 75% of Intuitive Surgical's total revenue.
Capitalizing on demandSelling a system once and then racking up recurring sales from higher-margin consumables and service contracts is leading to an increasingly more profitable company.
Thanks to a growing proportion of sales coming from instruments, accessories, and service, the company's operating margin improved to 30.1% last quarter from 24.5% in Q1, 2015. A spike in margin led to non-GAAP net income jumping to $170 million from $135 million last year, and non-GAAP earnings per share reaching $4.42, up from $3.57 a year ago.
Tapping a bigger marketSpiking margin is great news for investors, especially since the number of procedures being done with da Vinci systems is growing.
In Q1, Intuitive Surgical reports that total procedures performed with its da Vinci machines grew 17% year over year, a rate that's a faster than both revenue and profit growth. The 17% lift in procedures also outpaced the company's prior forecast for 9% to 12% global procedure growth in 2016, and it may indicate that the company is executing on its strategy to expand da Vinci's use into more types of surgeries.
Roughly 3 million procedures have been conducted with da Vinci systems since their launch, including 652,000 procedures conducted last year. However, robotic surgery has made limited inroads outside of urology and gynecology, and that has Intuitive Surgical thinking that there's a big opportunity to grow da Vinci's use in colorectal, ventral hernia, and thoracic surgeries. Overall, Intuitive Surgical thinks its surgical systems target a market totaling 4 million procedures annually.
Looking aheadAs robotic surgery becomes more common, other competitors are likely to emerge that hope to knock Intuitive Surgical from its perch; however, those threats may still be far off in the future.
Upstart TransEnterixhad hoped to win FDA approval to begin marketing its SurgiBot robotic surgery system this month, but the FDA has opted to shelve approval for now, casting doubt on when this new system could reach the market. Also, Verb Surgical is attempting to build next-generation robotic surgery systems, but its efforts are in the early stages.
Investors will want to keep an eye on the progress of competitors, but given that Intuitive Surgical appears to have this market to itself for the time being, and more da Vinci systems are being installed every quarter, it would seem the company still has plenty of runway ahead of it.
The article 3 Reasons Intuitive Surgical's Shares Soared $20 Today originally appeared on Fool.com.
Todd Campbell has no position in any stocks mentioned. Todd owns E.B. Capital Markets, LLC. E.B. Capital's clients may have positions in the companies mentioned. The Motley Fool owns shares of and recommends Intuitive Surgical. Try any of our Foolish newsletter services free for 30 days. We Fools may not all hold the same opinions, but we all believe that considering a diverse range of insights makes us better investors. The Motley Fool has a disclosure policy.
Copyright 1995 - 2016 The Motley Fool, LLC. All rights reserved. The Motley Fool has a disclosure policy.