3 Reasons Geron Corporation Plunged 57% in 2016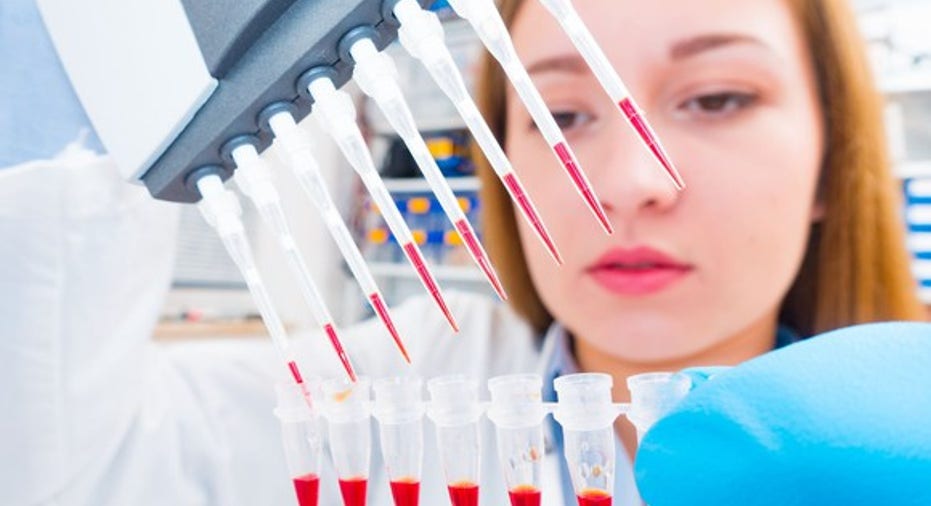 Image source: Getty Images.
What happened
Shares of Geron Corporation (NASDAQ: GERN), a clinical-stage biotechnology company focused on development treatments to fight cancer, plunged a whopping 57% in 2016, according to data from S&P Global Market Intelligence. The impetus for the fall can be traced to three catalysts.
So what
Without question, the biggest downside catalyst for Geron came in mid-September when, along with licensing partner Johnson & Johnson (NYSE: JNJ), it provided an update on the company's two ongoing mid-stage studies, IMbark and IMerge. Both trials are examining imetelstat, Geron's only clinical-stage therapy as a treatment for myelofibrosis and myelodysplastic syndromes, respectively. Although it was announced that the higher dose for the IMbark study in myelofibrosis demonstrated encouraging efficacy trends, the lower-dose study was discontinued due to lack of efficacy. This obviously worried Wall Street given that Geron's future hinges on imetelstat's success in clinical trials.
Second, investors can blame the waiting game. Even though Geron's management team has discussed branching out its pipeline, it's pretty much got a one-hit wonder with imetelstat, assuming its lead drug is successful. Biotech stocks thrive when there are catalysts and, frankly, there just wasn't much for Geron's shareholders to feed on during 2016.
Finally, Capitol Hill's talk of drug-pricing reform got the better of the entire biotech industry, including Geron, in 2016. President-elect Donald Trump has suggested that he'll work to bring down drug prices during his presidency, which would be bad news for specialty drugmakers like Geron that need high prices on their product to recoup the high costs of drug development and fund future research. If Trump and Congress find a way to rein in drug pricing, cancer drug developers could be hit especially hard.
Image source: Getty Images.
Now what
Though it wasn't a banner year for Geron, the company remains high on my personal watchlist, and it should be a stock that biotech-savvy investors with a very high tolerance for risk are following, too.
The allure of Geron is twofold. First, we have imetelstat as a treatment for myelofibrosis. Don't forget that in early-stage clinical studies, imetelstat became the first drug ever to demonstrate partial and complete responses in myelofibrosis patients. The only drug currently approved to treat myelofibrosis is Incyte's (NASDAQ: INCY) Jakafi, which is on its way to about $1 billion in sales perhaps in 2017 or 2018. If imetelstat demonstrates safety and efficacy in a larger study, it could easily supplant Jakafi, which merely mitigates some of the symptoms associated with the disease, and gobble up its revenue stream.
The other factor at work here is its partnership with Johnson & Johnson. Aside from receiving $35 million up front, Geron is eligible to receive $900 million in various development, regulatory, and sales milestones. Furthermore, if imetelstat is successful in late-stage clinical trials, J&J may opt to just buy Geron in full to gain hold of the entire revenue stream.
If you have both the time and risk tolerance, Geron could be an intriguing value here.
10 stocks we like better than Geron When investing geniuses David and Tom Gardner have a stock tip, it can pay to listen. After all, the newsletter they have run for over a decade, Motley Fool Stock Advisor, has tripled the market.*
David and Tom just revealed what they believe are the 10 best stocks for investors to buy right now... and Geron wasn't one of them! That's right -- they think these 10 stocks are even better buys.
Click here to learn about these picks!
*Stock Advisor returns as of Nov. 7, 2016
Sean Williamshas no material interest in any companies mentioned in this article. You can follow him on CAPS under the screen nameTMFUltraLong, and check him out on Twitter, where he goes by the handle@TMFUltraLong.The Motley Fool recommends Johnson and Johnson. The Motley Fool has a disclosure policy.