3 Reasons General Mills Stock Could Rise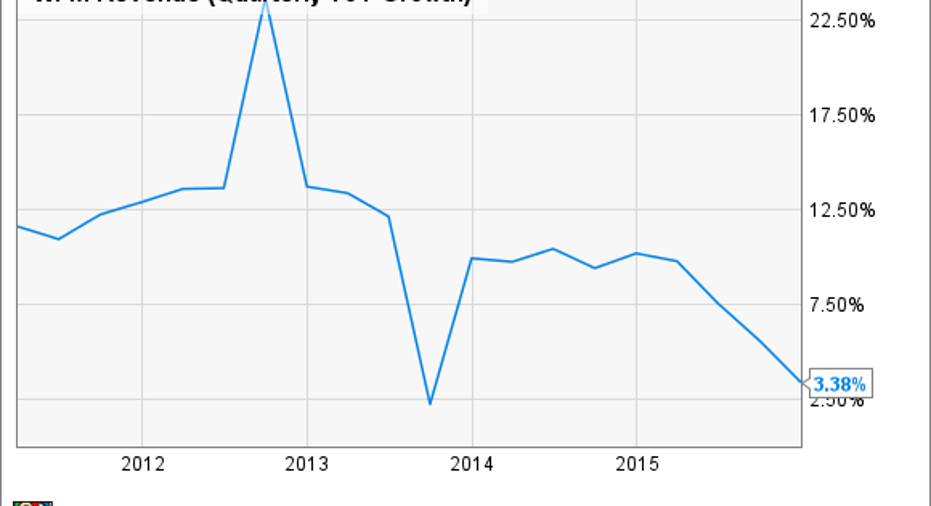 It's been a rough past couple of years forGeneral Mills . The company has seen competition from natural, organic, gluten-free products take market share, and its core cereal business has seen people, well, simply stop eating cereal. The result has been declining revenue and earnings. What could turn this company around?
GIS revenue (TTM) data by YCharts.
The organic movement slows downThe trend toward organic, natural, gluten-free products over the last few years has undoubtedly hurt General Mills. The company has tried to adapt by buying brands like Annie's, EPIC, and Cascadian Farm Brands, but these acquisitions are far more expensive than growing organically. Sales of natural and organic products for 2015 would have been just $675 million, out of $18.7 billion worldwide.
Image source: General Mills.
If the movement toward these products slows, General Mills could draw customers back to traditional brands in cereals, yogurts, and baking goods. It's difficult to gauge how this trend will evolve in the future, but one interesting data point is Whole Foods seeing growth slow dramatically over the past five years. Maybe that'll be a good sign for General Mills in the future?
WFM revenue (quarterly YOY growth) data by YCharts.
Small adaptations, like making Cheerios gluten-free, have also seemed to help performance lately, so small changes to adapt to customers' desires are helping the business. But broadly, the movement toward organics and natural products has to slow down for General Mills to return to growth.
International markets gain traction For a company like General Mills to grow, international markets need to play a key role in the business. But General Mills and competitors have found it difficult to crack many key markets.
In China, revenue was down 1% in first half of fiscal 2016, and in Brazil, revenue was down 2% over that time frame. What's proven difficult is translating U.S. brand success to those countries. Unless you're Coca-Cola, it's very challenging to bring a U.S. brand into a new market and immediately have success. The decline in sales in China and Brazil shows that General Mills is having problems with its international strategy, but a turnaround in these efforts would give the stock a boost.
E-Commerce could help growth Another interesting strategy being tested by General Mills is the sale of more products online. Amazon is selling products like Cheerios, Chex, and Cocoa Puffs through Prime Pantry, and the company is working with Wal-Mart and Peapod on e-commerce as well.
If e-commerce can become a growth market for General Mills, it could both increase sales and expand margins by cutting out a distribution layer. The transition of buying products online and picking them up or getting them delivered may be difficult, but it's a worthwhile effort because that's where customers are moving.
Don't expect a lot of growth from General Mills The best-case scenario for General Mills is that it slows the revenue decline and starts to turn positive again. But it'll take time for international sales, online platforms, and even organic demand to change the business dramatically.
In the grocery business, slow and steady wins the race. General Mills just needs some slow-and-steady wins to get investors excited about the stock again.
The article 3 Reasons General Mills Stock Could Rise originally appeared on Fool.com.
Travis Hoium has no position in any stocks mentioned.John Mackey, co-CEO of Whole Foods Market, is a member of The Motley Fools board of directors. The Motley Fool owns shares of and recommends Amazon.com and Whole Foods Market. Try any of our Foolish newsletter servicesfree for 30 days. We Fools may not all hold the same opinions, but we all believe thatconsidering a diverse range of insightsmakes us better investors. The Motley Fool has adisclosure policy.
Copyright 1995 - 2016 The Motley Fool, LLC. All rights reserved. The Motley Fool has a disclosure policy.