3 Reasons Fitbit Will Bounce Back in 2017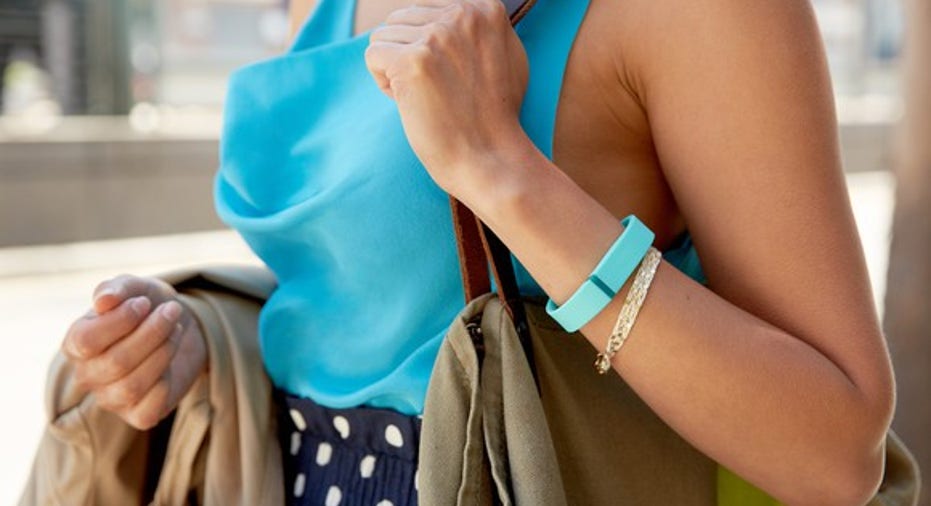 Image source: Fitbit.
Last year wasn't kind toFitbit (NYSE: FIT)investors. Shares of the top dog in wearable fitness plunged 75% in 2016, and that's not a good look for a company in its first year of public trading.
Things should get better for investors in the year ahead. Let's take a closer look at some of the reasons why the leading maker of activity trackers could and should turn things around in 2017.
1. Fitbit isn't a quarter of the company it used to be
Growth has slowed dramatically at Fitbit, and its guidance for the holiday quarter suggests that it may have sold fewer devices during the fourth quarter than it did a year earlier. Fitbit stock obviously isn't the same growth darling that investors were jumping on a year earlier, but the 75% haircut seems severe.
Folks are still wearing activity-monitoring bracelets, and the threat of smartwatches killing the niche proved hollow. The leading player in smartwatches is struggling to push its battery-slurping devices, and Fitbit was able to acquire the technology assets of pioneer Pebble recently for a song.
Margins have been decimated over the past year, and that will weigh on earnings-based valuations. However, the shrinking stock price combined with growing revenue finds Fitbit's price-to-sales multiple at less than 20% of what it was a year ago.
2. There is more than one comeback trail
The market's emphasizing the slowing growth of Fitbit at the retail level, and initial sales of its latest products -- it rolled out at least four major updates to its product lines through 2016 -- haven't been overly impressive. Things won't always stay that way, and we may actually be seeing some light at the end of the consumer-facing tunnel.
Fitbit's smartphone app raced to the top of the iOS App Store charts last week, implying that iPhone users found a lot of Fitbit products in their Christmas stockings this season. This could result in an upside surprise when Fitbit reports quarterly results in a few weeks given its previously uninspiring guidance.
There's more to Fitbit than its consumer-facing business these days. A growing number of companies are fortifying their wellness programs by subsidizing the purchase of Fitbit trackers in a shrewd move to encourage more active lifestyles and save on health insurance costs. Fitbit is starting to announce when corporate wellness programs single out the brand as their preferred provider, and we're now seeing even medical device and wireless companies incorporating Fitbit into their products.
3. Buyout chatter should limit the downside
Category leaders in distress sound off dinner bells for potential acquirers, and it's easy to see a scenario where Fitbit gets snapped up if its performance continues to meander. There's no shortage of consumer tech, watchmakers, and athletic apparel companies that would make sense as possible suitors.
All of this goes out the window if Fitbit's business completely falls apart. If consumers no longer want to wear fitness bracelets or if companies find more efficient ways to lower their healthcare costs, it will make less sense to buy Fitbit. It will become the new Pebble, a company on the rocks that would be acquired at a pittance instead of at a premium. It's a trend to watch, of course, but until we see that happening, the upside seems far more appealing than the downside here.
10 stocks we like better than Fitbit When investing geniuses David and Tom Gardner have a stock tip, it can pay to listen. After all, the newsletter they have run for over a decade, Motley Fool Stock Advisor, has tripled the market.*
David and Tom just revealed what they believe are the 10 best stocks for investors to buy right now... and Fitbit wasn't one of them! That's right -- they think these 10 stocks are even better buys.
Click here to learn about these picks!
*Stock Advisor returns as of Nov. 7, 2016
Rick Munarriz owns shares of Fitbit. The Motley Fool owns shares of and recommends Fitbit. The Motley Fool has a disclosure policy.