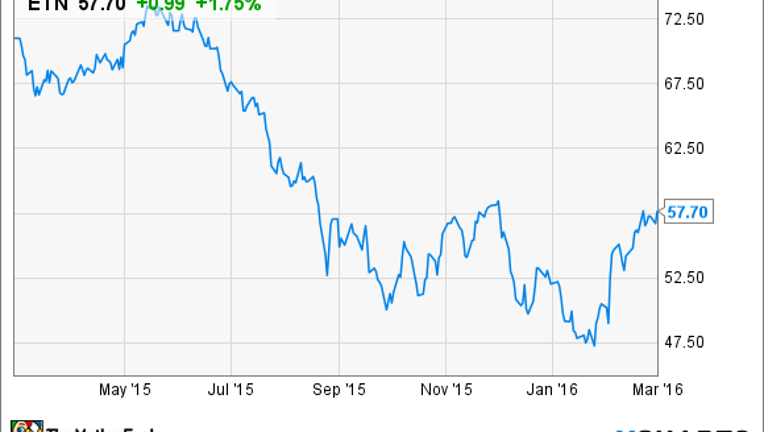 As Eaton's (NYSE: ETN) shareholders look to 2016 for a decisive shift in fortune, it's an appropriate time to break down near-term issues facing the company. Let's look at three present-day difficulties the power company's management must grapple with in 2016. While these aren't the only problems at hand, they can be considered core issues in Eaton's current business. If management can resolve the following, it will create a decent foundation for making back the losses of 2015.
Revenue continues to dropRevenue for the full year 2015 was down 7.5% versus 2014, mainly from a decrease in organic sales and currency volatility. "In 2016, we anticipate our organic revenues will decline between 2 and 4 percent, reflecting a continuation of sluggish markets around the world," said Eaton Chairman and CEO, Alexander Cutler in the 4Q earnings call on February 3. He goes on to say, "We anticipate 2016 will be the second consecutive year of decline in our end markets, the first back-to-back decline in our end markets since the industrial recession of 2001-2002."
Needless to say, the pressure on end markets is likely to lead to market disappointment in revenue and EPS figures.
ETN Revenue (Annual) data by YCharts
Margins will be pressured in low commodity environmentMargins will be pressured from customers cutting back projects and end users pulling back on demand. In addition, any short-term commodity price rebound will also weigh on margins since Eaton purchases raw materials, such as steel, copper, iron, nickel, aluminum, brass, tin, rubber, plastic, and insulating materials. All else being equal, the higher the prices, the lower the margins. The company saw increased operating margins during a favorable commodity backdrop, however, the company is already starting to see a drop in operating margins.
ETN Operating Margin (TTM) data by YCharts
Leveraged balance sheetEaton has $445 million of cash and marketable securities versus short-term and long-term debt of $668 million and $7.79 billion. Also, the company has pension and retirement benefit obligations of $2.02 billion. There appears to be no real concern right now about the company servicing its debt; however, negative tangible book value gives the company little room for error. Any adverse operating outcomes could exacerbate the downside if/when end users pullback on demand.
ETN Tangible Book Value (Annual) data by YCharts
Look before you leapFrankly, I'm impressed with the way Eaton has been able to skirt the volatility in the energy sector. It certainly helps to reaffirm how strong the company is in the energy space. With that said, I am still concerned about the company's leverage situation, especially since its $13 billion acquisition of Cooper in 2012. Right now the company generates excess free cash and outsized returns on capital, however, the company still serves the highly cyclical energy markets.
Revenue growth is currently a challenge, but the leverage situation is what bothers me the most right now. The company has over $7 billion of net debt and $2 billion in pension liabilities and no tangible book value. With these figures, equity value could erode quickly were the company to see a pullback in demand for its products and services -- which is likely in a depressed commodity environment.
Eaton certainly has the ability to further improve its business, but I'm skeptical in this low commodity environment. The longer commodity prices hang at these levels, the more pressure Eaton will feel with customers delaying or canceling projects.
Eaton is currently being valued at around 14.25x FCF -- not cheap, nor is it expensive. I like the company's strong competitive position, but I'd be apprehensive right now with commodity prices at these levels.
The article 3 Reasons Eaton's Stock Could Fall originally appeared on Fool.com.
Luke Neely has no position in any stocks mentioned. The Motley Fool has no position in any of the stocks mentioned. Try any of our Foolish newsletter services free for 30 days. We Fools may not all hold the same opinions, but we all believe that considering a diverse range of insights makes us better investors. The Motley Fool has a disclosure policy.
Copyright 1995 - 2016 The Motley Fool, LLC. All rights reserved. The Motley Fool has a disclosure policy.