3 Reasons Disney Stock Isn't Going Below $100 Again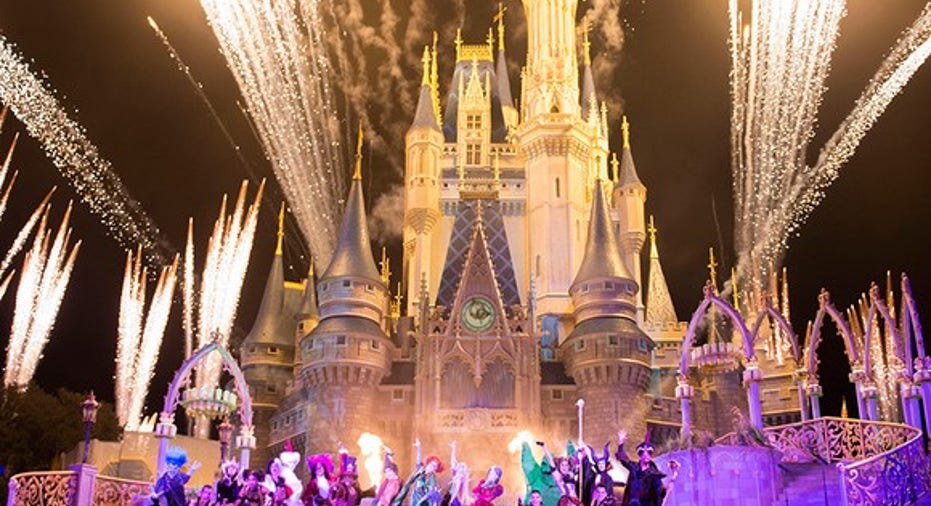 Image source: Disney.
Shares ofDisney(NYSE: DIS)closed above $100 on Tuesday, and it's a pretty big deal. Disney stock has broken through the double-digit ceiling to close north of $100 for the first time since mid-July. The stock began the year in the triple digits, but it didn't last. To be fair, it has never lasted.
Disney stock has closed in the triple digits only to eventually fall back under $100 six times this year. History and gravity would seem to dictate that it will happen again, but let's not succumb to our inner pessimist. Let's go over a few of the reasons why Disney shares trading above $100 may stick around this time. Here's why the seventh time could be the charm for the House of Mouse.
1. The shares really are cheaper this time
Disney stock peaked above $122 two summers ago, and it's now trading 16% below that high-water mark. Disney isn't 16% less of a company now. In fact, it should be more valuable. Revenue and earnings are up 6% and 12% over the past year, with profitability on a per-share basis even higher given Disney's aggressive share buybacks. Disney's net income margin has expanded for six consecutive fiscal years.
At its high in early August of last year, Disney was trading for 25 times its trailing earnings of $4.85 a share. Right now -- given the higher trailing earnings of $5.73 a share and lower stock price -- the stock's fetching less than 18 times earnings. In short, the stock may be 16% lower than its all-time high, but its trailing P/E is at a 28% discount.
2. Another dividend boost raises the floor
The media giant hiked its payout two weeks ago. It's not a surprise. Disney has jacked up its distributions every year since 2004. The move is significant, as the semi-annual disbursement it going from $0.71 to $0.78 a share. It pushes the yield to 1.53%, which may not seem like a lot, but it's high by Disney's standards.
Disney takes its payout boosts seriously. The stock may have tripled over the past six years, but the dividend rate has actually nearly quadrupled. Combine Disney's ever-growing distributions with its share buybacks that boost profits on a per-share basis, and Disney's penchant for returning money to its stakeholders should keep propping the stock's trading range higher.
3. The future will be cooler than you think
Disney isn't joining the blue chips hitting new highs because worrywarts are everywhere. Folks feels that the struggles at ESPN, a slowdown in theme park attendance, and a hard act to follow at the multiplex after a huge fiscal 2016 will weigh on the stock. Don't bet on it.
Cord-cutters have weighed on the prospects of Disney's cable properties, but Disney is at the forefront of digital delivery platforms. We can also imagine that sports programming costs that have spiraled out of control will improve as renewals come up as leagues adapt to the new normal. Theme park attendance bounced back this summer at Disney World after back-to-back quarterly declines, and a bold Avatar-themed expansion at Disney's Animal Kingdom should keep the turnstiles clicking in the right direction next summer.
On the box office front,Rogue One opens later this month. It won't be as big as Star Wars: The Force Awakens, and no one expects that to be the case. However, this holiday's release could be more important since it could lead to future installments of this Star Wars franchise spinoff.
Disney found a way to grow its revenue and earnings as it expanded margins over the past year. It becomes a better company with every passing quarter, and eventually these dips back into the double digits will be limited to sharp market corrections.
Find out why Walt Disney is one of the 10 best stocks to buy now
Motley Fool co-founders Tom and David Gardner have spent more than a decade beating the market. (In fact, the newsletter they run, Motley Fool Stock Advisor, has tripled the market!*)
Tom and David just revealed their ten top stock picks for investors to buy right now. Walt Disney is on the list -- but there are nine others you may be overlooking.
Click here to get access to the full list!
*Stock Advisor returns as of November 7, 2016
Rick Munarriz owns shares of Walt Disney. The Motley Fool owns shares of and recommends Walt Disney. Try any of our Foolish newsletter services free for 30 days. We Fools may not all hold the same opinions, but we all believe that considering a diverse range of insights makes us better investors. The Motley Fool has a disclosure policy.