3 Reasons CVS Health Corporation Stock Could Fall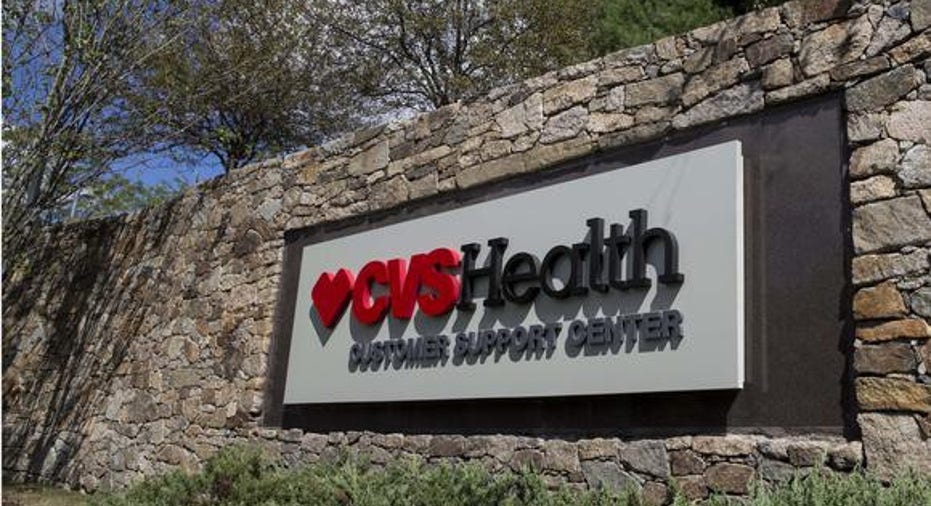 CVS Health(NYSE: CVS)has put its investors on a rough ride recently. Competition in the industry is heating up, which forced management to cut its guidance. Wall Street responded in kind by sending shares down by more than 23% over the past year.
Is the worst of the decline over, or could there be more pain ahead? Let's focus on the bear case and have a looklook at three reasons to believe CVS Health's stock could continue to fall from here.
Image source: CVS Health.
1. Competition continues to eat its lunch
Last August, Walgreens Boots Alliance (NASDAQ: WBA) stunned CVS Health by announcing that it had signed a strategic alliance with Prime Therapeutics, which is owned by14 Blue Cross and Blue Shield plans and is the nation's fourth-largestpharmacy benefits manager.If that wasn't bad enough, just a month later, Tricare -- the U.S. military's insurance program -- announced that it too had signed a deal with Walgreens.
Collectively, these two deals are expected to steal more than40 million retail prescriptions from CVS Health each year. That's a tough pill for investors to swallow, and these deals are telling about just how aggressive Walgreens has become to grab market share.
If CVS' competitors continue to woo away customers, then it's possible that its financial results -- and stock price -- will take a hit.
2. Dividend increase stalls
CVS Health has been paying out a strong dividend for years, which has turned the company into a great income stock for retirees. Better yet, the company has been meaningfully increasing its payout recently. From 2014 through 2016, CVS increased its dividend by 24% annually. That's a stellar track record.
Income investors got some more good news recently after the company announced that it would be bumping up its payout by another 18% in 2017. That brings the company's annual payout up to$2 per share, amounting to a dividendpayout ratio of 35% and a yield of 2.5%.
However, the near-term outlook for CVS Health's dividend isn't looking quite as rosy. Management has been targeting a 35% payout ratio for quite some time, so it looks as if the company has finally reached its milestone. That could prove to be a problem, as analystsdo not think that the company's bottom line is going to grow much in 2017. If the company sticks with its 35% payout ratio target, then investors might not get much of a raise next year. That might cause some income investors to look elsewhere for opportunities.
3. Government interference
Now that Republicans occupy the White House and both houses of Congress, it's very likely there will be some sweeping changes coming to the healthcare industry. While it's impossible to predict what may or may not happen, the potential repeal of Obamacare does threaten to dampen the demand for prescription drugs. If true, then CVS Health could find itself competing in a shrinking market.
Another worry is that the government intervenes to clamp down on the sales ofhigh-priced specialty drugs. If true, then one of CVS Health's fastest growing businesses could be facing some headwinds.
I'm still a bull
Despite all of these potential pitfalls, I'm still a believer that CVS Health is a stock that is worth owning. After all, the graying of America is a trend that's working in this company's favor. In fact, even with the recent guidance cuts, management still believes that double-digit earnings growth is likely over the long term. If true, then today'scheap price taglooks like quite attractive, especially when you add in the stock's juicy dividend yield.
10 stocks we like better than CVS Health When investing geniuses David and Tom Gardner have a stock tip, it can pay to listen. After all, the newsletter they have run for over a decade, Motley Fool Stock Advisor, has tripled the market.*
David and Tom just revealed what they believe are the 10 best stocks for investors to buy right now... and CVS Health wasn't one of them! That's right -- they think these 10 stocks are even better buys.
Click here to learn about these picks!
*Stock Advisor returns as of January 4, 2017
Brian Feroldi has no position in any stocks mentioned. The Motley Fool recommends CVS Health. The Motley Fool has a disclosure policy.