3 Reasons ConocoPhillips Stock Could Rise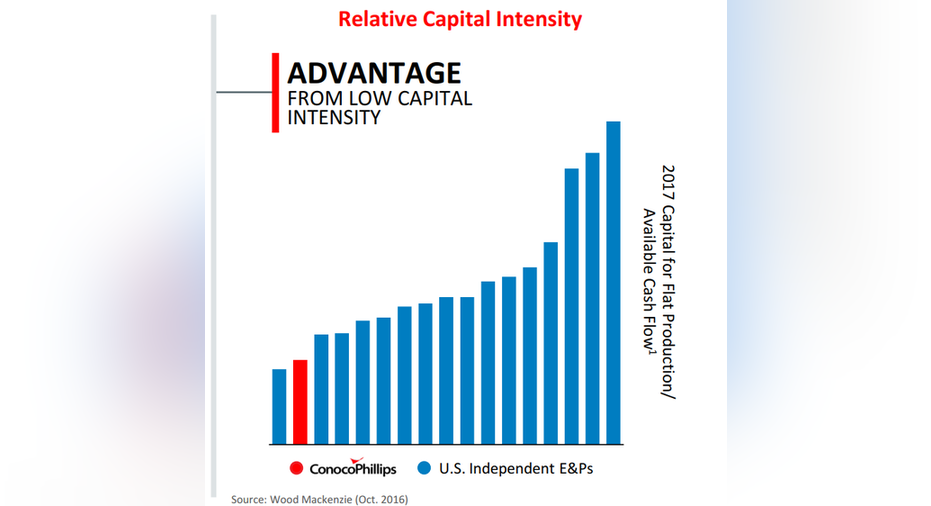 Image source: Getty Images.
Numerous inefficiencies of independent oil and gas explorer and developer ConocoPhillips (NYSE: COP) were exposed by the plunge in fossil fuel prices that began in late 2014. The company owned a complicated and bloated web of operations throughout the world. It sported an average breakeven cost of supply greater than $75 per barrel of oil equivalent (boe) using Brent as a standard -- well above recent and current market prices. That was further complicated by the fact that it needed to spend billions of dollars more to complete megaprojects that were under development.
The bad news is that the stock has fallen far from its 2014 peak of $87 per share, and the dividend has been slashed by two-thirds. The good news is that management has since drafted and begun executing a rigorous new strategy to ensure the company can rapidly respond to any market cycle. The first signs of progress impressed investors enough to deliver total returns of 9.7% in 2016, but future execution against the strategic plan could provide several reasons for ConocoPhillips stock to rise even further.
Focus on creating shareholder value
Management didn't take slashing the dividend lightly, and it appears focused on making it up to investors over the long term. Chairman and CEO Ryan Lance recently outlined his vision for returning value to shareholders before this decade expires. It's pretty ambitious -- and entirely possible.
ConocoPhillips will target double-digit annual growth for shareholders under the plan. Key drivers include a $3 billion share-repurchase program that will reduce the number of shares outstanding by 5% and annual dividend increases as permitted by cash flow (more on that in a moment). In all, the company expects to return 20% to 30% of cash flow from operations to shareholders each year.
Another important priority for ConocoPhillips is lowering its debt level from an expected $27 billion at the end of 2016 to just $20 billion by the end of 2019. That would represent the lowest level of debt carried on the balance sheet in over one decade -- rivaling figures of $20.8 billion in 2012 and $20.3 billion in 2007 -- and help to decrease interest expenses that totaled $928 million in the first nine months of 2016. That marked a 42% increase from the year-ago period and leached $0.74 per share off net income.
Both initiatives -- directly delivering value to shareholders and decreasing leverage -- will be supported by $5 billion to $8 billion in asset sales by the end of 2018.
Low capital intensity
Don Wallette, CFO and executive vice president of finance and commercial, recently highlighted the company's progress in reducing its capital intensity. In 2014, ConocoPhillips had a cash flow breakeven cost of $30 billion, but that has been reduced to roughly $12 billion this year. Given production levels, the reduction has effectively lowered the breakeven cash flow from operations from over $75 per boe then to under $50 per boe now.
The company attacked the $30 billion beast from all angles. It completed expensive megaprojects, exited its deepwater business, applied stricter rules for deploying capital, reduced operating costs, cut its dividend, and even received a small boost from deflation. The result: ConocoPhillips boasts among the lowest capital intensities -- defined as capital required for flat production divided by available cash flow -- among its peers.
Image source: ConocoPhillips.
That positions ConocoPhillips stock for significant upside should Brent crude oil prices, the company's internal benchmark, hover at $50 per barrel or higher. Current prices are meeting the minimum threshold and continue to trend higher. Moreover, should crude oil prices dip again, roughly $7 billion is available in a low-cost credit facility with no financial covenants attached.
Low cost of supply
A complex web of operations in 28 different countries and regions only ever seemed to drag on the stock's performance. Therefore, management began an aggressive strategic repositioning in 2012 to double down on low-cost growth assets and divest $16 billion in assets through 2016. ConocoPhillips now operates in just 16 of the original 28 countries and regions.
The company's portfolio is now more heavily weighted toward oil and less toward natural gas and natural gas liquids -- a trend that will continue after the targeted divestitures, totaling up to $8 billion, are completed by the end of next year. More important than reducing complexity, ConocoPhillips has managed to grow using existing assets and lower its average cost of supply to under $50 per boe.
That includes conventional and unconventional assets alike. Since 2012, the cost of supply from conventional resources in Alaska and Norway has decreased 40% and 50%, respectively, while Chinese assets have seen a 50% reduction since 2013. ConocoPhillips has cultivated among the industry's best portfolios of unconventional resources, too. Its Eagle Ford assets boast the lowest cost of supply, the highest liquid rates per well, and the highest net present value per acre among peers. Throw in high-margin growth opportunities in the red-hot Delaware Basin and the Bakken formation, and investors could be in for market-beating returns for the next several years.
What does it mean for investors?
Of course, crude oil prices have to cooperate with management's plan, but once again investors should be encouraged by execution to date. ConocoPhillips now has an estimated 18 billion boe sitting under its feet, or more than 30 years of production, with an average cost of supply under $50 per boe. While there's no way of knowing where the oil market will go from here, the company appears well positioned to become a cash cow for the foreseeable future.
10 stocks we like better than ConocoPhillips When investing geniuses David and Tom Gardner have a stock tip, it can pay to listen. After all, the newsletter they have run for over a decade, Motley Fool Stock Advisor, has tripled the market.*
David and Tom just revealed what they believe are the 10 best stocks for investors to buy right now... and ConocoPhillips wasn't one of them! That's right -- they think these 10 stocks are even better buys.
Click here to learn about these picks!
*Stock Advisor returns as of January 4, 2017
Maxx Chatsko has no position in any stocks mentioned. The Motley Fool has no position in any of the stocks mentioned. The Motley Fool has a disclosure policy.