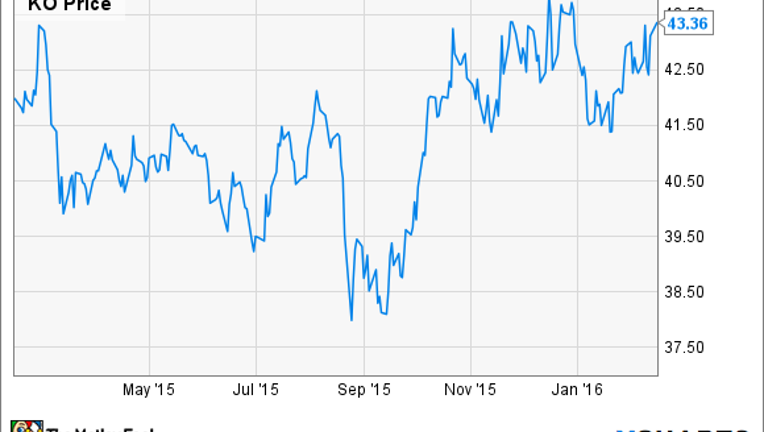 No matter what other products it sells, Coca-Cola will always be most associated with its soft drinks.
Though it makes everything from energy drinks to iced teas, fruit juices, and even a line of fancy milk, when your company is named after an iconic soft drink, the public is going to inevitably link your brand to that beverage. That has not always been a positive for Coke, as soda has not enjoyed a positive public image in recent years.
There has been a growing consumer backlash against sugar, and countless research studies have linked the consumption of sugary drinks to obesity. As a soda-first company, at least in the general public's perception, Coca-Cola has had to battle those headwinds. In some ways, it has combated its image problems by breaking into new categories; in others, it's simply playing a waiting game.
It's not that soda or sugary drinks aren't bad for you, but media attention tends to put certain issues in the spotlight for a time, and then move on. For a while, carbs were the main consumable villain. But, eventually the focus of scrutiny moved elsewhere, and people realized that everything has its place -- even the villainous carb -- in moderation. The same will happen for soda after a fashion, especially because Coke is working to subtly change perception by moving into healthier sodas -- or at least ones that can be marketed as being healthier.
These new beverages are just one of the three reasons why Coca-Cola stock could go on an upswing after a year of ups and downs thatended with the shares more or less where they started.
Source: YCharts.com
The slow rise of low-cal sodas, smaller sizesOne of the more interesting problems Coke has faced over the past few years is that sales of its diet products have slumped. Blame that on a consumer base that no longer automatically assumes "low-calorie" is a synonym for "healthy." To combat that trend, the company has done two things -- focused more on its reduced-calorie Coca-Cola Life brand, and continued to support smaller package sizes.
Made withcane sugar andstevia leaf extract rather than the chemical sweeteners used in most diet sodas,Coca-Cola Life has 60 calories per 8-oz. glass bottle. The product has been available nationally since late 2014, part of a growing portfolio of 45 or so beverages the company now offers sweetened with stevia. It's also being sold in a bottle that's a third smaller than the typical 12 oz. bottle.
CFOKathy Waller noted in the company's Feb. 9 earnings presentation that smaller bottles are helping drive sales in its home market:
Keurig Kold's slow buildCoca-Cola has a 16% stake in soon-to-be-taken-privateKeurig Green Mountain. Aside from the profit it will make when the acquirers -- a group led by JAB Holdings -- complete the purchase, Coke may finally see a return on their joint efforts to create a single-serve cold beverage brewer. That product, the Kold, has stumbled out of the gate, at least in part due to its over $300 cost.
At that price,Kold will never win more than a niche audience, and Coke will never profit from the partnership (which it plans to maintain after the deal closes). But the original K-Cup brewer was a higher-priced machine that seemed limited in its appeal to coffee snobs and people who had run out of wedding registry ideas.
Keurig KOLD is a partnership with Coke. Image source: Coca-Cola
Over time, though, the company lowered the price, made the brewers accessible, and the market took off. That could happen again simply because Keurig has shown that there is a market for single-serve beverage machines. There's no reason to believe that won't ultimately be true for cold drinks.Kold has had a slow roll-out, but Keurig always said it would. It may take time, but it's very possible thatKold pods will become the new K-Cups and Coca-Cola will reap the royalty gains.
Refranchising takes holdWhile it's less exciting than new beverages or fancy single-serve soda brewers, Coke has also stepped up the pace of its efforts to refranchise its bottling operations.
"I would say the big news from our earnings today is the announcement of the acceleration of our refranchising plans," Waller explained during the earnings presentation. "With these accelerated plans, we will move from a system where about 18% of our volume was produced by company-owned bottlers in 2015 to about 3%."
She called the move"a critical initiative as we align our system for future growth and get back to the historical model of TheCoca-ColaCompany as a brand-building company."
It's also a system that shifts risk and expense away from the company, allowing it to focus on product development and marketing rather than humdrum things like logistics. It's not a sexy move, but it's one the company has identified as important, and pulling it off faster than planned should drive its stock higher.
The article 3 Reasons Coca-Cola Stock Could Rise originally appeared on Fool.com.
Daniel Kline has no position in any stocks mentioned. He enjoys the 100-calories cans of soda on the rareoccasions he drinks one.The Motley Fool recommends Coca-Cola. Try any of our Foolish newsletter services free for 30 days. We Fools may not all hold the same opinions, but we all believe that considering a diverse range of insights makes us better investors. The Motley Fool has a disclosure policy.
Copyright 1995 - 2016 The Motley Fool, LLC. All rights reserved. The Motley Fool has a disclosure policy.