3 Reasons Chipotle Stock Won't Fall Another 35% in 2017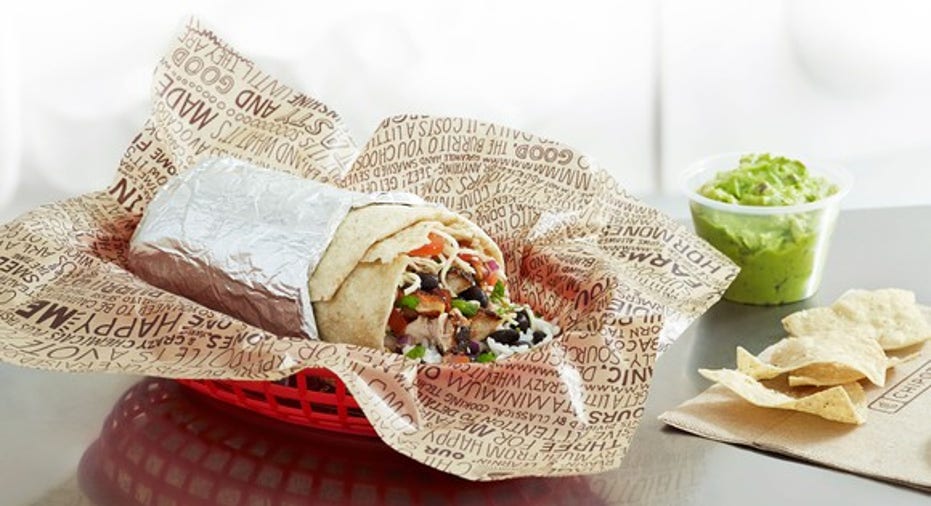 The pessimism is as thick as a freshly whipped container of guacamole at Chipotle Mexican Grill (NYSE: CMG) these days. Last week's quarterly report didn't do much to ease concerns that a turnaround for the former fast-casual darling will take a long time. Many analysts dialed back their enthusiasm following the problematic results, and this morning the stock opened below $400 for the first time in four weeks.
The catalyst to Monday morning's slide is a bearish piece (subscription required) in Barron's, arguing that the chain is making headway in resolving its food-safety issues, but that a rebound in traffic -- and more importantly, earnings -- may not be in the cards anytime soon. The article suggests that the stock could slide at least 10% and as much as 35% in the coming year, something that would rub tequila salt all over the open wound of a stock that has already shed nearly half of its value since its 2015 peak.
Things aren't great at Chipotle, but warning that the stock could fall to as low as the mid-$200s seems to miss the point, and paints a portrait that's far uglier than reality dictates. Let's go over a couple of the reasons that Chipotle stock isn't taking another 35% hit this year.
Image source: Chipotle.
1. Scalability goes both ways
Barron's argues that Chipotle continues to be overvalued, something that has always been a fair argument for the burrito roller. However, making the case that the stock is destined to keep heading lower because it closed out the week at 49 times this year's projected earnings requires a little more color.
There's scalability to Chipotle's unit-level economics, as earnings will climb faster than sales when comps are rising. It works the other way, too: We saw in 2016 how a big drop in sales can lead to an even bigger hit on the bottom line as margins begin to contract.
This is not going to be a normal year for Chipotle, even as comps start to regain some of last year's losses. There will be ramped-up marketing and food-sourcing costs as the chain does what it can to distance itself from the late-2015 outbreaks of E. coli, salmonella, and norovirus that scared away customers. We'll start to get closer to reality next year, as analysts see revenue and earnings climbing 13% and 43%, respectively, but even judging Chipotle at 34 times next year's profit target isn't fair.
Chipotle is trading at a reasonable 26 times its 2015 earnings. It may take some time to get back to that level of operating efficiency, but keep in mind that it had a lot fewer restaurants back then. It has more eateries now. It will have even more in the future. In a scalable business, that's a valuable path to growth.
2. Chipotle could be a better concept now
It may take a couple of years before we surpass "peak Chipotle" of mid-2015, but humility has made it hungrier. The menu is broadening without complicating the prep process. The chain added chorizo as a protein late last year, and it will go nationwide with a dessert item later this year.
The company that's rising from the ashes of all of the negative media publicity will be a different one than the one that went down, and that's a good thing.
3. Earnings won't hurt every time
Chipotle stock moves on earnings, and it hasn't been fun. The stock's nearly 5% hit on Friday, following Thursday afternoon's report, is actually tame by comparison; the stock had moved lower -- and in one case higher -- by at least 6% in each of the year's first three reporting periods.
Investors have a reason to be nervous when Chipotle reports: The stock closed lower the day after Chipotle reported in five of the past six quarters. However, this was the case when negative momentum and the concept's scalability were exposed. Trends are already starting to turn the corner, paving the way for post-earnings victory laps instead of debacles.
10 stocks we like better than Chipotle Mexican GrillWhen investing geniuses David and Tom Gardner have a stock tip, it can pay to listen. After all, the newsletter they have run for over a decade, Motley Fool Stock Advisor, has tripled the market.*
David and Tom just revealed what they believe are the 10 best stocks for investors to buy right now... and Chipotle Mexican Grill wasn't one of them! That's right -- they think these 10 stocks are even better buys.
Click here to learn about these picks!
*Stock Advisor returns as of February 6, 2017
Rick Munarriz has no position in any stocks mentioned. The Motley Fool owns shares of and recommends Chipotle Mexican Grill. The Motley Fool has a disclosure policy.