3 Reasons Calumet Specialty Products Partners LP Stock Could Soar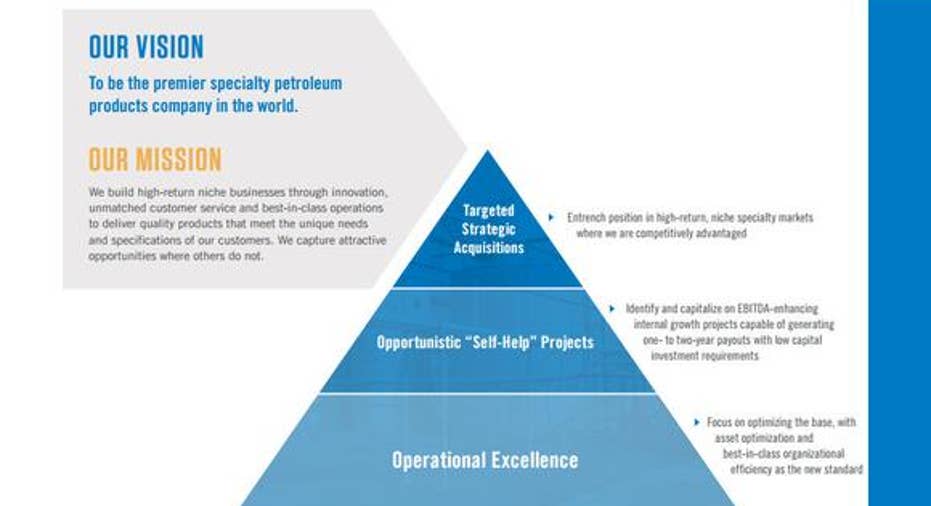 The past year has been a disappointment for investors in Calumet Specialty Products Partners , after its unit price has been cut in half. That's not lost on new CEO Tim Go, who unveiled a fresh vision for the company to help it overcome some of its past missteps. In doing so, he outlined three areas of focus for the company, which he believes will enable it to significantly grow the value of the business and hopefully cause its unit price to soar.
Go's focus going forward will be on developing Calumet Specialty Products Partners' niche specialty businesses by getting back to basics. The company plans to invest in markets it knows, with the central focus of the company built on the following three-part strategy shown on the pyramid diagram on the following slide:
Source: Calumet Specialty Products Partners Investor Presentation.
Go dived into each focus area on the company's latest conference call, detailing how each step could create value for investors.
1. Operational excellence pays offIn discussing operational excellence Go said:"In application, this means we will better optimize our base operations, whether by running at higher utilization rates, processing more cost advantage feedstocks, improving product yields, or upgrading our products to support higher net backs. We will capitalize on organic opportunities within our portfolio of assets to extract incremental value for our unitholders."
In other words, Go wants the company to first get better at making money across its current asset base by exploiting opportunities to earn more cash. For example, the company wants to be able to process higher volumes of heavy Canadian crude at its Superior refinery to make more asphalt because that crude oil is cheaper than other varieties. That would improve the company's margin and its sales volume. In another example, he noted that the company should upgrade low-value Shreveport waxy gas-oil steams into a high-value finished specialty wax at Karns City. These small steps should enable the company to boost the profitability of its current assets, which would bolster its cash flow and ability to increase its distribution, both of which would drive the unit price upward.
2. Opportunistic "self-help" projects deliverNext on the docket, according to Go, is to "[p]ursue opportunistic self-help projects that are smaller in size, scope, and duration, as compared to our prior capital campaigns, but which carry attractive return profiles capable of supporting sustained growth in EBITDA." He continued:
As opposed to major capital projects, which the company has had problems delivering on in the past, it will pursue much smaller scale projects. Think singles and doubles instead of trying for the fences. In particular, the company plans to pursue small upgrades at its refineries, for example,upgrading the de-asphalting capacity at its Shreveport refinery to enable it to process more heavy crude oil while producing higher volumes of higher-margin specialty products. Quick payback projects like that one have the potential to enable the company to incidentally grow EBITDA over a short period of time, again increasing its ability to boost shareholder distributions.
3. Targeted strategic acquisitions move the needleFinally, Go said that the company will "[e]ngage in targeted strategic acquisitions of specialty assets that leverage an existing core competency, and that have an identifiable competitive advantage we can exploit as the new owner." He went on: "At the same time, we will begin evaluating our portfolio to identify potential divestiture candidates that are non-core to our business and which are worth more to a strategic buyer than to us, while seeking to maximize our return on invested capital."
The third stage of the process will be to strengthen the company's portfolio by both acquiring assets that leverage its existing core, while divesting those that do not. The goal here is to focus on acquiring businesses that are either feedstock advantaged, product innovation advantaged, or have a loyal customer following to build upon its sustainable competitive advantages in each area. Calumet plans to pay for these acquisitions by divesting assets that don't have these same competitive advantages so that it will not only strengthen those advantages but improve its balance sheet. Asset sales in particular could be a key to bolstering the unit price because these sales could unlock the value of the divested assets as well as to help alleviate investors' concern about the company's weakening credit metrics.
Investor takeawayCalumet Specialty Product Partners' new CEO has a vision to transform the company into the premier specialty petroleum products company in the world. It's a vision built on three focus areas, each of which has the potential to grow the value of the company, potentially causing units to soar.
The article 3 Reasons Calumet Specialty Products Partners LP Stock Could Soar originally appeared on Fool.com.
Matt DiLallo has no position in any stocks mentioned. The Motley Fool has no position in any of the stocks mentioned. Try any of our Foolish newsletter services free for 30 days. We Fools may not all hold the same opinions, but we all believe that considering a diverse range of insights makes us better investors. The Motley Fool has a disclosure policy.
Copyright 1995 - 2016 The Motley Fool, LLC. All rights reserved. The Motley Fool has a disclosure policy.