3 Reasons Apple iPhone Sales May Be Peaking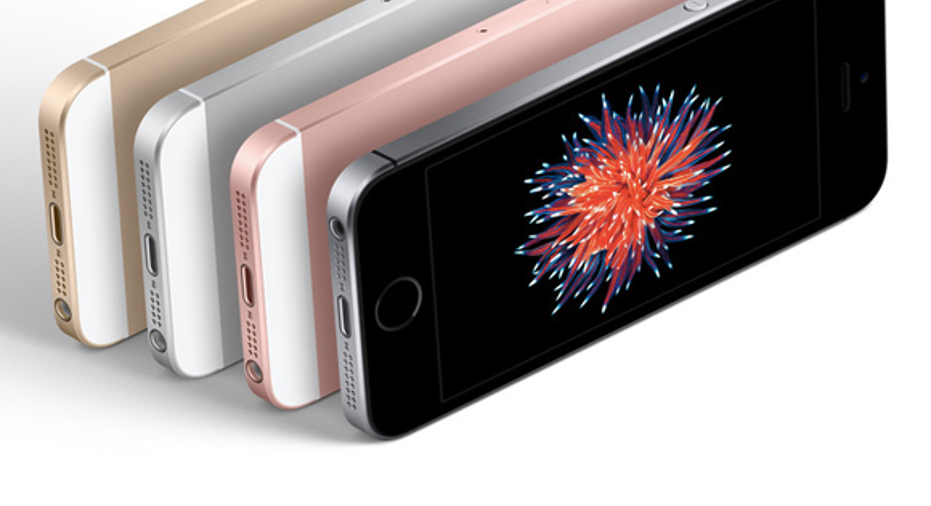 Image source: Apple.
Apple shareholders have been spoiled over the years. When the stock closed lower for all of last year, it was the first time investors experienced an annual decline since 2008. Despite margin contraction in fiscal 2013 and iPad sales that peaked in early fiscal 2014, the stock continued to move higher -- until the iPhone started to feel vulnerable last year.
Those fears are likely to be realized when Apple reports quarterly results on Tuesday afternoon. Analysts see a year-over-year decline in revenue for what will be Apple's fiscal second quarter, fueled by a substantial decline in iPhone sales since the prior year's report. This is the first time we've seen this happen, and Wall Street sees Apple's first annual decline in iPhones for the entire 2016 fiscal year.
Apple has a lot riding on its industry-defining smartphone. The iPhone accounted for 68% of Apple's revenue during the holiday quarter, and probably an even bigger chunk of the tech giant's profit. Bulls obviously believe that the lull will be temporary. Apple will find a way to either drum up renewed interest in the iPhone or disrupt another industry with an innovate new game changer of a product.
The bullish scenario is feasible, and Apple's legacy earns it the right to be the prevailing mind-set. The stock is now trading slightly higher in the 2016 calendar year despite the expected dip on both ends of its income statement. However, what if Apple investors are getting spoiled again? It may not be as easy as you think for the iPhone to grow its sales number again, and it doesn't seem as if the Apple Watch can carry the growth baton of a $586 billion company. Let's take a look at some of the reasons it will be harder that you may think for iPhone sales to bounce back.
1. The end of iPhone subsidization is a problemVerizon became the last of the major wireless carriers to stop subsidizing smartphone purchases this past summer. The days of shiny $199 iPhones for new Verizon customers willing to enter into two-year contracts are over. Folks at Verizon or any of the other leading carriers now finance smartphone purchases in monthly installments.
The distinction is important. It didn't make sense to keep your old phone after two years in the sudsy days of subsidization. You were still paying a carrier for something that was baked into your monthly rate. However, now there is a significant monthly price reduction when the device has been sold off, making it less tempting to upgrade.
The number of iPhones sold during this past holiday quarter -- the first full quarter since Verizon's strategic shift -- increased a mere 0.4% since the prior-year period. Now we're eyeing a likely decrease for the subsequent quarter. This isn't a coincidence.
Subsidization made the iPhone seemingly as affordable as leading Android devices. Now with that perk off the table, customers have to wonder if paying two to three times as much for an iPhone is worth it. For many Apple fans it is, but it may be a harder sell for folks on tight budgets.
2. Apple is on the wrong end of the migration cycle in more ways than oneSmartphones are no longer a novelty, and widespread ownership also means slowing growth. Industry tracker IDC expects just a 5.7% increase in global shipments this year, down from 10.4% last year and 27.6% in 2014.
The maturing market doesn't necessarily mean the iPhone has peaked. Growth is growth, after all. However, migration has now moved to the less affluent consumers who are buying their first smartphones -- and that often means the iPhone is out of their financial reach.
We finally started to see that reality come into play over the holidays, with flattish iPhone sales growth. Things may only get worse from here.
3. The iPhone 6 Plus is a hard act to followIt's probably not a surprise that two of the best three quarters for Apple in terms of iPhone unit sales were the two full quarters of availability of the iPhone 6 and iPhone 6 Plus. Super-sizing the phone by a little in the iPhone 6 and a lot in the iPhone 6 Plus in late 2014 was a game changer. It's not a surprise that unit sales would be flat a year later during the 2015 holiday quarter and now projected to be down in the double digits for the recently concluded fiscal second quarter.
In theory, this should be encouraging to bulls. Don't view the likely metric declines in Tuesday afternoon's report as a trend reversal. The previous period was a favorable anomaly. Going with two-year growth offers a more apples-to-apples -- or Apples to Apples -- comparison.
However, it still ultimately finds Apple in a position that it needs to raise the bar again. The 6s didn't excite the market, and there's a lot of pressure for the iPhone 7 and beyond to offer features that just aren't available anywhere else. With Verizon and its peers no longer willing to subsidize initial smartphone purchases, a smartphone has to be pretty special for a stateside customer to justify spending hundreds of dollars more than the alternatives.
Apple can do it. There's no doubt that it's done so before. But it will take more than just sacrificing margins by going smaller or upping the specs on current features to make that happen.
The article 3 Reasons Apple iPhone Sales May Be Peaking originally appeared on Fool.com.
Rick Munarriz has no position in any stocks mentioned. The Motley Fool owns shares of and recommends Apple and Verizon Communications. Try any of our Foolish newsletter services free for 30 days. We Fools may not all hold the same opinions, but we all believe that considering a diverse range of insights makes us better investors. The Motley Fool has a disclosure policy.
Copyright 1995 - 2016 The Motley Fool, LLC. All rights reserved. The Motley Fool has a disclosure policy.