3 Reasons Akorn Inc. Could Fall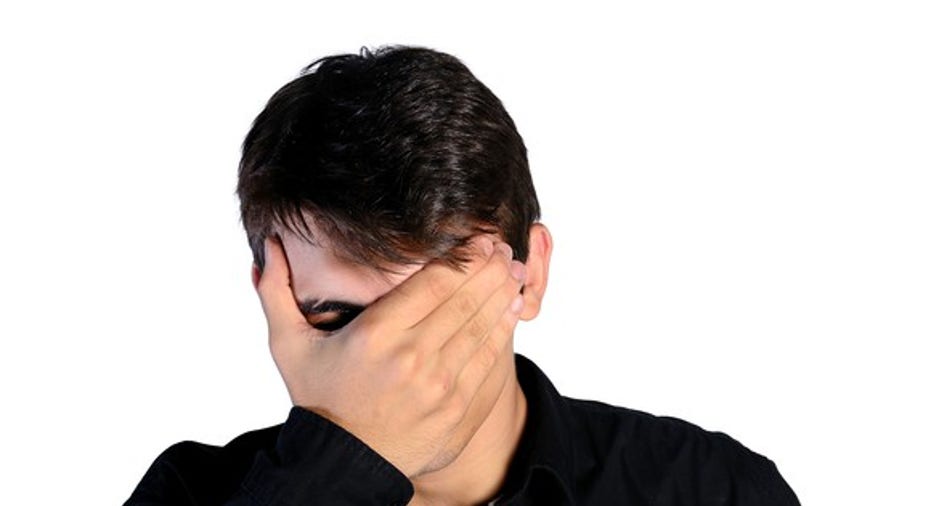 Image source: Getty Images.
Specialty generic-drug manufacturer Akorn Inc. (NASDAQ: AKRX) can't seem to catch a break. If the company meets 2016 guidance, it will have grown revenue and EPS over 250% since 2013. It has over 83 Abbreviated New Drug Applications (ANDAs) pending approval that represent up to $9 billion in annual sales potential. And yet, the stock is trading at its cheapest valuation in five years.
It may seem impossible for the stock to fall further, but investors know to never say never in investing -- which is especially true for Akorn investors, unfortunately. So although I think the tailwinds will overpower the headwinds in the near and long term, here are three reasons the stock could fall.
Lady Justice wields a sledgehammer
The same day the company announced third-quarter 2016 financial results, it was revealed that the Department of Justice was investigating over 12 generic drug companies and about two dozen drugs for collusion on drug pricing. Lady Justice could announce charges and dole out fines by the end of this year. Investors don't know which companies will be impacted -- and which will be spared -- if charges are brought at all, but they didn't take any chances and promptly sold off most generic drug owners and manufacturers.
In other words, this is an unknown risk for Akorn shareholders. And given that the stock market hates uncertainty, it's easy to see why the stock has traded at depressed levels in the last month. The company generated $784.6 million in revenue from generic and branded pharmaceuticals in the first nine months of 2016, or 94.2% of its total revenue. It's a matter of being in the wrong place at the wrong time.
The good news is that Akorn, with $175 million (and growing) in cash on hand at the end of September, should be able to easily absorb any fines handed down by the DOJ in a worst-case scenario. The bad news is that investors have to wait for the uncertainty to be swiped away.
Drug approval volume
Investors will continue to accept the risk of drug failures so long as there's a large volume of drug approval applications. But as third-quarter 2016 results reminded everyone, a high number of shots on goal shouldn't be taken for granted. Although management originally expected 25 product approvals by the end of the first quarter of 2017, it now only expects about 12 products to gain marketing approval. Ten more of the original figure are still expected, just at later dates.
I think it was a bit ridiculous for Mr. Market to punish Akorn stock for that singular reason after third-quarter 2016 results were announced. However, if it becomes a trend, then investors may want to question the company's future growth potential. The problem is that the stock was already trading at relatively cheap levels when the news caused a stampede for the exits. But if that's how the market wants to act, then future revelations of the same kind could be a reason for the stock to fall.
Balance sheet red flag
Goodwill and intangible assets, which are prone to writedowns and impairments, comprised 55.8% of total assets at the end of September. A level that high is well above what investors should consider "safe," but it's a bit tricky given the nature of Akorn's business.
That's because most of the company's total goodwill and intangible assets are derived from product licensing rights, which is essentially an internal estimation of net present value for its products. The second-largest category of goodwill and intangible assets is in-process research and development, which should be a bit more familiar to investors. Here's a breakdown of the total as of the end of September:
Data source: SEC filings.
Each category is reviewed for possible adjustments on a frequent basis and amortized over one- to 30-year periods, with the average period settling just over 10 years at the moment. Amortization has accounted for 20.7% of total operating expenses year to date -- the price investors have to pay for high growth. That should be manageable for the foreseeable future, so long as revenue and income growth keeps pace with growing amortization expenses, which hasn't been an issue for Akorn yet.
The only way this really hurts investors is if the company decides to unexpectedly write off a major product. For example, if a major drug was withdrawn from the market or suddenly discontinued, then the total amortization expense would occur at once, not over a 10-year period. It would technically be a non-cash charge, but the company would have already paid for acquisition, development, and marketing expenses related to the theoretical product. While this is just an example, the risk is certainly there.
What does it mean for investors?
Investors need to always consider both the positive and negative factors for the companies they own. As this exercise -- and recent market performance -- demonstrates, there are several reasons Akorn stock could fall. However, I certainly think that the potential rewards outweigh the risks, especially at current prices for long-term investors.
10 stocks we like better than Akorn When investing geniuses David and Tom Gardner have a stock tip, it can pay to listen. After all, the newsletter they have run for over a decade, Motley Fool Stock Advisor, has tripled the market.*
David and Tom just revealed what they believe are the 10 best stocks for investors to buy right now... and Akorn wasn't one of them! That's right -- they think these 10 stocks are even better buys.
Click here to learn about these picks!
*Stock Advisor returns as of Nov. 7, 2016
Maxx Chatsko has no position in any stocks mentioned. Follow him on Twitterto keep up with developments in engineered biology and materials science.
The Motley Fool has no position in any of the stocks mentioned. Try any of our Foolish newsletter services free for 30 days. We Fools may not all hold the same opinions, but we all believe that considering a diverse range of insights makes us better investors. The Motley Fool has a disclosure policy.