3 Reasons Advanced Micro Devices Inc. Stock Could Rise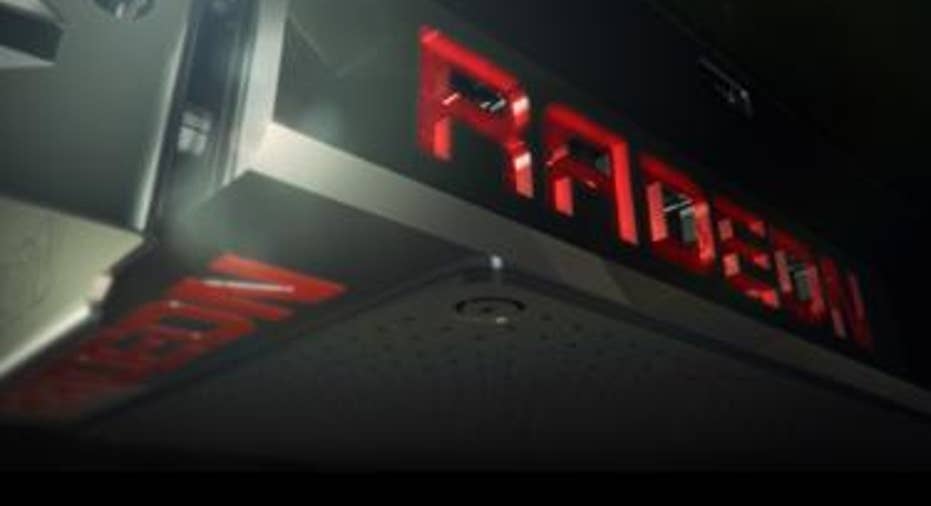 I'm not exaggerating when I say that 2016 is a make-or-break year for Advanced Micro Devices . The struggling chip company, dragged down by a slumping PC market, inferior products compared to Intel , and major share losses to NVIDIA in the GPU market, is readying two major launches that have the potential to turn the tide. Here are three reasons why shares of AMD could rise going forward.
Regaining ground in the GPU marketPrior to the third quarter of 2014, AMD was a strong No. 2 player in the discrete graphics card market, claiming a unit market share of roughly 40%. NVIDIA was the leader, but the gap between the two companies was modest. This changed toward the end of 2014, when NVIDIA's disruptive GTX 970, and AMD's lack of a response, led NVIDIA to consolidate its lead. During the third quarter of 2015, NVIDIA claimed a unit market share in excess of 80%.
Image source: AMD.
Both AMD and NVIDIA are expected to launch brand-new GPUs later this year, and with both companies using advanced 14/16 nanometer manufacturing processes after years stuck at 28 nm, the jump in performance and efficiency should be substantial. With such a low market share, if AMD can simply match NVIDIA in terms of performance-per-dollar, the company should be able to win back at least some market share.
Market share gains can't come soon enough for AMD. During 2015, the company's computing and graphics segment, which includes both GPUs and CPUs, posted a $502 million operating loss on $1.8 billion of revenue. If AMD manages to score a win with its Polaris GPUs, the company's financial results and its stock price could look quite a bit better a year from now.
Fixing past mistakesAMD's CPUs over the past five years, based on the Bulldozer microarchitecture and its various revisions, have been a disaster for the company. AMD has been losing market share to Intel in both the PC CPU market and the server CPU market for years, driven in part by the fact that Intel's chips have held a major advantage when it comes to single-threaded performance. AMD is hoping to fix that problem with the launch of its Zen microarchitecture, set for release toward the end of 2016.
Image source: AMD.
With Zen, which will be built on a 14 nm process, AMD is promising a 40% gain in instructions per second, a measure of single-threaded performance. With Intel delaying the launch of its 10 nm manufacturing process, the manufacturing process gap that AMD has been subject to for quite some time will narrow substantially. Intel may finally face real competition in the PC CPU market and, eventually, in the server CPU market.
This all assumes that Zen is launched on time, and that AMD achieves the promised performance gains. If Zen fails to win back a meaningful amount of market share from Intel, it's difficult to imagine a scenario where AMD returns to profitability. New graphics cards will help, but both the GPU and CPU businesses will need to improve in order erase the massive losses AMD posted in 2015. If Zen lives up to the hype, it would be a very strong sign that AMD's turnaround is for real, and that could send the stock soaring.
Winning more semi-custom dealsThe only bright spot for AMD over the past couple of years has been its semi-custom business, which at the moment is comprised of SoCs that power the major game consoles. AMD has announced three additional semi-custom wins, and revenue from some of those deals will begin to be recognized this year.
Image source: AMD.
Going forward, as the current game console generation peaks, AMD will need compensate by winning more deals. The extra revenue coming this year will help, but diversifying the semi-custom business beyond game consoles is critical. There's no guarantee that AMD's chips will power the next generation of consoles, and losing that revenue would be bad news for the company. During 2015, the semi-custom segment generated $215 million of operating profit on about $2.2 billion of revenue, making it by far the most profitable part of the company.
If AMD is able to win more semi-custom deals this year, it would go a long way in easing investor concern that declining revenue from the game consoles is going to be a major problem going forward. AMD needs to show that its semi-custom business doesn't depend solely on the game consoles, and if it can do that, investors may be more willing to bet on the company's turnaround.
The article 3 Reasons Advanced Micro Devices Inc. Stock Could Rise originally appeared on Fool.com.
Timothy Green owns shares of Nvidia. The Motley Fool recommends Intel and Nvidia. Try any of our Foolish newsletter services free for 30 days. We Fools may not all hold the same opinions, but we all believe that considering a diverse range of insights makes us better investors. The Motley Fool has a disclosure policy.
Copyright 1995 - 2016 The Motley Fool, LLC. All rights reserved. The Motley Fool has a disclosure policy.