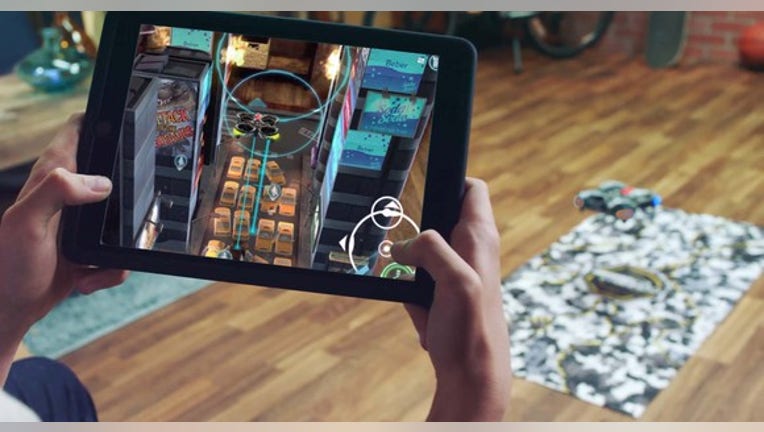 GameStop(NYSE: GME) had a tough run in 2016, with declining sales for video game hardware and software contributing to soggy fiscal performance, and further souring the market's outlook on the company. A shifting preference among consumers for purchasing their video games through digital downloads poses a big threat to the world's largest gaming retail chain, but GameStop is attempting to strengthen itself through diversification.
Here are three quotes from the company's full-year conference call that show how GameStop is revamping itself for the future, selected from a transcript courtesy of S&P Global Intelligence.
Image source: GameStop.
GameStop is counting on collectibles
Last year saw GameStop's hardware revenues decline 28%, while its video game sales dipped 14% compared to the prior year. Tough trends in the games space have the company looking to opportunities for diversification, and the sale of toys and merchandise is emerging as a core component of the retailer's transformation. Here's CEO J. Paul Raines on the collectibles market:
The company sees collectibles sales being driven by the strength of the Marvel, DC, Star Wars, and Harry Potter franchises -- with a range of upcoming film and television releases expected to contribute to merchandise sales. GameStop has entered into agreements with intellectual-property holders to produce exclusive merchandise for its stores.
The company expects that collectibles revenues will increase between 30% and 40% this year as it opens new locations of its collectibles-centric ThinkGeek locations, and allocates more shelf space at GameStop locations for merchandise. The company is doubling its total American shelf space for toy and clothing products, and it's converting 50 of its largest U.S. locations and 100 international locations to GameStop-ThinkGeek hybrid stores -- moves designed to help meet its target of $1 billion in collectibles sales in 2019.
Technology brands momentum
In addition to its video game and collectibles stores, GameStop operates technology outlets including SimplyMac, Spring Mobile, and Cricket Wireless. The company's technology brands strategy once leaned more heavily on growing its SimplyMac stores, which mostly sell Apple products, but recent moves have it expanding its AT&T-affiliated (NYSE: T) mobile chains.
Last year saw the company add 486 net AT&T retail stores through acquisitions, making GameStop the largest authorized retailer for the communication giant's wireless services and DirecTV packages. This corresponded with a 52% year-over-year revenue increase for the technology brands segment, with sales reaching $814 million. Here's CFO Robert Lloyd on the potential for additional acquisitions:
Expansion helped the company's technology brands' operating income increase 216%, to reach $90.2 million in the last fiscal year, and it's expecting the segment to hit $200 million in 2019. GameStop has also indicated that it plans on selling connected home hardware for Apple and Samsung's respective product ecosystems.
Focusing on digital sales and software development
With more game purchases taking place through digital channels, GameStop is aiming to increase its own digitally delivered sales and improve its position in original game development. The company's 2016 digital receipts increased 4% year over year, reaching $1.1 billion -- with growth spurred by a 20% increase in downloadable-content sales and purchases through its online games portal Kongregate.
The company has recently published two new games, and is aiming to build market share in PC and indie game downloads and in digital currency sales. Here's Raines on how digital sales and other aspects of GameStop's diversification are changing the company:
The retailer is guiding for roughly 40% of operating earnings in fiscal 2017 to come from sources other than physical video games, and it sees that share rising to 50% in 2019. However, even with cost-saving measures and momentum in digital, tech brands, and collectibles, the company anticipates that operating income will decline between 3% and 10% this year.
10 stocks we like better than AT and TWhen investing geniuses David and Tom Gardner have a stock tip, it can pay to listen. After all, the newsletter they have run for over a decade, Motley Fool Stock Advisor, has tripled the market.*
David and Tom just revealed what they believe are the 10 best stocks for investors to buy right now... and AT and T wasn't one of them! That's right -- they think these 10 stocks are even better buys.
Click here to learn about these picks!
*Stock Advisor returns as of February 6, 2017
Keith Noonan has no position in any stocks mentioned. The Motley Fool owns shares of and recommends Apple. The Motley Fool has the following options: long January 2018 $90 calls on Apple, short January 2018 $95 calls on Apple, and short April 2017 $28 puts on GameStop. The Motley Fool has a disclosure policy.