3 Publicly Traded Gun Companies You Can Buy Right Now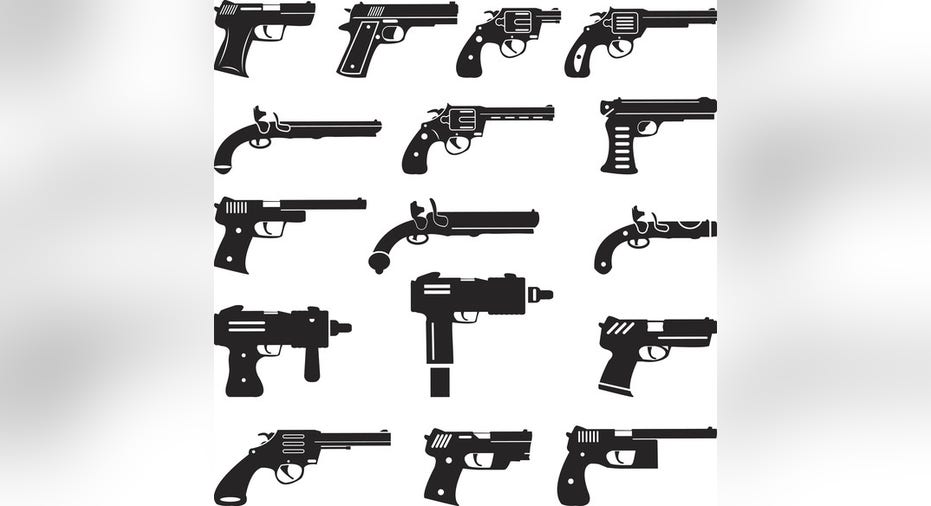 Publicly traded gun companies could make for good investments this election year. Image source: Getty Images.
Gun manufacturers sit in the crosshairs of federal regulators once again this election year. Firearms stocks such as Sturm, Ruger , Smith & Wesson , and to a lesser extent Vista Outdoor all face the risk of tightened federal regulations in the wake of this year's Orlando shootings. At the same time, these same firearms companies may be lining up to profit from a run on guns, as gun buyers stock up in anticipation of new federal regulations on gun purchases.
Which of the gun companies' stocks will profit the most from heightened fear of regulation? Here are a few to consider:
| | Sturm, Ruger | Smith & Wesson | Vista Outdoor |
| --- | --- | --- | --- |
| Stock Ticker | NYSE: RGR | NASDAQ: SWHC | NYSE: VSTO |
| Best-Known for | Ruger LCP subcompact, Ruger 10/22 | M&P Shield 9mm | Savage Axis bolt-action |
| Market Cap | $1.2 billion | $1.5 billion | $2.9 billion |
| P/E Ratio | 17.8 | 16.1 | 20.2 |
Data sources: Yahoo! Finance, Gunbroker.com.
There are a few things worth highlighting in the chart above. Most of the talk about gun regulation this year centers on assault weapons such as the AR-15 and AK-47 semiautomatic riflesand the high-capacity ammunition magazines that feed them. Only two of the three companies named above (Ruger and S&W) actually manufacture such weapons, though, and these variants are not the best sellers for any of these companies.
Facts are stupid things
That doesn't change the fact that, as publicly traded gun companies, these three firearms stocks are the only ones investors can bet against in anticipation of new gun regulation. (They're also the only three companies investors can bet on -- all other gun companies being privately owned.)
Just because Sturm, Ruger and Smith & Wesson don't make much of their livings from selling AR-15s and AK-47s doesn't mean they won't be punished -- or rewarded -- by investors who generically label them as "firearms companies."
Laws and unintended consequences
They may be. And in fact, history indicates they will be.
In his 2013 book Glock: The Rise of America's Gun, author Paul Barrett described how America's 1994 Assault Weapons Ban (AWB) targeted weapons much like the AR-15s and AK-47s of today. After the initial shock and awe of investors fearing regulation, the AWB actually did wonders for the sales numbers of gun manufacturers like Smith & Wesson and Sturm, Ruger.
No sooner had the ban been lifted, though, than sales growth abruptly stalled. Perversely, this means Smith & Wesson, Sturm, Ruger, and maybe even less-gun-intensive Vista Outdoor may benefit from fears of imminent regulation -- and may even benefit more if regulations are put in place.
Why to buy firearms stocks -- and which ones to buy
Meanwhile, the stocks of these three companies seem "priced to move" for any uptick in sales (and profits). Currently, Sturm, Ruger, Smith & Wesson, and Vista Outdoor sells for a price-to-earnings ratio below the 24.3 P/E ratio of the S&P 500 index of companies. In that sense, firearms stocks are at least relatively cheap.
Weighed on their individual merits, Vista Outdoor appears to have the most potential for producing superior profits for investors. According to data from S&P Global Market Intelligence, Vista's projected five-year forward earnings growth rate is 25%, yielding a 0.8 PEG ratio on Vista Outdoor stock. Smith & Wesson comes in second with a 14% projected growth rate and a more expensive PEG ratio of 1.2.
Sturm, Ruger, on the other hand, looks like it may be overpriced despite the prospect of a near-term uptick in sales. Sturm stock is expected to ride a strong performance in Q1 to enjoy a nice 18% rise in total profits this year -- but then turn down sharply as 2017 gets under way. Based on its negative projected growth rate, it's the only gun stock I would avoid owning right now.
The article 3 Publicly Traded Gun Companies You Can Buy Right Now originally appeared on Fool.com.
Fool contributorRich Smithdoes not own shares of, nor is he short, any company named above. You can find him on CAPS, publicly pontificating under the handleTMFDitty, where he's currently ranked No. 278 out of more than 75,000 rated members.The Motley Fool has no position in any of the stocks mentioned. Try any of our Foolish newsletter services free for 30 days. We Fools may not all hold the same opinions, but we all believe that considering a diverse range of insights makes us better investors. The Motley Fool has a disclosure policy.
Copyright 1995 - 2016 The Motley Fool, LLC. All rights reserved. The Motley Fool has a disclosure policy.