3 Projects That Will Totally Change the Las Vegas Strip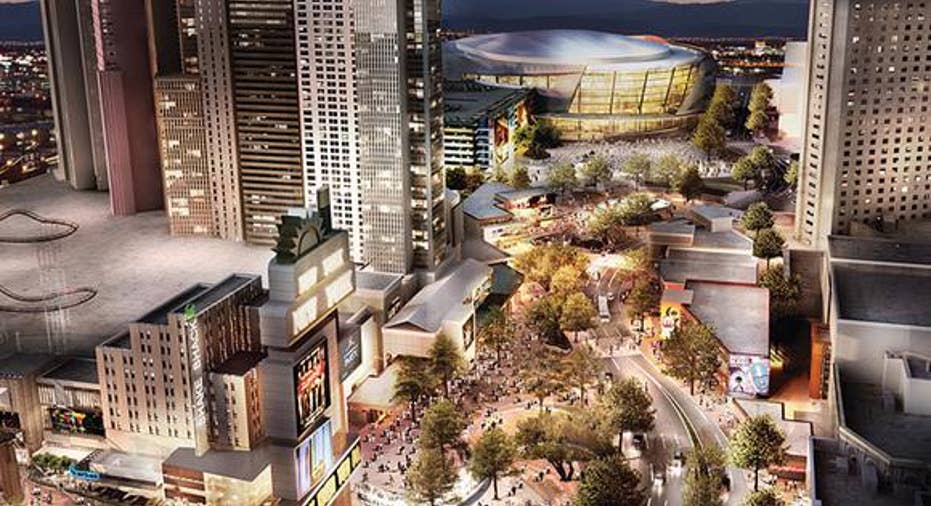 Genting's Resorts World Las Vegas will revamp the north end of the Las Vegas Strip. Image source: Genting.
Las Vegas is maybe the fastest-changing city in the country. Major resorts are built and blown up on a regular basis, making way for the new "next best thing" to come to town.
There are three projects being planned or built right now that will do their part to change the landscape of the Las Vegas Strip. And what's driving their construction can tell you a lot about where it's headed in the future.
Resorts World Las Vegas Only a decade ago, the center of gravity on the Las Vegas Strip was between MGM Grand and Caesars Palace. Today, the north end of the Strip, where Wynn Resorts Las Vegas properties and Las Vegas Sands' Venetian and Palazzo complex sit, has become a hot location. What may completely shift the center of gravity is Resorts World Las Vegas, which is being built by Genting Group.
The property Genting is developing is kitty-corner from Wynn Las Vegas on the site Boyd Gaming was going to use for Echelon Place. The project will cost $4 billion and will include 7,000 hotel rooms, a movie theater, convention space, and a nearly 30,000-square-foot lake as part of a Chinese garden.
Genting's development will help shift the financial power further north, and that will help change the face of Las Vegas.
T-Mobile Arena, behind New York-New York. Image source: MGM Resorts.
T-Mobile Arena The biggest change in Las Vegas over the past two decades has been the move from a gaming-focused business model to a non-gaming model. MGM Resorts , for example, gets well over half of its revenue away from the casino floor. Hotel rooms, nightclubs, restaurants, and shopping are why younger generations come to Las Vegas, not gambling.
To that end, MGM has built the 20,000 seat T-Mobile Arena behind New York-New York to attract large entertainment events -- and maybe even a professional sports team -- to Vegas. Adding another venue that big to the array of arenas in Las Vegas might have seemed crazy just a decade ago. But big event nights are now where the town's money is made.
Conventions are here to stay More than one in 10 visitors to Las Vegas now goes there for a convention. From small meetings toJanuary's massive Consumer Electronics Show, these gatherings are big business.
That's why the Las Vegas Convention and Visitors Authority is attempting to finalize a plan to spend $2.3 billion to build a new convention center on the site of the old Riviera Hotel & Casino. If the deal goes through, the project will bring even more space to the north end of the Las Vegas Strip. The Riviera site is a block north of Wynn Las Vegas and across from the new Resorts World Las Vegas.
Not only are these plans an indication of how much Las Vegas has moved toward non-gaming sources of revenue, the convention center would further pull visitors toward the north end of The Strip. Sands Expo and Convention Center at The Venetian is already a major draw for the Strip.
The Strip is changing There's really only one constant in Las Vegas and that's change. Today, the Strip is changing into an entertainment and business destination that's less focused on gambling and more focused on entertainment events and extravagance, from hotel rooms to restaurants.
These three projects are evidence of those broad trends, and when they're completed, we'll see a whole new Strip -- untilLas Vegas' next big reinvention.
The article 3 Projects That Will Totally Change the Las Vegas Strip originally appeared on Fool.com.
Travis Hoium owns shares of Wynn Resorts, Limited. The Motley Fool has no position in any of the stocks mentioned. Try any of our Foolish newsletter services free for 30 days. We Fools may not all hold the same opinions, but we all believe that considering a diverse range of insights makes us better investors. The Motley Fool has a disclosure policy.
Copyright 1995 - 2016 The Motley Fool, LLC. All rights reserved. The Motley Fool has a disclosure policy.