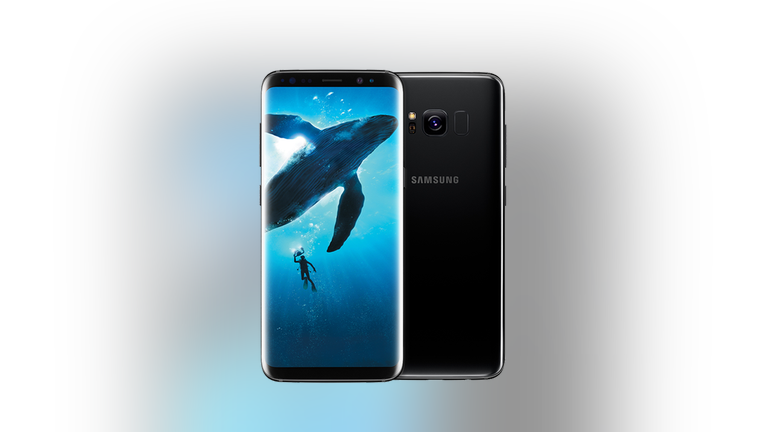 Samsung's (NASDAQOTH: SSNLF) latest flagship product could turn things around for the company after last year's battery-related problems dented sales. Pre-orders for the Galaxy S8 and the larger S8+ have outpaced the Galaxy S7 by a huge margin, making it the best-ever smartphone launch witnessed by the South Korean company. This puts Samsung on the way to record a huge bump in sales of the Galaxy S8 as compared to the previous generations.
The smartphone maker reportedly plans to build 60 million units of the new device, well-ahead of the 45-48 million units of the previous three generations. This sets the stage for Broadcom (NASDAQ: AVGO), Qorvo (NASDAQ: QRVO), and Cirrus Logic (NASDAQ: CRUS) to boost their sales this year, as all three of them are supplying chips to Samsung's latest device.
Image Source: Samsung
Broadcom's chip spots will be a catalyst
The Galaxy S8 teardown by IHS Markit reveals that Broadcom has provided one power amplifier module and a global navigation satellite system (GNSS) chip to power location-based services on the device. These wins will help the semiconductor specialist report stronger sales in the current quarter, thanks to an increase in the dollar content as compared to last year.
In fact, Broadcom CEO Hock Tan believes that higher dollar content in the Galaxy S8 will reduce the impact of a seasonal decline in its wireless business:
Broadcom's confidence in Samsung driving its sales isn't surprising as the chipmaker is also supplying two chips to the bigger Galaxy S8+, which is supposed to be the more popular of the two flagship devices. Yuanta Securities analyst Lee Jae-yoon forecasts that the Galaxy S8+ will account for almost 54% of Galaxy-line sales this year, so Broadcom has got all bases covered to benefit from its Samsung account.
Qorvo and Cirrus can think of a comeback
Qorvo and Cirrus have run into trouble of late because of their over-dependence on Apple. For instance, Qorvo's revenue growth will slow down substantially in the fourth quarter as Apple reduces iPhone production. Additionally, with Samsung accounting for 7% of the chipmaker's revenue, the delayed launch of the Galaxy S8 by almost two months also hurt its outlook last quarter.
But the good news is that Qorvo has landed one power amplifier spot inside the Galaxy S8's North American version. What's more, Raymond James analyst Simon Leopold believes that the semiconductor specialist has stronger content in the North American Galaxy S8. Not surprisingly, four analysts now expect a stronger earnings performance from Qorvo in the current quarter, and they have raised their forecasts over the past month.
Cirrus Logic's problems are identical to Qorvo's as the former gets 85% of its revenue from Apple, which exposes it to the downside of a weak iPhone production cycle. Additionally, Cirrus isn't expected to land any new content in the next iPhone, so its audio codec spot inside the Galaxy S8 becomes all the more important.
The audio specialist seems to have maintained its content inside the North America-bound Galaxy S8, with Qualcomm supplying the codecs for the Asian version just like last year. Cirrus investors shouldn't be disappointed by the fact that it is not supplying chips to all versions of the Samsung flagship, as the device has gained immense popularity in North America with a 30% jump in pre-orders over its predecessor.
Before the battery debacle the Galaxy S7 was a very popular device with almost 29% market share in the U.S., so stronger pre-orders of its successor could lead to higher sales this year and boost Cirrus' revenue.
In all, these three chipmakers are very much reliant on Apple for a lot of their business, but Samsung gives them the diversity to offset a down iPhone production cycle. So, the popularity of the Galaxy S8 will help these companies balance their customer base and bring in more revenue before Apple is ready with its next device.
10 stocks we like better than QorvoWhen investing geniuses David and Tom Gardner have a stock tip, it can pay to listen. After all, the newsletter they have run for over a decade, Motley Fool Stock Advisor, has tripled the market.*
David and Tom just revealed what they believe are the 10 best stocks for investors to buy right now... and Qorvo wasn't one of them! That's right -- they think these 10 stocks are even better buys.
Click here to learn about these picks!
*Stock Advisor returns as of May 1, 2017
Harsh Chauhan has no position in any stocks mentioned. The Motley Fool owns shares of and recommends Apple and Qualcomm. The Motley Fool recommends Broadcom and Cirrus Logic. The Motley Fool has a disclosure policy.