3 Opportunities for Twitter Stock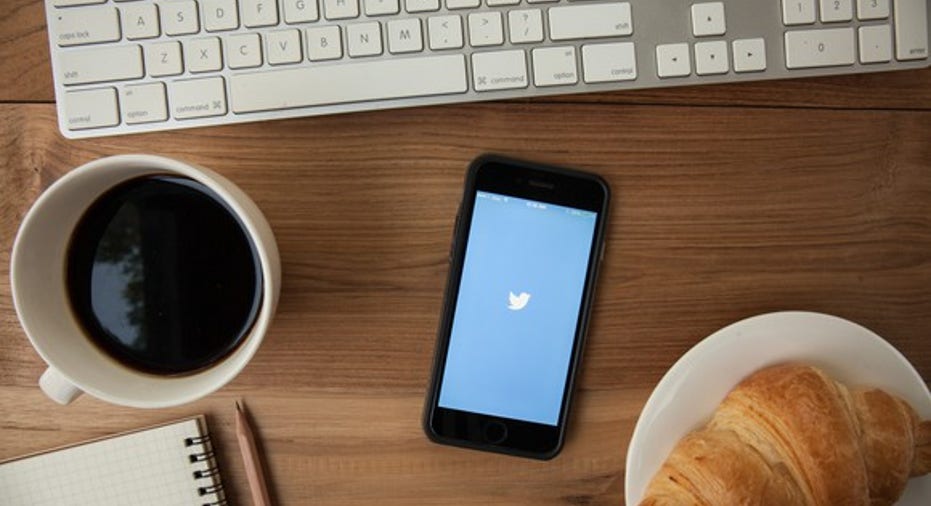 Image source: Getty.
Investors didn't like Twitter's first-quarter earnings results. The big issue was that management's guidance for second-quarter revenue was underwhelming. It forecast revenue between $590 million and $610 million, compared with revenue of $595 million in the first quarter.
"What drove the slowdown is that brand marketers didn't expand budgets as much as we expected them to do," COO Adam Bain told the audience at the Bank of America Merrill Lynch Global Technology Conference earlier this month. Still, management sees a lot of opportunities in its advertising business. At the conference, Bain outlined three big priorities it's focusing on: video, direct response advertising, and monetizing its logged-out audience.
Video advertising to attract more brand budgets
Bain noted during the interview that video ads produce better returns on investments compared with other ad products from Twitter, and that video is one of the biggest mediums for brand advertisers. During Twitter's first quarter, it saw a sequential increase in video ad spend from marketers despite the usual decline in ad sales from the fourth quarter to the first quarter. The problem was that video ads largely replaced ad spend in other areas on Twitter.
But Twitter will be competing with a lot of other digital advertising platforms for video ad budgets. Facebook is constantly innovating around video these days on both its flagship product and Instagram. Snapchat is developing several new ad tools to attract more advertisers, and its only type of ad is video. YouTube is always working on video ads. Verizonis also working to attract more advertisers to its Go90 mobile video and digital advertising platforms. And other large companies are constantly entering the space.
To that end, the company is investing heavily in video as well. It beat nearly everyone to market with its Periscope live-streaming platform. It recently integrated Periscope streams into its flagship product, effectively allowing marketers to advertise using live streams. Additionally, the company acquired the digital rights to a slate of Thursday Night Football games this fall, and plans to innovate new video ad products around that experience. Bain says the company plans to bring more live events such as Thursday Night Football to the Twitter platform as well.
Building the long tail with direct response advertisements
In my opinion, Twitter's biggest opportunity is to build out its direct response advertising business. Management's latest update is that Twitter only has 130,000 active advertisers. Comparatively, Facebook has over 3 million and Instagram has 200,000 -- and Instagram opened up to direct response advertisers after Twitter.
The COO says Twitter has over 9 million businesses on its platform. Converting 5% of them, still less than Facebook's conversion rate, into direct response advertisers would more than triple Twitter's existing advertiser base. The more advertisers on the platform, the easier it is to fill ad inventory and increase ad prices. Facebook, for example, has managed to both increase its total ad impressions while increasing average ad prices in the last two quarters.
To attract more advertisers to its platform, Twitter is working on several initiatives in direct response. One of its biggest successes has been dynamic product ads, which re-target users who previously viewed items on retailers' websites but didn't complete the purchase. Using TellApart's technology, it can re-target Twitter users across multiple devices, making the ads extremely effective. Twitter said in its first-quarter letter to shareholders that those ads received twice the engagement and twice the conversion rate compared with other ads, making them four times as effective.
It's also working on better measurement, targeting, and ad buying solutions to capture smaller businesses.
Twitter is still talking about its logged-out audience
Bain also spoke about Twitter's logged-out audience. The company has been telling investors for over two years that it has a huge asset in the number of web users its product reaches that don't have an account with Twitter. While Twitter has some opportunities to monetize this audience, it may be overstating the potential.
In the fourth quarter of last year, Twitter started testing monetization of its logged-out audience. At the time, Bain said he believed logged-out viewers could be monetized at about half the rate of active users. Given the size of its logged-out audience, he implied that Twitter's revenue potential was double of what most analysts had been modelling for just its active user base. I'm skeptical that Bain's estimate will prove accurate.
Twitter does have some opportunities with its logged-out audience, though. Its Moments feature is available to advertisers, and it's featured prominently on Twitter's logged-out homepage. The NFL deal might attract non-users to Twitter, giving them an opportunity to monetize that audience. It's developing ad products for syndicated tweets on other websites. And the relaunched Total Audience Platform leverages its MoPub ad network to put more direct response Twitter ads in front of users in other apps. Whether this can generate the revenue that Bain has suggested remains to be seen.
The article 3 Opportunities for Twitter Stock originally appeared on Fool.com.
Adam Levy owns shares of Verizon Communications. The Motley Fool owns shares of and recommends Facebook, Twitter, and Verizon Communications. Try any of our Foolish newsletter services free for 30 days. We Fools may not all hold the same opinions, but we all believe that considering a diverse range of insights makes us better investors. The Motley Fool has a disclosure policy.
Copyright 1995 - 2016 The Motley Fool, LLC. All rights reserved. The Motley Fool has a disclosure policy.