3 Numbers to Watch When Raytheon Reports Tomorrow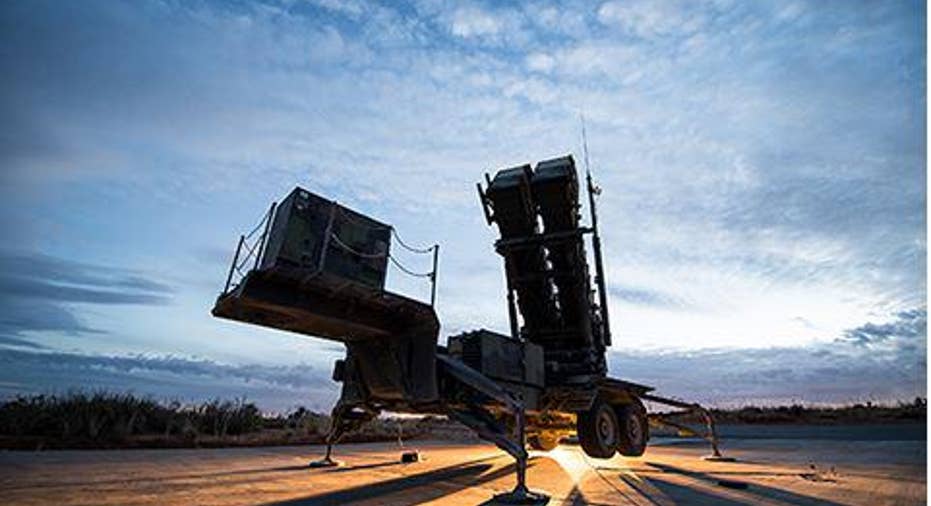 America's soldiers rely on Raytheon Patriot missiles to protect them from attack by other missiles. Tomorrow we learn if we can rely on Raytheon to protect our portfolios from losses. Image source: Raytheon.
It's Wednesday -- and on Wall Street that means it's "hump" day on Earnings Week for America's several defense contractors. Tomorrow, the last of the big defense industry dreadnoughts reporting this week -- Raytheon -- will release its financial results for the first fiscal quarter of 2016.
Here's what we know about it today.
What analysts say
Buy, sell, or waffle?:According to S&P Global Market Intelligence, 21 analysts keep Raytheon on their radar. 16 of them rate the stock a "buy," and five more are "neutral" on Raytheon stock.
Revenue:On average, these analysts expect to see Q1 revenue rise 3% to $5.46 billion.
Earning:Profits, though, could plummet as much as 23% to $1.38 per share.
What management saysWhen Raytheon last reported earnings, things were going just swell. New orders were coming in faster than old orders were being fulfilled, leading to a nice increase in backlogged work to be done -- hence the projection for rising revenue. Furthermore, management provided new guidance for the coming fiscal year 2016 as a whole, predicting we will see revenue rise about 4%, and profits not fall, but rise a modest 2%, to about $6.90 per share.
What management doesSo why are the analysts predicting such a steep fall-off in profits? That's hard to say. Raytheon's gross margins have been remarkably consistent, and even rising a bit sequentially in recent quarters. Operating profit margins, too, have been rising recently -- but they're off significantly in year-over-year comparisons. Similarly, Raytheon's net margins have taken a big hit when compared to where the company was one year ago.
| | Sept. 2014 | Dec. 2014 | March 2015 | June 2015 | Sept. 2015 | Dec. 2015 |
| --- | --- | --- | --- | --- | --- | --- |
| Gross | 23.8% | 24.1% | 24.1% | 22.6% | 23.8% | 24% |
| Operating | 13.9% | 14.1% | 12.5% | 11.6% | 12.1% | 13.1% |
| Net | 9.4% | 9.5% | 10.4% | 8.6% | 7.7% | 9% |
Data source: S&P Global Market Intelligence.
What to watch tomorrowAnd so you see we have a bit of a disconnect brewing here as we head into earnings day. On one hand, management sees 2016 as a big year for profits at Raytheon, if not a very big year for growth. On the other hand, analysts think the company could take a big hit to earnings in the short term, perhaps a function of that downward trend in the net margin.
The first thing we'll want to look at tomorrow, then, is Q1 earnings -- not as the be-all and end-all of whether Raytheon stock is worth owning based on one quarter's performance, but as an indicator of whether the company's long-term forecast for the full year is going to hold up.
A second thing to keep an eye on is backlog, and the new orders that feed into it. If backlog grows tomorrow, then we can safely assume that revenue will grow in quarters to come.
Finally -- and this may be my own personal valuation bias showing through -- I'm going to be taking a good, hard look at Raytheon's free cash flow production tomorrow. While I'm a fan of the company, and an owner of Raytheon stock, I'll be the first to admit that historically, Raytheon has come up somewhat short in the cash flow department, often reporting free cash flow far short of what its income statement shows as GAAP "net earnings." I'd love to see Raytheon reverse that trend tomorrow, and start producing real cash profit more in line with its GAAP income.
But I'm not holding my breath.
The article 3 Numbers to Watch When Raytheon Reports Tomorrow originally appeared on Fool.com.
Rich Smithowns shares of Raytheon stock. You can find him onMotley Fool CAPS, publicly pontificating under the handleTMFDitty, where he's currently ranked No. 315 out of more than 75,000 rated members.The Motley Fool has no position in any of the stocks mentioned. Try any of our Foolish newsletter services free for 30 days. We Fools may not all hold the same opinions, but we all believe that considering a diverse range of insights makes us better investors. The Motley Fool has a disclosure policy.
Copyright 1995 - 2016 The Motley Fool, LLC. All rights reserved. The Motley Fool has a disclosure policy.