3 Numbers to Watch When General Dynamics Reports Tomorrow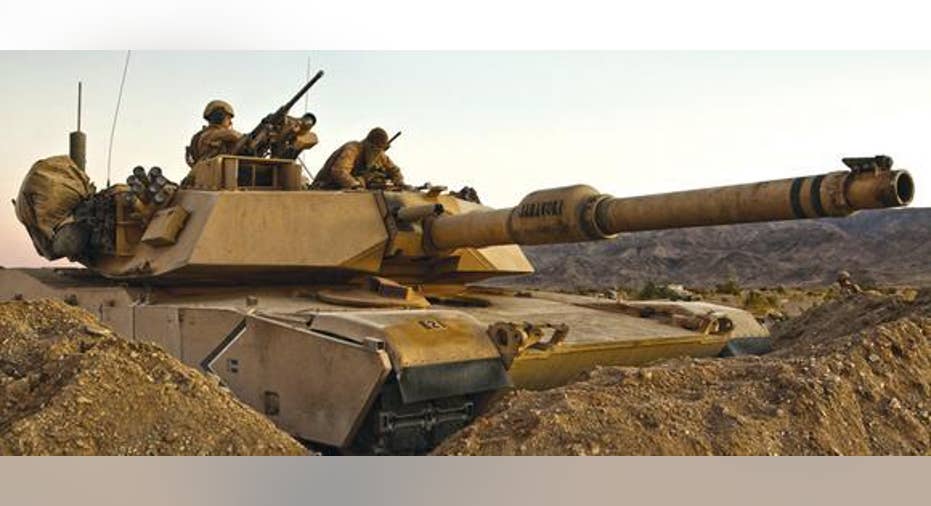 In just one more day, we'll have a chance to dig into General Dynamics' numbers. Image source: General Dynamics Land Systems.
It's earnings season on Wall Street, and this week, the focus turns to defense contractors. Over the next few days, at least a half-dozen of America's biggest defense companies will report their first-quarter 2016 numbers. One of the first to report will be tanks 'n' business jets manufacturer General Dynamics , whose earnings are due out Wednesday.
Here's what we know today, before the news comes out.
What analysts say
Buy, sell, or waffle?:According to data from S&P Global Market Intelligence, 21 analysts track General Dynamics stock. 15 of them would buy it, and six would hold. Not a single one says "sell."
Revenue:On average, they're predicting a tiny 1% slip in quarterly sales to $7.7 billion.
Earnings:Profits are expected to inch up 1% to $2.16 per share.
What management saysGeneral Dynamics boasts some of the most laconic management in the world. An average General Dynamics earnings reportcontains fewer than 500 words of prose prefacing several tables of numbers (and 2% of those words are repetitions of the company's own name).
That said, most of what General Dynamics told us last quarter was encouraging. The company's backlog is "healthy and stable," margins are expanding, and profits are "record-setting." If this holds true tomorrow, investors in General Dynamics stock should do just fine.
What management doesBut can General Dynamics continue doing what it's been doing? I'm not entirely sure. Take a look at the following table of how gross, operating, and -- on the bottom line -- net profit margins have been trending. Over the past 18 months, General Dynamics has expanded its trailing-12-month gross profit margin by 60 basis points. Forty of those basis points made it down to the operating profit margin level intact. On the bottom line, though, net profits have expanded 80 basis points.
| | Sept. 2014 | Dec. 2014 | April 2015 | July 2015 | Oct. 2015 | Dec. 2015 |
| --- | --- | --- | --- | --- | --- | --- |
| Gross | 19.1% | 19.1% | 19.7% | 19.6% | 18.9% | 19.7% |
| Operating | 12.9% | 12.8% | 13.2% | 13.7% | 12.9% | 13.3% |
| Net | 9% | 8.4% | 9.2% | 9.5% | 9.2% | 9.8% |
Data source: S&P Global Market Intelligence.
What to watch tomorrowIn part, this outsize improvement in General Dynamics stock's net profit margin, relative to smaller improvements in the gross and operating margins, owes to a decreased interest expense as the company pays down its debt. In part, this seems due to the company paying smaller tax bills, and that's all right. Ultimately, though, it's hard for a company to keep growing net margins faster than it improves operating margins, in particular. While I don't expect to see net profit margins take a huge dive, don't be surprised if the gains start to level off.
Speaking of which, two factors General Dynamics management says it's particularly "focusing on" these days are "operations" and "managing the business for cash." Absent accounting quirks affecting the company's net, this too tells us we should be looking particularly hard at how General Dynamics improves its operating profit margin -- and also its free cash flow.
Historically a strong cash producer, and one in which annual free cash flow often outpaces reported net income, last year, General Dynamics reported GAAP "profits" of $3 billion, but actual free cash flow of only $1.9 billion. That's not a trend we like to see, and if there's one thing above all else I'm going to be looking at when General Dynamics reports tomorrow, it's going to be this:
How much profit did they say they earned... and how much cash did they actually produce?
The article 3 Numbers to Watch When General Dynamics Reports Tomorrow originally appeared on Fool.com.
Rich Smithdoes not own shares of, nor is he short, any company named above. You can find him onMotley Fool CAPS, publicly pontificating under the handleTMFDitty, where he's currently ranked No. 315 out of more than 75,000 rated members.The Motley Fool has no position in any of the stocks mentioned. Try any of our Foolish newsletter services free for 30 days. We Fools may not all hold the same opinions, but we all believe that considering a diverse range of insights makes us better investors. The Motley Fool has a disclosure policy.
Copyright 1995 - 2016 The Motley Fool, LLC. All rights reserved. The Motley Fool has a disclosure policy.