3 Numbers From GEICO's Killer First Quarter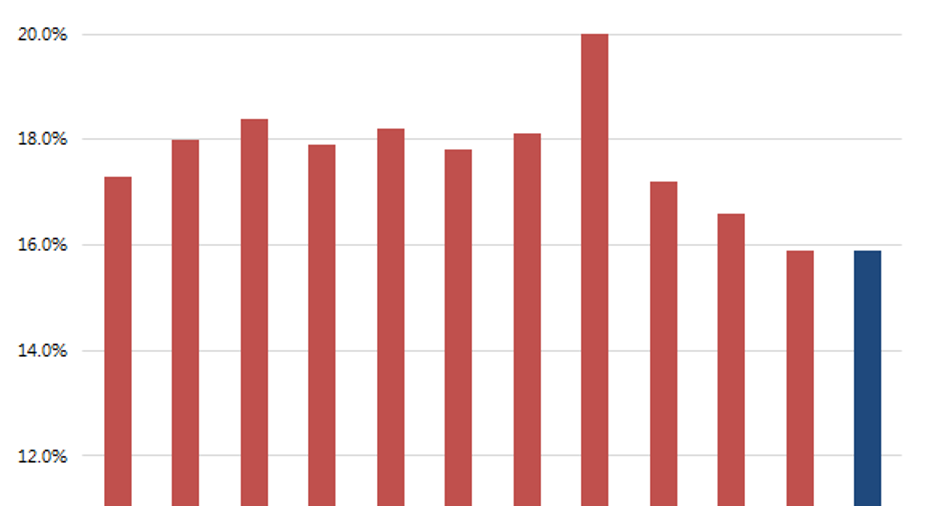 Berkshire Hathaway's first-quarter results got some help from one of its favorite insurers, GEICO. The property and casualty insurer saw its underwriting profits swell by about 65% year over year, while underwriting profits dropped 86% at Berkshire Hathaway's other insurance companies.
Here are three figures that explain GEICO's standout quarterly results.
1. Premiums earned grew 12.3% year over year
Even after blossoming to become the second-largest auto insurer in the United States, GEICO can still grow premiums earned at a double-digit pace. But before lauding this as a quarter for the record books, consider the source of premium growth.
The quarterly report notes that policies in force grew just 4.3%, while premiums per auto policy grew by about 7.2%. The result is that pricing increases had more to do with premium growth than growth in policies, but that's actually very good news.
GEICO suffered from the fact its customers were getting in costlier accidents with increasing frequency in 2016. Thanks to premium increases, the company's pre-tax underwriting margin came in much closer to its average result as a Berkshire Hathaway portfolio company in the first quarter of 2016.
2. Underwriting expense ratio of 15.9% suggests improving efficiency
GEICO's moat stems from its ability to sell insurance at a lower price than its peers. In the first quarter, about 15.9% of the company's earned premiums were spent on underwriting expenses, which generally includes salaries and benefits as well as advertising to bring in new customers.
This ratio declined by one percentage point from the same quarter a year ago, due to revenue growth in excess of expense growth. (Expenses grew by 5.9% year over year, masked by the 12.3% growth in premiums earned.)
GEICO may be finding its sweet spot. Underwriting expenses have been trending lower in recent years.
3. Storm losses tallied to $100 million, with more to come
The company reported a significant loss in Texas, noting that it recorded losses of $100 million from the event in the first quarter vs. no such losses in the first quarter of 2015. This is pretty important, given it adds up to about 1.7% of earned premiums,a pretty significant chunk of would-be underwriting profits if the company had evaded storm losses this quarter.
It's important to note that the company disclosed that additional storm losses in April 2016 would impact the company's second-quarter results. One group estimates that industry-wide losses from a two-day storm could cost insurers about $350 million, though the impact to GEICO is difficult to predict.
Of course, with price hikes being the best cure-all for insurers, it's safe to say that premium increases should help buoy the company's underwriting results despite an uptick in storm-related losses in the second quarter of 2016.
The article 3 Numbers From GEICO's Killer First Quarter originally appeared on Fool.com.
Jordan Wathen has no position in any stocks mentioned. The Motley Fool owns shares of and recommends Berkshire Hathaway. Try any of our Foolish newsletter services free for 30 days. We Fools may not all hold the same opinions, but we all believe that considering a diverse range of insights makes us better investors. The Motley Fool has a disclosure policy.
Copyright 1995 - 2016 The Motley Fool, LLC. All rights reserved. The Motley Fool has a disclosure policy.