3 (Non-Apple) Things Universal Display Investors Should Know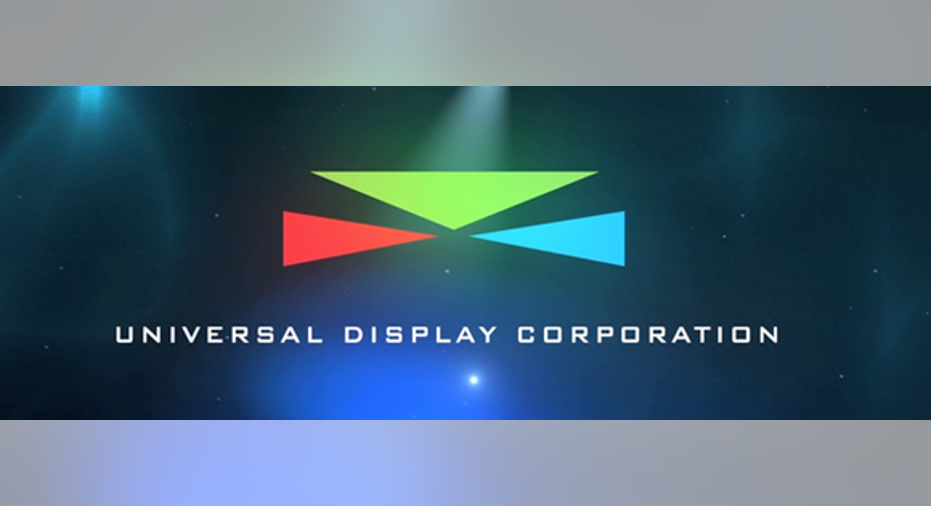 Image source: Universal Display Corporation.
It seems an understatement to say November was good to investors inUniversal Display Corporation . Shares of the OLED technologist rose more than 50% last month, largely following renewed speculation and comments from management suggesting that Universal Display's flagship technology will find a place in future iterations of Apple's iPhone line.
Specifically on the latter, during the 2015 Goldman Sachs U.S. Emerging/SMID Cap Growth Conference, Universal Display CFO Sidney Rosenblatt stated he believes "it's only a matter of time" before Apple introduces an OLED iPhone. After all, he noted, longtime Apple supplier Foxconnhas ordered equipment for OLED manufacturing in 2017, and earlier this year, Apple chief design officer Jony Ive contrasted the "old"-looking LCD display technology in his iPhone 6 with what we now know is an OLED display in the Apple Watch.
Still, however exciting the prospect of an OLED iPhone might be for Universal Display investors, we must keep in mind Apple's expanded use of OLED is primarily a long-term catalyst for Universal Display stock. In the meantime, that's why I think Universal Display investors would be wise to focus on the company's other massive opportunities for growth.
In fact, Rosenblatt spent the bulk of his time speaking at the Goldman conference on exactly these kinds of non-Apple developments. Here are three key points he discussed.
Therewillbe growth in 2016One of the primary concerns of analysts following Universal Display is that, while we wait for a large ramp in confirmed OLED manufacturing capacity to occur in 2017, there could be a lull in growth between now and then. According to Rosenblatt, however, this won't be the case as Universal Display's two largest customers, LG Display and Samsung Display , ramp their own respective OLED manufacturing efforts.
Long story short, while we can certainly expect to see significant growth from new customers in 2017, it seems investors' concerns over lagging growth on a relative basis next year are likely overblown.
More to come from ChinaSpeaking of new customers, recall that just over a year ago, Universal Display entered into an evaluation agreement with China-based display juggernaut BOE. At the time, I argued while BOE was still a small player in the OLED space, investors shouldn't overlook the promise of this agreement to grow into something of significance in the long term.
At the Goldman conference, Rosenblatt not only confirmed that's still the case, but also suggested there's much more to come from the budding Chinese market:
The key takeaway, here? Though the timeline remains unclear, Universal Display should be able to use its long-term agreements with Samsung Display and LG Display as a framework to set up similar deals with BOE, and the "three or four" other Chinese display producers with which it's currently communicating. As the Chinese electronics market continues to grow, so too should Universal Display's coffers.
LG's 65-inch OLED TV. Image source: LG Electronics.
OLED TV is just scratching the surfaceFinally, arguably the most exciting catalyst for Universal Display lies with OLED TVs, the physical size of which obviously requires a much larger volume of Universal Display's OLED emitter materials than smartphones do. But Universal Display investors remained worried in October after LG Display -- the clear leader in the OLED TV space -- reduced its OLED TV unit sales guidance for this year and next.
Again, however, Rosenblatt confirmed those worries were largely unfounded, and at the same time highlighted the growth opportunity set before them with OLED TV:
Universal Display's material sales benefit from the larger size of each display, effectively negating the fact LG Display expects to sell fewer smaller-sized units. And as the price of OLED TVs continues to fall and become more competitive with high-end LCDs, consumers should increasingly flock to the superior picture, energy efficiency, and novel form factors offered by OLED TV. With Universal Display's technology set to play a central role as OLED TV takes market share, investors should be poised to reap the rewards.
The article 3 (Non-Apple) Things Universal Display Investors Should Know originally appeared on Fool.com.
Steve Symington owns shares of Apple and Universal Display. The Motley Fool owns shares of and recommends Apple and Universal Display. Try any of our Foolish newsletter services free for 30 days. We Fools may not all hold the same opinions, but we all believe that considering a diverse range of insights makes us better investors. The Motley Fool has a disclosure policy.
Copyright 1995 - 2015 The Motley Fool, LLC. All rights reserved. The Motley Fool has a disclosure policy.