3 Marijuana Stocks That Will Benefit Massively If Canada Legalizes Recreational Weed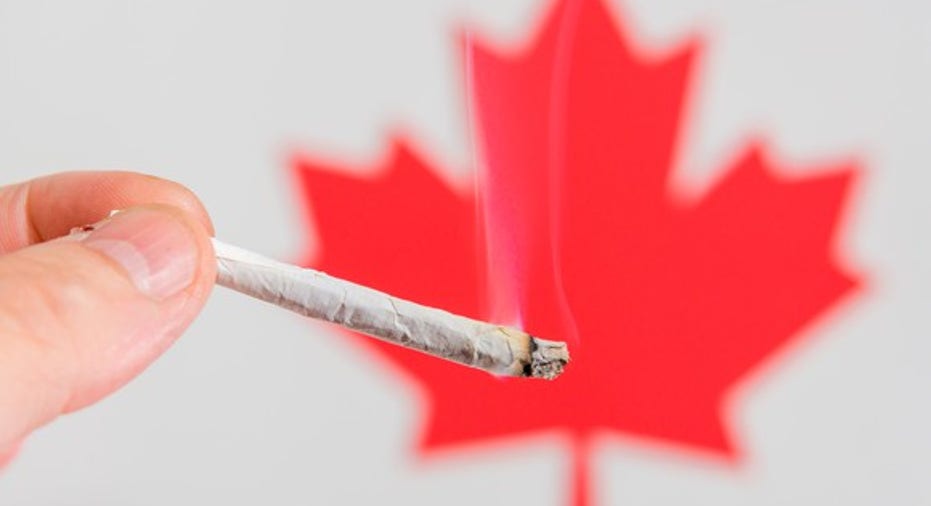 The world stands on the precipice of a potentially momentous marijuana moment.
On April 13, Canadian Prime Minister Justin Trudeau introduced legislation that would officially end the prohibition of marijuana. If this bill is approved, Canada would become the second country in the world to legalize recreational weed, behind only Uruguay.
Trudeau's cannabis legislation spelled out a number of components of the law. For example, it would let people aged 18 and over to buy recreational pot. However, it would also give Canadian provinces the right to increase the minimum age limit should they choose. Consumers would be allowed to purchase and carry roughly one ounce of cannabis, as well as grow up to four plants in their households. And, just like we see in the U.S., commercial growers would need to obtain permits from the government (in this case, the Canadian government)and stick to specific laws within their province before they'd be allowed to sell recreational weed to consumers.
Image source: Getty Images.
There are, of course, still a number of unanswered questions. For instance, the exact nature of the tax rate has yet to be disclosed. Also, no one has any idea on the cost to regulate the industry, or the amount of marijuana that would be allowed for recreational distribution.
A Canadian "green rush" could be great news for these marijuana stocks
According to Canadian government estimates, the legalization of marijuana could generate $5 billion to $7 billion in annual sales.While that might seem like peanuts compared to the U.S., legalizing in Canada means an immediate surge in sales that could put the U.S. on the back burner in the eyes of investors. The Canadian green rush appears to be underway, and that's great news for a handful of marijuana stocks operating in our neighbor to the north.
In particular, three Canadian medical cannabis companies, which have been expanding their growth operations like crazy over the past couple of quarters, could be in line for significant sales growth if Trudeau's legislation passes. These marijuana stocks are Canopy Growth Corp. (NASDAQOTH: TWMJF), Aphria (NASDAQOTH: APHQF), and Aurora Cannabis (NASDAQOTH: ACBFF).
Organic or inorganic growth: What's your pleasure?
Canopy Growth has been primarily expanding its operations through acquisitions, while Aphria and Aurora Cannabis have chosen a more organic expansion route.
Image source: Getty Images.
Canopy Growth Corp., which is Canada's largest pot stock by market cap, announced its intent to acquire Mettrum Health for $430 million late last year. The acquisition gave Canopy Growth access to about half of Canada's medical cannabis users, and it, in aggregate, increased its production capacity to six licensed facilities and 665,000 square feet. Canopy Growth also added two more unique brands to its medical product portfolio.
As reported in the company's third-quarter results, year-to-date revenue through Q3 2017 was $25.2 million, a 230% increase from the prior-year period. This is fully indicative of the company's heavy focus on expansion, but it represents just a taste of what could be to come.
On the other side of the aisle, Aphria and Aurora Cannabis are commissioning some monster expansion projects. Aurora Cannabis announced in late November that it began construction of an 800,000-square-foot facility known as Aurora Sky. When completed, it's expected to be the most technologically advanced cannabis production farm in the world. In the interim, Aurora also acquired a 40,000-square-foot production facility in Quebec.
In January, Aphria's board announced a fully funded $137 million capital project known as its Part IV expansion that's designed to increase its square-footage capacity for cannabis growth from 300,000 to 1 million. Completion of the project is expected within the next 12 months, which would put it in line to handle a surge in demand if Canada legalizes recreational weed during the first half of 2018.
Image source: Getty Images.
Recurring profitability is a real possibility
Both Canopy Growth and Aphria offer added intrigue because both companies are already generating positive earnings before interest, taxes, depreciation, and amortization (EBITDA), and both will likely be profitable on a recurring basis by the end of their current fiscal year.
Canopy Growth has generated in excess of $5.8 million in EBITDA over the trailing 12 months, while Aphria is approaching nearly $2.1 million in EBITDA over the same time frame. Aurora Cannabis produced a negative EBITDA of $6.6 million over the trailing-12-month period, but that's not to be unexpected with its future riding on its substantial investment in the Aurora Sky project. Aphria is already profitable on a trailing-12-month basis, and Canopy Growth has been profitable for the past couple of quarters.
It's still important for investors to understand that as of right now these companies are exceptionally pricey. On both a price-to-sales and a price-to-EBITDA basis, these marijuana stocks would make most investors cringe in horror. But things could get better very quickly. The question at this point is whether their critical fundamentals (e.g., sales, profits, EBITDA, and margins) will catch up with their already expanded valuations. To this end, no one is really sure, which is why investing in marijuana stocks, even ones with reasonably large market caps, is very risky.
But if you're looking for a cream-of-the-crop stock to keep your eyes on, focus on Aphria, which has fully funded its projects organically, is already profitable on a trailing-12-month basis, and stands to gain substantially if Canada moves forward with its recreational legalization and if it can complete its expansion by early 2018 as forecast. Aphria is still relatively small compared to Canopy Growth, suggesting its stock may offer the most upside potential.
10 stocks we like better than APHRIA INC NPVWhen investing geniuses David and Tom Gardner have a stock tip, it can pay to listen. After all, the newsletter they have run for over a decade, Motley Fool Stock Advisor, has tripled the market.*
David and Tom just revealed what they believe are the 10 best stocks for investors to buy right now... and APHRIA INC NPV wasn't one of them! That's right -- they think these 10 stocks are even better buys.
Click here to learn about these picks!
*Stock Advisor returns as of April 3, 2017
Sean Williams has no position in any stocks mentioned. The Motley Fool has no position in any of the stocks mentioned. The Motley Fool has a disclosure policy.