3 Major Takeaways From Caterpillar, Inc.'s Conference Presentation (Hint: Not Much Fun)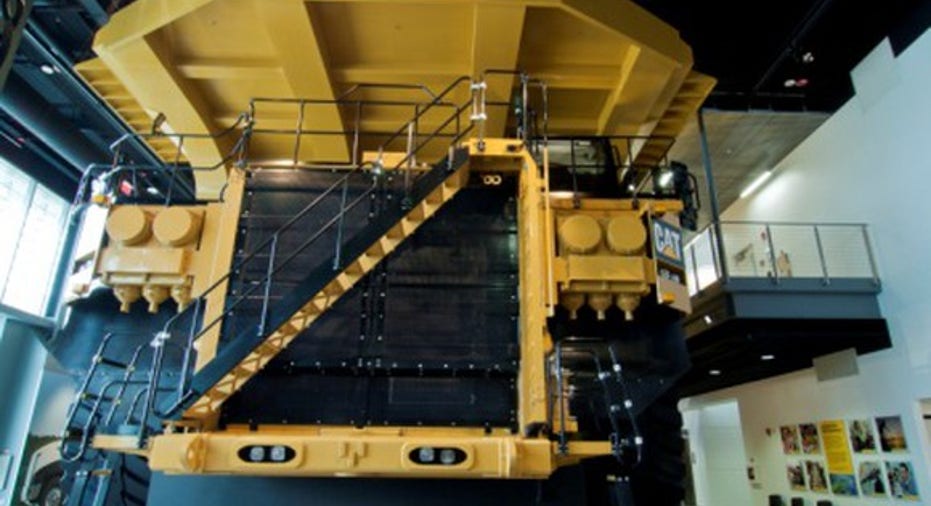 Image source: Caterpillar, Inc.
Surprisingly, despite a lack of encouraging global commodity prices or demand for industrial equipment, Caterpillar, Inc.'s (NYSE: CAT) stock has jumped 41% so far in 2016. While its stock price has moved higher, its sales have continued to do the opposite -- and looking at it over the past few years is depressingfor investors. If you glanced at the graphs in that link, you won't be too surprised to hear that Caterpillar's management just noted that analysts' profit estimates were a bit too high. In case you missed the company's recent presentation, here are the major takeaways.
Daunting profit estimates
The consensus estimate for Caterpillar's 2017 revenue is $38 billion, which management believes is a reasonable figure. The consensus estimate for profits per share, excluding restructuring, is $3.25 per share, which Caterpillar believes is "too optimistic" considering looming headwinds.
Those headwinds include the simple fact that the declining revenue will put about $350 million to $450 million in margin pressure on its bottom line. On top of that, Cat Financial will experience an unfavorable impactto the tune of $100 million, and short-term incentive compensation for employees will hit profits by about $500 million to $600 million more than last year. Moreover, management still has concerns about oil price volatility, weakness in North American construction equipment, and economic growth in Europe post-Brexit.
The bright spot
On the bright side, the next takeaway is something Caterpillar has done successfully in recent years: reducing costs. Caterpillar is on track to reduce period and variable costs by a staggering $2 billion for the full-year 2016. The restructuring plan set forth in 2015 will continue through 2018.
Image source: Caterpillar's Credit Suisse conference presentation.
Those cost reductions have gone a long way to offset the drop in sales, as you can see above. Caterpillar has achieved this through reducing functions and staff and slashing manufacturing floor space. It's also reduced material costs and reduced short-term incentive pay.
In its resource industries segment alone, since 2012, Caterpillar has closed or announced the exit of 17 manufacturing facilities, and downsized five more facilities. Those moves have helped the company lower that segment's break-even point every year.
Now what?
One of the more telling graphics of the presentation came toward the end, and shows just how far the commodity dollar index and mining machine demand has fallen in the past couple of years.
Image source: Caterpillar's Credit Suisse conference presentation.
Those declines are brutal, but investors pushing Caterpillar's stock higher are hopeful that U.S. President-elect Donald Trump's pledge to spend $1 trillion over 10 years on infrastructure projects will be put into action. Also encouraging was that oil prices moved roughly 10% higher on Wednesday after major oil producers agreed to cut production for the first time since 2008 in hopes of supporting prices.
But perhaps the largest question moving forward, the future of Caterpillar's dividend, was echoed by Morningstar analyst Kwame Webb: "They are cutting guidance, and now beginning to talk about earnings numbers that put a cloud of uncertainty over whether they will support their dividend. But the stock just keeps moving higher. It's a real head scratcher."
As Caterpillar is currently trading at 34 times forward earnings, per Morningstar estimates, it wouldn't be surprising to see the company give back some of 2016's gains next year. The only silver lining is that Caterpillar has gone to great lengths to make its operations leaner, and that will be a huge benefit once its business does rebound, whenever that may be.
10 stocks we like better than Caterpillar When investing geniuses David and Tom Gardner have a stock tip, it can pay to listen. After all, the newsletter they have run for over a decade, Motley Fool Stock Advisor, has tripled the market.*
David and Tom just revealed what they believe are the 10 best stocks for investors to buy right now... and Caterpillar wasn't one of them! That's right -- they think these 10 stocks are even better buys.
Click here to learn about these picks!
*Stock Advisor returns as of November 7, 2016
Daniel Miller has no position in any stocks mentioned. The Motley Fool has no position in any of the stocks mentioned. Try any of our Foolish newsletter services free for 30 days. We Fools may not all hold the same opinions, but we all believe that considering a diverse range of insights makes us better investors. The Motley Fool has a disclosure policy.