3 Key Takeaways From Supervalu Inc.'s Latest Report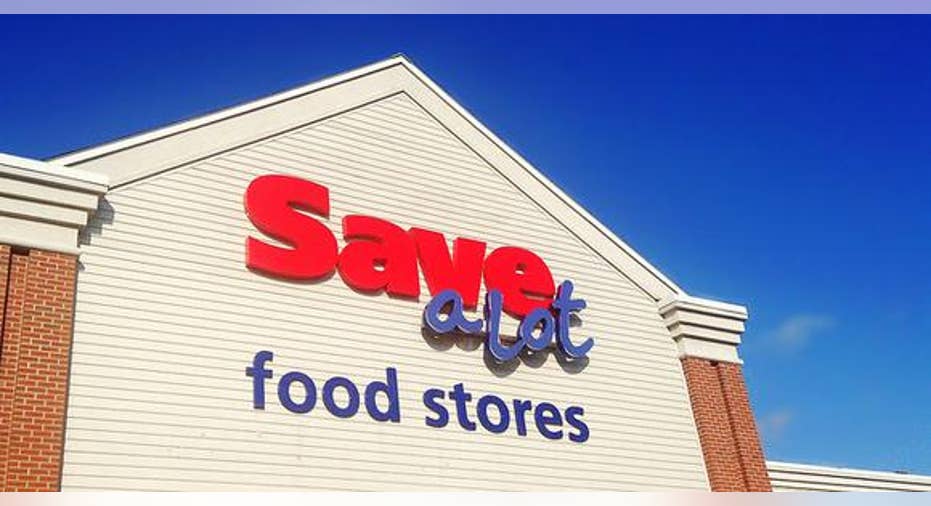 Even though the Save-A-Lot chain is being spun off, the discount chain will still have a big impact on Supervalu's performance. Image source: Mike Mozart.
The new CEO of supermarket giant Supervalu walked into a tough quarter for making his first remarks, as the chain of discount grocery stores reported softer sales this week, even at its Save-A-Lot chain, which until now has been a strong performer.
The retail environment continues to get more competitive, particularly at the value end of the market, which sees not only high-end rivals like Whole Foods Market going downmarket and deep discounters like the dollar store chains offering more consumables, but aggressive competitiveness in key areas and departments by chains such as Aldi, Lidl, and even Wal-Mart .
That makes the following three big opportunities even more critical for Supervalu, but which can also be cast as its biggest risks too.
1. Despite a spinoff, Sav-A-Lot will still play a key roleSince selling the Albertson's grocery store chain (and ancillary businesses) to private equity firm Cerberus Capital Management in 2013, Supervalu has relied upon its Save-A-Lot division for much of its performance results. That has worked well for it, but since announcing last year it would be spinning off the chain, Save-A-Lot has suddenly come under more pressure.
Consumers are increasingly price sensitive, which has made stripped down grocery stores like Aldi a popular destination. The German supermarket chain Aldi is planning on a major expansion spurt to grow beyond its east coast base to become a more national chain. Similarly, rival Lidl is planning on growing as well, and Whole Foods thinks a discount chain primarily featuring its private label 365 brand can help it grow.
In addition to competitive pressures, Supervalu is facing a dicey financing market that has caused it to push back the anticipated completion date from the second quarter of the fiscal year to the second half. It needs to resolve issues with its existing term loan before it can complete the transaction, but the supermarket chain says it's a "choppy" environment right now.
There is some compensation for investors though, as Supervalu now plans to restructure the deal by boosting how much it retains in the operation, increasing the stake from the previously announced 19% to as much as about 40%, CEO Mark Gross says will "provide greater financial flexibility in the future when Supervalu chooses to monetize that retained interest, which may be used to de-lever and grow the company."
2. Expect more M&A activityThe Save-A-Lot spinoff is indicative of how strategic alternatives will continue to play a role in Supervalu's future. It's not a coincidence that Gross was chosen to head the grocery store chain. Although he's only been on the job two months, he has extensive experience not only in wholesale grocery operations, a key business component of Supervalu itself, but also an extensive M&A background through his Surrey Investment Advisors firm, which has assisted grocery clients on several multibillion-dollar acquisitions and divestitures.
While the chain may pursue other actions that don't have as big an impact on the supermarket as does an acquisition, Gross acknowledges, "Sometimes acquisition is the simplest and best way to do a deal." Look for more of that in the future.
3. The company will extend its back-office service capabilities to customersSupervalu's wholesale business, which involves supplying product for resale to its own chains as well as independent third-party grocers, accounted for 45% of the supermarket operator's total revenues. With the Albertson's distribution agreement winding down, Supervalu still has a lot of expertise available in delivering back-end professional services, and it plans on making them more broadly available to its existing wholesale customers, including services in digital marketing, data analytics, and promotional management as well as point-of-sale, payment processing, and e-commerce services.
CFO Bruce Besanko said during the conference call that with several customers already installing some of its advanced marketing platforms, "Our sales teams will be developing tailored sales plans to market specific targeted services to each customer based on an assessment of their specific needs."
What it meansWhat this means is management has little expectation of retail sales growth for the supermarket chain. Because it will be focusing on items that largely won't grow the business organically, it poses a risk that it may stumble as more competitors crowd the space and take market share from it.
The article 3 Key Takeaways From Supervalu Inc.'s Latest Report originally appeared on Fool.com.
John Mackey, co-CEO of Whole Foods Market, is a member of The Motley Fool's board of directors. Rich Duprey has no position in any stocks mentioned. The Motley Fool owns shares of and recommends Whole Foods Market. The Motley Fool recommends Supervalu. Try any of our Foolish newsletter services free for 30 days. We Fools may not all hold the same opinions, but we all believe that considering a diverse range of insights makes us better investors. The Motley Fool has a disclosure policy.
Copyright 1995 - 2016 The Motley Fool, LLC. All rights reserved. The Motley Fool has a disclosure policy.