3 Key Takeaways From Republic Services' Q3 Earnings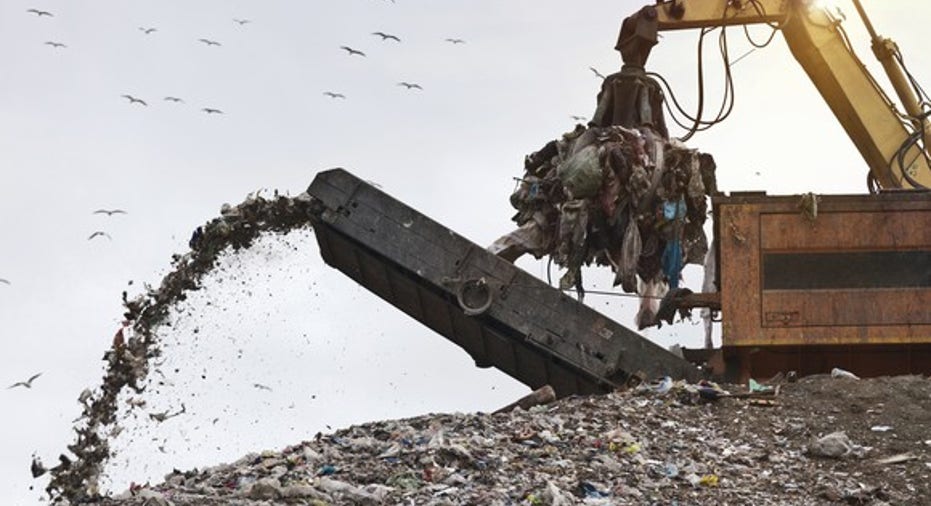 Republic Services(NYSE: RSG), one of the largest waste haulers in North America -- second only to rivalWaste Management(NYSE: WM) -- reported third-quarter earnings on Oct. 27. Here are three things investors should know.
Republic Services is the second-largest waste hauler in North America. Image source: Getty Images.
Not as bad as it looks
If you only looked at the big numbers from Republic Services' earnings report, you'd think the company had an abysmal quarter. Net income fell by 59.2% year over year. EPS fell 59% year over year. In a quarter where main rival Waste Management saw net income fall by only 9.8% and EPS shrink by 8.1%, you'd think that Republic Services is completely falling apart.
But put in context, those numbers aren't as bad as they seem -- for either company, in fact. During the quarter, Republic Serviceswas hit with almost $200 million in expenses related to the tender offer for certain outstanding bonds, which closed in early July. Excluding those and other one-time expenses, the company's adjusted net income rose by 15.1% year over year to $212.6 million, and EPS grew by 17% YOY to $0.62. Likewise, Waste Management's adjusted net income and adjusted EPS rose 11.6% and 13.5%, respectively, from the year-ago quarter.
So, in fact, it was a pretty good quarter. On the earnings call, CEO Don Slager said the adjusted EPS number "exceeded our expectations." He also pointed out the other highlights of the quarter: price and volume growth, increased year-over-year revenue, margin expansion, and improved yields. The tender offer for the outstanding bonds that wreaked such havoc on the quarter's net income and EPS numbers is expected to save $17 million in annual interest expenses.
Rewriting the contracts
Early on in the call, Slager made this interesting statement when talking about revenue-enhancing initiatives: "[W]e now have approximately $375 million in annual revenue that has been converted to a waste-related index or fixed rate increase of 3% or more for the annual price adjustment."
Traditionally, according to Slager, waste-management companies enter into five- or seven-year contracts, with annual increases chained to the Consumer Price Index, which averages a 1.5% increase per year. This, he says, is illogical because annual cost increases in the industry average 2% per year. "We're not going to enter into new agreements that have decreasing value over time," he says.
Of course, $375 million in annual revenue is a drop in the bucket for a company that posted $9.1 billion in annual revenue in 2015. Slager wasn't willing to predict how fast the company could continue to convert its customers to these newer types of contracts:
Wise investors will keep an eye on how well the company is doing in this regard. If the company can indeed successfully build higher annual rate increases into a majority of its contracts, it would have a tremendous impact on its bottom line. If it can't, well, it might benefit rivals like Waste Management as customers abandon ship.
Things are looking up
Of course, a major takeaway from the earnings report is the company's improved guidance for 2016.Republic Services now expects its full-year adjusted diluted EPS to be in a range of$2.19-$2.20, an increase from the original guidance of$2.13-$2.17. The company also expects full-year adjusted free cash flow to be in a range of$840 million-$850 million, up from a range of$820 million-$840 million.
If this improved 2016 guidance wasn't enough for investors, the company also gave a preliminary 2017 EPS outlook of $2.31-$2.36, which would represent at least a 5% increase over the top end of the company's 2016 EPS guidance. Likewise, the company expects 2017 free cash flow of $875 million-$900 million, an increase of at least 2.9% over the high end of this year's guidance range.
Couple this rosy outlook with the company's shareholder-friendly practices such as buybacks and dividends, and investors should find a lot to like.During the quarter, Republic Services returned$212 millionto shareholders through share repurchases and dividends, or $622 millionyear to date.
Investor takeaway
Republic Services turned in a good quarter and is anticipating more good quarters to come. The company is growing its business, expanding its margins, and increasing adjusted earnings and cash flow.It's even trying to tackle a perennial problem of contracts that become unprofitable because of insufficient annual rate increases.
Although there's certainly a risk that these plans won't come to fruition -- customers may balk at built-in rate increases and take their business elsewhere, or recycled commodity prices could suddenly drop again -- the company certainly seems to be on good footing. This report should provide additional incentive to investors to consider adding Republic Services to their portfolios.
A secret billion-dollar stock opportunity The world's biggest tech company forgot to show you something, but a few Wall Street analysts and the Fool didn't miss a beat: There's a small company that's powering their brand-new gadgets and the coming revolution in technology. And we think its stock price has nearly unlimited room to run for early in-the-know investors! To be one of them, just click here.
John Bromels owns shares of Waste Management. The Motley Fool owns shares of Waste Management. The Motley Fool recommends Republic Services. Try any of our Foolish newsletter services free for 30 days. We Fools may not all hold the same opinions, but we all believe that considering a diverse range of insights makes us better investors. The Motley Fool has a disclosure policy.