3 Key Takeaways From Ford Motor Company's December Sales Figures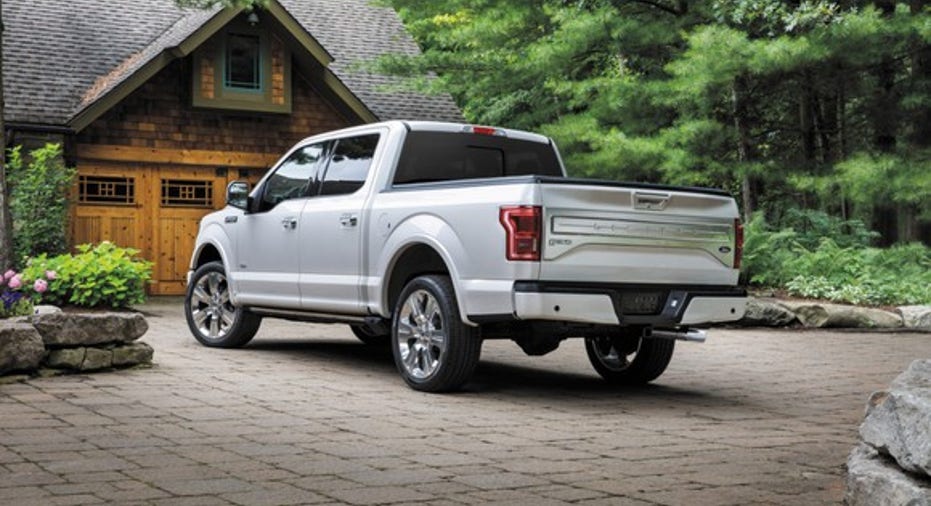 Ford's F-Series ended 2016 on a strong note, with sales nearing 90,000. Image source: Ford Motor Company.
At the time of this writing, the auto industry's total results for 2016aren't official, but it's almost certain they will just edge out the previous year's results to set a new record. If that happens, it would be largely because the industry had a little gas left in the tank -- perhaps more than analysts predicted -- to finish the year with a stronger-than-expected December. Ford Motor Company's (NYSE: F) total sales gain of 0.3%, to 239,854 units, last month won't impress many investors, but there were definitely some interesting figures in the automaker's results. Here are three key takeaways.
Important housekeeping items
Some of Ford's more intriguing numbers are not the focus of most articles, which is why I'll cover them first. As the industry plateaus, analysts have been sounding an alarm at elevated inventories at major automakers. Thanks to some early plant shutdowns and shift adjustments, Ford's gross stock lowered dramatically last month. The company's December gross stock checked in at 647,000 units, or roughly 70 days' supply. That compares favorably with the figure from a month earlier, when Ford's supply sat at 83 days' worth.
As far as fleet sales go, Detroit's second-largest automaker held true to its word that elevated sales during the first half of the year would abate to normal levels by year-end. Ford's December fleet sales accounted for 24% of total sales: 12% commercial, 6% government, and 6% daily rental (the least desirable of fleet sales categories). That was an improvement from the prior year's December, during which Ford recorded fleet sales at 27% of total sales, with a higher level, 9%, coming from daily rental.
For the full year, the results remain pretty consistent with the prior year. In 2016, Ford's fleet sales generated 29% of total sales: 12% commercial, 6% government, and 11% daily rental. During 2015, fleet sales accounted for 28% of total sales -- with a reduced level, 5%, coming from government sales.
Ford's year-over-year fleet sales are consistent, but notably, the figure was certainly higher than that of crosstown rival General Motors, which had less than 20% of its total sales from fleet segments.
F-Series and SUVs finish the year with a bang
Arguably the most impressive statistic from Ford's December results was the F-Series' sales performance. Sales totaled 87,512 trucks in December, and while that was "only" a 3% gain compared to the prior year, it was still the best overall sales month for the F-Series in 11 years. Ford's SUV segment also posted a healthy 5% gain in total sales, up to 68,685 units, which was the segment's best month since 2002. The uptick in SUV and truck sales helped push Ford's average prices higher.
"December marked Ford's best retail performance since 2004, with average transaction prices increasing $1,600 for the month -- $1,000 more than the industry average," said Mark LaNeve, Ford's vice president for U.S. marketing, sales, and service, in a press release. "Thanks to strong customer demand for F-Series, Transit and an all-new lineup of heavy trucks, Ford capped 2016 as America's best-selling truck brand."
Unsung hero
In a way, you can thank Ford's Lincoln luxury brand for the automaker's ever-so-slight overall year-over-year sales gain. For 2016, Ford's namesake brand posted a slightly worse sales result, down 0.4%, to 2,502,973 units -- a decline of roughly 9,000 units. That was offset, just barely, by Lincoln's 10.4% gain, which equated to an additional 10,497 units sold in 2016.
And while Lincoln has managed to fly under the radar this year, it quietly posted its best annual sales total since 2007, reaching 111,724 units sold. This marks Lincoln's fourth consecutive annual sales gain, which is a streak the brand hasn't seen in decades. Look for these gains to continue for Lincoln, as it is set to benefit from the all-new Continental flagship sedan, which will be posting incremental sales gains through much of 2017.
No, Ford's sales won't light up the headlines this year, but as long as the automaker continues to balance inventory and sell a plethora of SUVs and trucks, its bottom line will continue to do the talking.
10 stocks we like better than Ford When investing geniuses David and Tom Gardner have a stock tip, it can pay to listen. After all, the newsletter they have run for over a decade, Motley Fool Stock Advisor, has tripled the market.*
David and Tom just revealed what they believe are the 10 best stocks for investors to buy right now... and Ford wasn't one of them! That's right -- they think these 10 stocks are even better buys.
Click here to learn about these picks!
*Stock Advisor returns as of January 4, 2017
Daniel Miller owns shares of Ford and General Motors. The Motley Fool owns shares of and recommends Ford. The Motley Fool recommends General Motors. The Motley Fool has a disclosure policy.