3 Key Takeaways From Clean Energy Fuels Corp.'s Earnings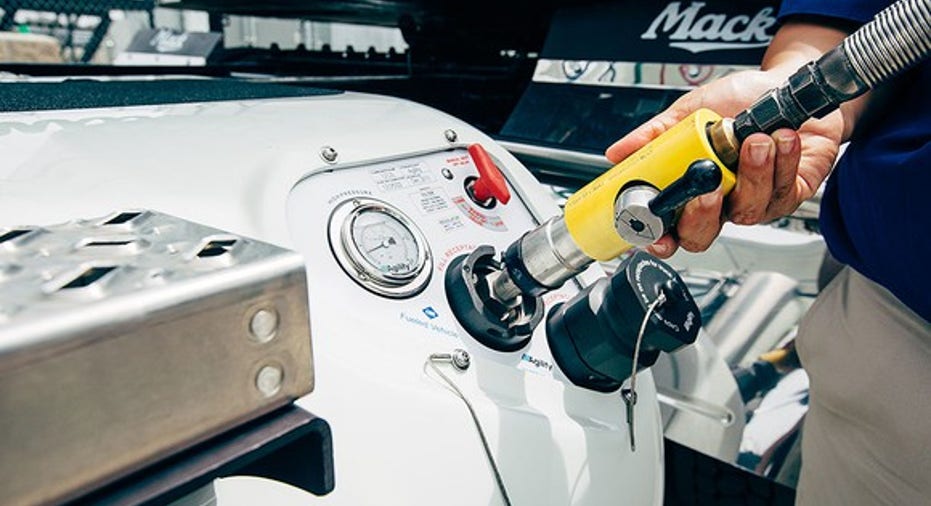 Fleet operators -- particularly ones with "green" goals -- continue to add natural gas vehicles to their mix.
Clean Energy Fuels Corp. reported first-quarter earnings on May 5, and by some measures, including total fuel gallons delivered growth, they came in lower than many expected. But at the same time, by nearly every other measure, Clean Energy had what is very likely the best quarter it's ever had, and certainly a notable one for anyone who's followed the company for the past several years.
Here's a closer look at Clean Energy's results and three big takeaways from what looks like a quarter where the company started to turn a big corner to profitability.
The numbers
| Metric | Q1 2016 | Q1 2015 |
| --- | --- | --- |
| Revenue | $95.8 | $85.8 |
| EPS | $0.03 | $(0.34) |
| Adjusted EPS | $0.05 | $(0.32) |
| Adjusted EBITDA | $29.8 | -$5.6 |
Revenue and adjusted EBITDA in millions. Data source: Clean Energy Fuels.
A few key takeaways here. Not only did Clean Energy break a streak of revenue declines -- tied to lower fuel prices, not a shrinking business -- but the company also shifted from regular losses, both in GAAP profits and adjusted EBITDA results, to positive earnings in the quarter.
Performance in key metrics
Gallon-equivalents delivered increased 3%.
Adjusting for 2015 volume from the company's (now-sold) interest in a biomethane plant, volume grew 8%.
Selling, general, and administrative expense was $25.6 million, down 15% from last year.
The company reduced debt $43 million in the first quarter.
It has decreased debt by another $31.5 since the end of Q1.
It ended the quarter owing $85 million on convertible notes due in Aug. 2016, down from $150 million at the start of quarter.
This was a product of both paying down a portion and refinancing with revolving debt.
Cash and equivalents increased $16.3 million sequentially.
"Other receivables" fell $34 million.
Key takeaways
Volume growth of 8% when adjusting for last year's sale of the Dallas biomethane plant, is encouraging, particularly after initially seeing "only" 3% growth. The thing that makes it exciting is that the "lost" volume from that facility isn't fuel sold to transportation, but fuel that was being sold to utility customers. In other words, the sale of that asset didn't impact the core vehicle fuel business. Additionally, LNG volumes declined year over year. CFO Bob Vreeland said on the earnings call that this was primarily due to bulk LNG sales, not declining demand for transportation use.
Fuel gallon margins also went up sharply, coming in at $0.36, up from $0.29-$0.29 for much of the past several years. A key driver behind strong margin growth is the increased volume of Redeem, Clean Energy's brand name for renewable natural gas it produces and sources.
Costs are also continuing to fall. Not only did SG&A expense fall from last year, but it was also down more than $1 million sequentially. Furthermore, Vreeland and CEO Andrew Littlefair both said that they expect some sequential improvement as being possible. Efforts to improve profitability in the compression equipment business are also paying off. On the earnings call, management said that even with lower revenue as the global economic slowdown continues, the compression equipment business contributed more gross margin this quarter than in the year-ago period.
4 good things, 1 to keep watching
One of the challenges with Clean Energy is sifting through the noise and looking at the core business performance, as well as management's progress on key initiatives. Here are the things that management has said to watch and that they are working to improve:
Fuel gallons delivered
Debt reduction (particularly notes due in 2016)
Lowering expenses
Improved profitability
Cash flows bear watching
In the first quarter, Clean Energy delivered on all four of these key areas, increased core fuel deliveries by 8%, reduced 2016 debt by $60 million, reduced SG&A expense by 15%, and reported both a GAAP and adjusted profit for the quarter.
If there's one metric that bears close watching, it's cash flows. Going through the company's earnings release, we see the following:
Total revenue: $95.8 million
Total cash expenses (product/service cost of sales; SG&A; interest expense; income tax expense): $94,389
When we subtract those cash costs from the revenue, we have $1.4 million left over, which approximates the company's cash flows from its operations. Furthermore, even after reducing total debt by $43 million in the quarter and adding $53 million in cash to the balance sheet ($32 million from 2015 VETC tax credits actually received in Q1, and $21 million from stock sales), the company saw current assets -- which is essentially cash, equivalents, inventory, receivables, and prepaid expenses -- decline by $15 million.
In other words, we'll need to see several quarters of cash flows to get a better idea how close the company really is to being cash-flow positive.
Looking ahead
Over the past year or so, Clean Energy Fuels has managed to significantly lower expenses, continue to grow fuel sales, slash its capital spending, and more recently start taking big bites out of its long-term debt. Add it all up and the company has significantly cut its cash outflows.
In real dollar terms, SG&A expense is on track to be $16 million-$20 million less this year; interest expense is on track to be $10 million less; capital expenditures are expected to fall $25 million. That's a $50 million reversal in cash flows right there -- the vast majority of last year's $63 million negative free cash flow, just in expense reduction alone.
Will the company keep growing core fuel sales by 8% or better, and will per-gallon margins hold up at the recent levels? Only time will tell. Either way, there's been major operational improvement, and this quarter once again showed that management has made impressive strides to strengthen the company.
The article 3 Key Takeaways From Clean Energy Fuels Corp.'s Earnings originally appeared on Fool.com.
Jason Hall owns shares of Clean Energy Fuels. Jason Hall has the following options: long January 2017 $5 calls on Clean Energy Fuels, short January 2017 $5 puts on Clean Energy Fuels, and long January 2017 $3 calls on Clean Energy Fuels. The Motley Fool owns shares of and recommends Clean Energy Fuels. Try any of our Foolish newsletter services free for 30 days. We Fools may not all hold the same opinions, but we all believe that considering a diverse range of insights makes us better investors. The Motley Fool has a disclosure policy.
Copyright 1995 - 2016 The Motley Fool, LLC. All rights reserved. The Motley Fool has a disclosure policy.