3 Internet of Things Stocks You're Overlooking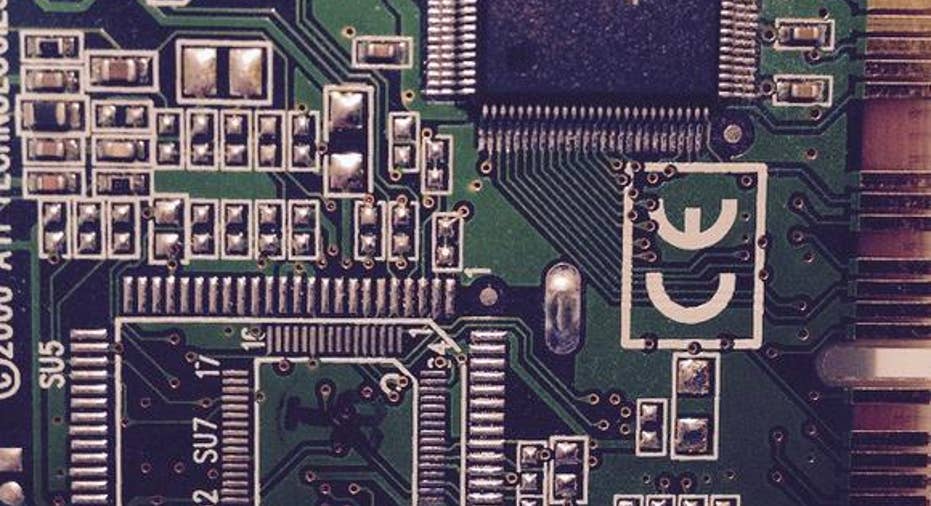 Internet of Things (IoT) stocks can often be tricky companies to pin down. That's because even though the IoT is already here, its full potential still hasn't remotely been realized. And that's left some investors leery of IoT stocks.
But the IoT's potential means that some of today's poor-performing tech companies could turn into major winners down the road.
Let's take a look at three stocks that still have lots of time to benefit from the ubiquitous connectivity revolution.
Ambarella If you've been keeping up with the action-camera market -- and specificallyGoPro's stock -- then you've likely heard of Ambarella . The company provides the video-processing semiconductors for GoPro's cameras, which was a good thing when the action-camera maker's stock was flying high. But that's all changed.
Ambarella's stock price has been pushed down nearly 40% over the past 12 months due to GoPro's woes. But Ambarella's revenue actually increased 5% year-over-year to $68 million in the fourth quarter, and the company has much more to support it than just GoPro's business.
Ambarella makes video-processing tech for drones, security cameras, and automotive cameras -- and these markets are all areas poised for big growth. Body-worn cameras for police officers have become a $1 billion market, automotive cameras are estimated to be an $11 billion market by 2020, and the commercial drone market is estimated to be worth more than $6 billion just four years from now.
Ambarella's fate is still somewhat tied to GoPro right now, but the company has lots of potential to bring in revenue from outside the action-camera market. And if GoPro's products start winning over consumers and investors again, Ambarella will certainly benefit from that as well.
ORBCOMM Don't let ORBCOMM's 1980s-sounding name fool you -- the company is on the forefront of the latest Internet of Things connections.
ORBCOMM has one of the world's first and only commercial satellite networks for machine-to-machine connections. Its satellites allow industrial, shipping, energy, and utility sector companies to stay in communication with their mobile and fixed connections. For example, Lockheed Martin's aeronautics division uses ORBCOMM's Internet of Things connections and platform to track some of its equipment.
ORBCOMM's 2015 revenues were up 85%, and the phenomenal growth of the Internet of Things could help push them higher. Cisco Systems estimates that by 2020, there will 50 billion things connected to the Internet -- and they'll all need connectionssimilar to those ORBCOMM is already providing. Perhaps that's why its stock is up more than 30% over the past three months.
Sierra Wireless Sierra Wireless has had a series of misses lately, there's no doubt about that. The company has missed management's guidance for two consecutive quarters, had some orders of 4G connections for notebooks stall for a quarter or two, and saw some of its automotive customers push their orders later as well. As a result, the company's stock is down 60% over the past 12 months.
But the Internet of Things is just getting started, and Sierra is still a leader in the embedded wireless module space. The company's tech can be found in everything from connected coffeemakers to Tesla Motors'all-electric vehicles.
The wireless embedded hardware and software market is projected to be worth $214 billion by 2020. And just as ORBCOMM will benefit from the 50 billion things connected the Intent by that time, so will Sierra Wireless.
Foolish thoughtsInvestors shouldn't expect an easy ride for these companies. Sierra and Ambarella will likely have to travel some rocky roads before they start seeing growth again, and ORBCOMM's current growth rate isn't guaranteed to continue. But each of these companies is making significant plays in growing IoT markets, and they're well worth the consideration of investors.
The article 3 Internet of Things Stocks You're Overlooking originally appeared on Fool.com.
Chris Neiger has no position in any stocks mentioned. The Motley Fool owns shares of and recommends AMBA, GPRO, SWIR, and TSLA. The Motley Fool recommends CSCO. Try any of our Foolish newsletter services free for 30 days. We Fools may not all hold the same opinions, but we all believe that considering a diverse range of insights makes us better investors. The Motley Fool has a disclosure policy.
Copyright 1995 - 2016 The Motley Fool, LLC. All rights reserved. The Motley Fool has a disclosure policy.