3 Interesting Things You Missed from Warren Buffett's Annual Meeting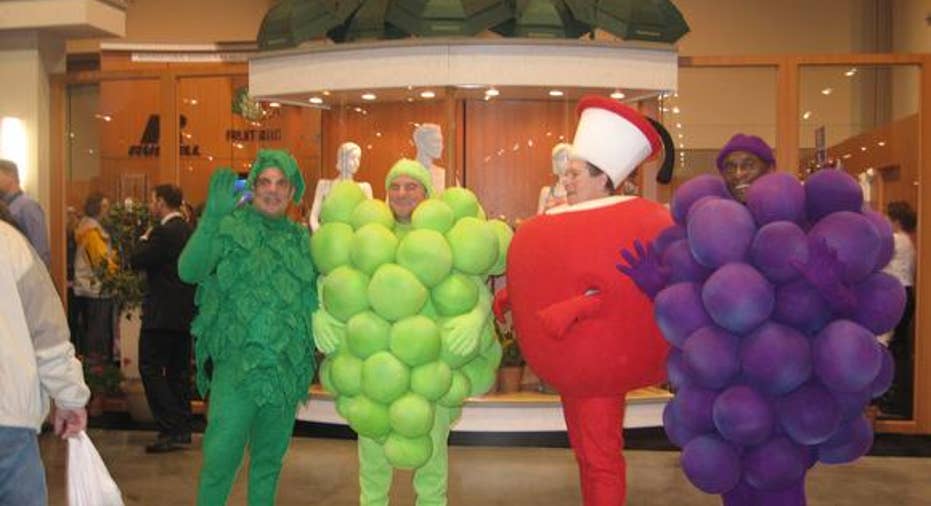 Every year, tens of thousands of shareholders, journalists, and fans descend upon Omaha, Nebraska, to attend the Berkshire Hathaway annual meeting. Each year, its chairman, Warren Buffett, and his partner Charlie Munger, answer questions from shareholders, journalists, and stock analysts for at least five hours. Dubbed the "Woodstock for capitalists," it's an event worth attending at least once in your life.
Here are three interesting things you may have missed from the meeting this year.
Selena MaranjianUnless you actually attended the 2016 Berkshire Hathaway annual meeting, you missed out on one of the most popular parts of it -- the annual movie. It's produced by Buffett's daughter Susie and lasts about an hour. It's not something you can just look up on YouTube, because as Buffett explains each year, many TV and movie stars and other celebrities agree to appear in segments for free, and due to agreements with the participants and copyright issues, it's meant to be viewed only at the meeting.
So what's in it? Well, it's structured similarly every year. It features some standout TV commercials for various Berkshire subsidiaries or holdings, such as Coca-Cola, GEICO, etc. It also has some special segments produced just for the movie, featuring the aforementioned celebrities and often playing off some aspect of popular culture. This year, for example, there was a brief animated parody of the movie Trading Places, some footage of Buffett negotiating with Walter White and Jesse of Breaking Badover Buffett's high-quality peanut brittle, and a skit of Buffett and Munger vying to be Arnold Schwarzenegger's next Celebrity Apprentice, among other bits. There was also a short feature on how Berkshire Hathaway Energy's wind turbines are installed and a classic Saturday Night Live skit criticizing professional money-managers.
One segment appears in every year's movie: A clip of Buffett testifying before Congress in 1991 about Salomon Brothers, the investment bank that he was called upon to oversee for a while after a scandal. It includes Buffett repeating what he told Salomon employees: "Lose money for the firm, and I will be understanding; lose a shred of reputation for the firm, and I will be ruthless." Finally, as always, the movie ends with a long shot of the managers of Berkshire's many subsidiaries scrolling by, accompanied by music.
This was the first year that Buffett permitted the meeting to be webcast so that people around the world could watch without being in Omaha. That might help you experience much of the meeting, but to see the annual movie, you'll need to do some traveling.
Photo: Roberta Romero, Flickr
Sean WilliamsThe Berkshire Hathaway annual meeting is the bonanza of all annual shareholder events. In fact, it's so big that the events planned for shareholders typically stretch across many days. While the primary highlight is hearing Warren Buffett and his sidekick Charlie Munger speak about the performance of Berkshire Hathaway and their outlooks on the stock market and the U.S. economy in general, a little-known fact about the initial Q&A session is that a third of the roughly 50 questions asked of the Oracle and his sidekick come from shareholders in attendance. Given that Buffett and Munger claim to have no prior knowledge of these questions, this results in some candid and honest responses.
Here are some of the questions Buffett and Munger fielded from the public this year:
"Why doesn't Berkshire Hathawayhave a AAA credit rating?"
"What areIBM'scompetitive advantages?"
"Should the price of oil influence the actions of the Federal Reserve?"
Munger's response to the question regarding Berkshire's less-than-perfect credit rating was classic: "Because they're wrong." It's hard to argue with that opinion, considering that Berkshire's quarterly free cash flow tends to hover between $3 billion and $5 billion.
When it came to IBM, Buffett decided not to get into the specific analysis of what prompted him to buy (and continue to buy) Big Blue in the first place. Buffett has previously suggested that Berkshire's investment could prove incorrect, but we've also seen IBM complete turnarounds throughout its storied history before.
Lastly, Buffett argued that low oil prices would actually be good for the U.S. economy as a whole, noting that the U.S. economy has strengthened even as oil has declined. It was Buffett's way of telling the room packed with shareholders that the Federal Reserve probably shouldn't allow oil prices to influence its decision-making.
It's questions like these that make this unscripted Q&A so worthwhile.
The massive exhibit hall features gobs of Berkshire subsidiaries. Photo: Roberta Romero, Flickr
Buffett is well known for making deals quickly and decisively. The deal to stream the annual meeting, for example, was a simple one-page contractdevoid of the legal jargon that typically accompanies such things. One of the most interesting questions Buffett and Munger received during the meeting was about the duo's approach to acquisitions.
Buffett admitted to making plenty of mistakes during his decades at the helm of Berkshire Hathaway, but he insisted that the problem was always an incorrect assessment of the acquisition's future and the economics of the industry. It never came down to a small detail that only could have been uncovered by a deep dive. Buffett's insistence on a substantial margin of safety allows him this room for error.
The quality of the management that stays to run each company that Berkshire acquires is the most important factor, according to Munger, and Berkshire has a long record of retaining top-notch managers. Berkshire's approach to deal-making is unique, and it saves the company a boatload of money that would otherwise be spent on consultants and advisors.
The thorough approach to evaluating acquisitions that other companies use doesn't typically work so well. According to Decisive, a book about decision making, 83% of corporate mergers and acquisitions fail to increase shareholder value. Despite Buffett's occasional mistakes, his record is well above average.
The article 3 Interesting Things You Missed from Warren Buffett's Annual Meeting originally appeared on Fool.com.
Sean Williamshas no position in any stocks mentioned.Selena Maranjianowns shares of Berkshire Hathaway, Coca-Cola, and International Business Machines.Timothy Greenowns shares of Berkshire Hathaway and International Business Machines. The Motley Fool owns shares of and recommends Berkshire Hathaway and Coca-Cola. Try any of our Foolish newsletter servicesfree for 30 days. We Fools may not all hold the same opinions, but we all believe thatconsidering a diverse range of insightsmakes us better investors. The Motley Fool has adisclosure policy.
Copyright 1995 - 2016 The Motley Fool, LLC. All rights reserved. The Motley Fool has a disclosure policy.