3 Important Takeaways From Polaris Industries' Q1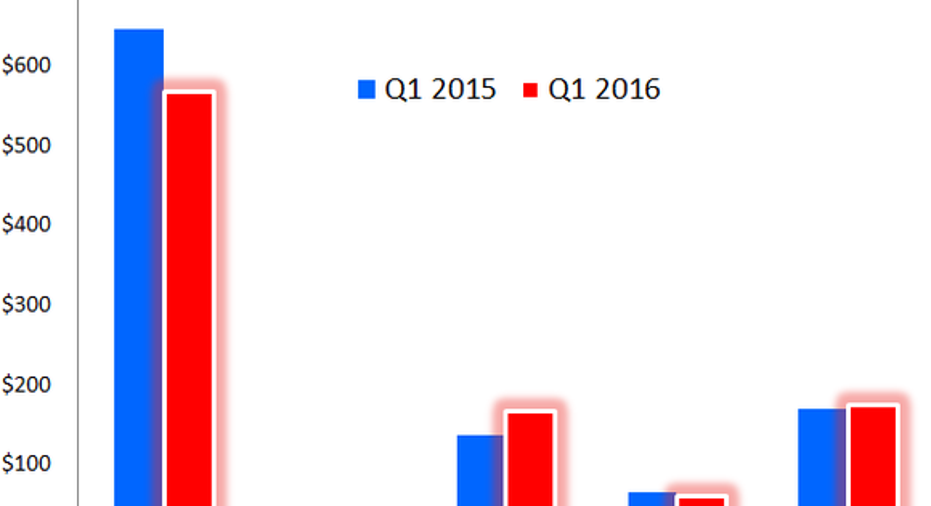 Image source: Polaris Industries.
There's no questioning Polaris Industries' powerful brand image in the powersports business. It's built that name on the back of innovative and successful products in multiple categories. Thanks to those products, and that growing brand image, the company has rewarded investors over the past half-decade by dominating market share in North America powersports sales since 2010.
However, it's been a rough few quarters, and that trend continued during the first quarter of 2016. Let's take a look at sales figures, why its profits declined so sharply, and a couple of other noteworthy topics for investors.
Starting from the top While plunging profits deserves the most attention, let's first check out how Polaris' top-line sales fared during the first quarter.
Chart by author. Data source: Polaris Industries Q1 earnings release. PG&A = parts, garments, and accessories.
Polaris' bread-and-butter ORV sales paved the way for a 5% decline in total sales during the first quarter, compared with a year ago. Combined, ORV/Snowmobile sales were down 9%; Motorcycles were up 18%, and Global Adjacent Markets were down 5%.
On the bright side of the sales equation were Polaris' retail sales in North America, which posted a 6% gain over last year's first quarter. That's a welcome reversal from the fourth quarter of 2015, when retail sales dropped 6%, the only year-over-year decline for retail sales during 2015.
However, sales in the ORV segment are likely to remain depressed, as sales in North American oil markets are going to be tough, with prices hovering around $40 a barrel. Snowmobile whole-good sales moved 2% higher during the first quarter, primarily because of the acquisition of Timbersled in the second quarter of last year. The major bright spot for sales, motorcycles, continued to drive higher, with Polaris' Indian Motorcycle brand grabbing market share from industry leader Harley-Davidson.
So, about that plunge...Although total sales moved only 5% lower in a challenging environment, the plunge in net income was much more severe. During the first quarter, net income plunged 47% to $46.8 million. That drop sent the company's net income margin down 380 basis points, from 8.6% during last year's first quarter down to 4.8%. That decline, in turn, moved diluted net income per share down from $1.30 to $0.71 during the same time frame.
Much of that plunge in profits was from $30 million in product liability settlements, ORV-related warranty accruals, severance costs, and acquisition costs. Furthermore, on the recall front, Polaris noted that it had recalled roughly 160,000 vehicles made since 2013, including 133,000 off-road vehicles recalled Tuesday.
When speaking about the recalls, according to the MinneapolisStar Tribune,CEO Scott Wine said, "Our leading concern is to figure out what went wrong and to make it right. It is our foremost priority to get this right for our customers and shareholders."
Last, but not least One of the focal points for investors over the past year has been manufacturing-related. An update on that front: The Spirit Lake facility is producing on schedule, with output up over 30% during the first quarter, and manufactured lead times were 75% better. Polaris' Huntsville plant will begin producing the Ranger SxS in the second quarter, with the Slingshot coming in the following quarter.
Going hand-in-hand with facility improvements is inventory and turn improvement, which is something investors should keep an eye on throughout 2016 as the company attempts to cut costs and become more efficient. Here's a look at the hopeful reduction in inventory, and simultaneous improvement in turns.
Image source: Polaris Industries' first-quarter earnings presentation.
Ultimately, oil prices are setting 2016 highs at the time of this writing, and if prices manage to reach and then sustain levels above $55, it could help North American oil markets and in turn boost sales of Polaris' bread-and-butter ORV business. That's far from a sure thing, so until then, investors should keep focused on what the company can control: completing recalls safely and effectively, cutting costs, and improving manufacturing and inventory turns.
The article 3 Important Takeaways From Polaris Industries' Q1 originally appeared on Fool.com.
Daniel Miller has no position in any stocks mentioned. The Motley Fool owns shares of and recommends Polaris Industries. Try any of our Foolish newsletter services free for 30 days. We Fools may not all hold the same opinions, but we all believe that considering a diverse range of insights makes us better investors. The Motley Fool has a disclosure policy.
Copyright 1995 - 2016 The Motley Fool, LLC. All rights reserved. The Motley Fool has a disclosure policy.