3 High-Yield Dividend Stocks Wealthy Investors Should Consider Buying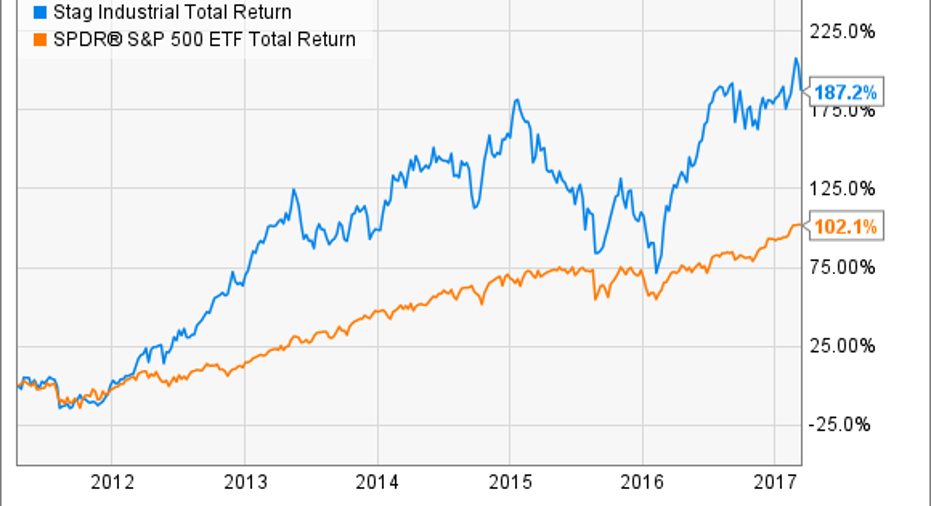 Dividend stocks often form the foundation of the greatest retirement portfolios. Unfortunately, no two are created equally.This means time and care must be put in to weed out the bad seeds.
Finding the right dividend stocks is especially important for wealthy investors, who can often live comfortably off of the dividend income generated by their core investments. Ideally, the rich want the highest-yielding dividend stocks possible, while minimizing risk.
Image source: Getty Images.
With this in mind, we asked three of our Foolish contributors to offer their suggestions for a high-yield dividend stock that wealthy investors should consider buying. Making the cut were automaker Ford Motor (NYSE: F), non-traditional real estate investment trust STAG Industrial (NYSE: STAG), and communications giant Qualcomm (NASDAQ: QCOM).
A dividend with the pedal to the metal
Sean Williams (Ford Motor): If wealthy investors are looking for a safe high-yield stock to consider for the long-term, my suggestion would be to take a closer look at domestic automaker Ford, which is currently yielding just shy of 5%.
Like all companies, Ford isn't without its risks. Easily the two biggest concerns in the near- and intermediate-term for investors are the possibility of rising interest rates -- higher rates on auto loans could push certain buyers out of the new car market and coerce them to keep their current vehicle, or buy used and the expectation of U.S. auto sales peaking. However, I'd consider both of these concerns to be minor at best.
Easily the biggest growth opportunity for Ford is China, the largest auto market in the world. Last year, Ford wound up selling a record 1.27 million vehicles in China, a 14% increase from the previous year. Of particular interest was the 180% annual surge in Lincoln sales to 32,558 vehicles. The success of Lincoln is what coerced the company to recently announce that it plans to start making the brand in China beginning in 2019. China's burgeoning middle-class, rapid GDP growth rate, and expanding dealer network should continue to give Ford a path toward more market share in China.
2017 F-150 Raptors on their way to China. Image source; Ford.
Also working in Ford's favor are lower prices at the pump and shifting consumer buying habits. Lower fuel prices encourage consumers to move away from sedans and toward SUVs and trucks. According to data from The Wall Street Journal, sales of Ford's flagship F-Series pickup are up by 10.4% through February compared to last year, while sales of the Escape have risen 12% over the same period. Though Ford's sedan sales have suffered, SUVs and trucks are higher margin products, so Ford will gladly take the trade-off.
Lastly, Ford offers some exceptionally inexpensive fundamentals that should limit its downside risk. Ford is valued at a minuscule seven times its projected forward-year earnings despite generating $12.8 billion in free cash flow. It's a company with a robust dividend that wealthy investors will appreciate.
Boring, but profitable
Brian Feroldi(STAG Industrial): Unlike most real estate investment trusts, STAG Industrial couldn't care less about buying beautiful retail or residential buildings in glitzy markets. Instead, STAG is laser focused on acquiring industrial buildings and warehouses that house single tenants. Why? STAG's logic is that these buildings are unattractive to other REITs, so they can be purchased at attractive prices. That allows the company to earn higher rates of returns since these buildings tend to throw off a lot more cash flow.
Targeting buildings that house single tenants might sound like a risky strategy, but it is not as crazy as you'd think. The reason is that STAG owns hundreds of individuals properties and the company's biggest tenant only represents 3.1% of total revenue. This diversification goes a long way toward helping to de-risk the company's financial statements.
STAG's unique business model has allowed it to gobble up new properties at a rapid pace. Since the company's IPO in 2011, its portfolio of properties has grown by 369%. Predictably, the company's revenue and profits have followed suit, which has driven great total returns for shareholders.
STAG Total Return Price data by YCharts.
Looking ahead, STAG estimatesthat it has captured less than 1% of its total market opportunity. If true, that hints that there is ample room for further growth. Mix in adividend yield of 5.8% that is paid monthly and I think this is a great stock for any income investor to consider.
No time like the present
Tim Brugger(Qualcomm):It's been a tough year for Qualcomm shareholders. With its stock down 11% in 2017 and questions raised about its high margin licensing revenue due to multiple lawsuits, Qualcomm may not be the first high yielding stock investors would consider.
But the recent concerns, its strong 3.66% dividend yield, and forays into upstart markets including virtual reality (VR) and 5G to power the shift to the Internet of Things (IoT) are why Qualcomm is such an attractive alternative right now.
As for the pending lawsuits from South Korea and longtime customerApple, Qualcomm has been down this road before. Two yearsago Qualcomm wrote Chinese authorities a $975 million check to settle licensing issues, and naturally its stock took a hit. Today? China product orders and licensingfees are a key revenue driver and continue to grow with each passing quarter.
Image source: Getty Images.
Don't be surprised when a similar outcome is announced with South Korea. Qualcommhas already accounted for any pending charge from South Korea after taking an $868 million hit last quarter related to the matter.
And Qualcomm stock -- even with its strong dividend and unlimited growth prospects -- is trading at a ridiculouslyinexpensive 12 times future earnings. For wealthy investors interested in a solid dividend, why not include a stock that also offers appreciation potential thanks to leading the IoT and "smart" car charge?
On both the income and stock appreciation fronts, Qualcomm foots the bill nicely. The fact it's priced so attractively relative to its peers is just icing on the cake.
10 stocks we like better than QualcommWhen investing geniuses David and Tom Gardner have a stock tip, it can pay to listen. After all, the newsletter they have run for over a decade, Motley Fool Stock Advisor, has tripled the market.*
David and Tom just revealed what they believe are the 10 best stocks for investors to buy right now... and Qualcomm wasn't one of them! That's right -- they think these 10 stocks are even better buys.
Click here to learn about these picks!
*Stock Advisor returns as of February 6, 2017
Brian Feroldi owns shares of Apple and Stag Industrial. Sean Williams has no position in any stocks mentioned. Tim Brugger has no position in any stocks mentioned. The Motley Fool owns shares of and recommends Apple, Ford, and Qualcomm. The Motley Fool has the following options: long January 2018 $90 calls on Apple and short January 2018 $95 calls on Apple. The Motley Fool recommends Stag Industrial. The Motley Fool has a disclosure policy.