3 Hidden Ways Getting Laid Off Can Cost You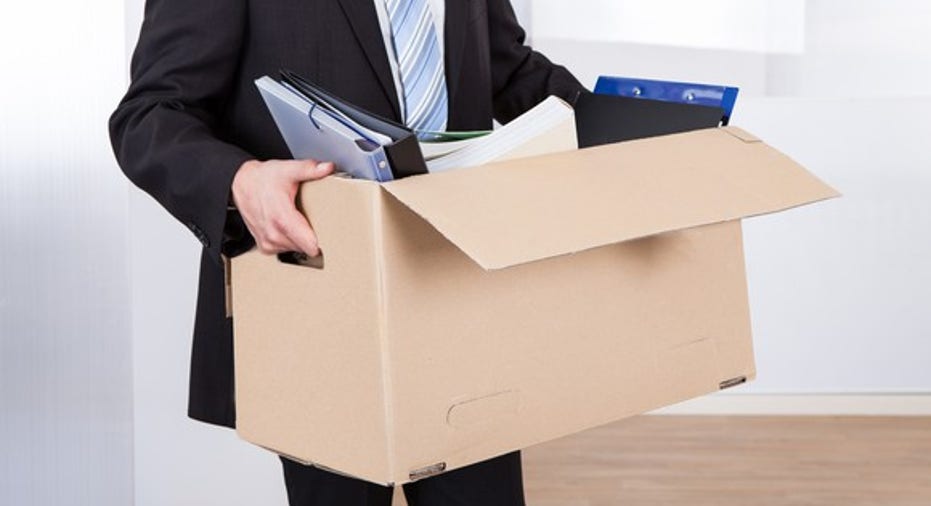 While unemployment rates aren't as high as they once were, you don't need a recession to unexpectedly find your job on the line. Even in the strongest of economies, outside competition, financial mismanagement, and shifting company priorities can all result in unforeseen job loss -- and when that happens, the consequences can be significant. According to a 2014 Rutgers University study, 55% of long-term unemployed workers (those out of a job for six months or longer) claim they will need to postpone retirement as a result. Meanwhile, almost 50% of the long-term unemployed believe it will take them anywhere from three to 10 years to recover financially. Of course, we all know that when you get laid off, you lose your salary, which can constitute a huge financial blow, but consider these less obvious financial drawbacks of becoming unemployed.
IMAGE SOURCE: GETTY IMAGES.
1. Losing your subsidized health insurance
According to a 2015 report by the Kaiser Family Foundation, the average health insurance premium for single coverage is $521 per month, or $6,251 per year, while the average premium for family coverage is $1,462 per month, or $17,545 per year. Of that, workers contribute an average of $89 per month for single coverage, or $1,071 annually, and $413 per month for family coverage, or $4,955 annually. So who pays the rest? Employers. Not only that, but among companies that offer health benefits, 63% of workers receive coverage through their employers. If you're among the many Americans whose health benefits are linked to a job, getting laid off could mean finding yourself on the hook for thousands extra in insurance premiums.
Let's say your insurance plan costs $6,251 a year, of which you're used to paying only $1,071. Suddenly, you've got two choices: Cough up that extra $5,000 a year, or find a lower-cost plan, which is easier said than done -- especially since paying for a cheaper plan outright is often more expensive than paying your share of an employer-sponsored premium. According to 2015 data from eHealth, the average individual premium for non-subsidized health insurance is $286 per month, or $3,432 per year-- almost $2,400 more annually than the average employee contribution for employer-sponsored coverage. And when you look at family coverage, the numbers only get worse.
2. Losing your 401(k) match
According to 401khelpcenter.com, the average company 401(k) match is about 2.7% of pay. While that may not seem like a lot, losing out on that match for even a year can seriously hinder your retirement savings efforts.
Let's say you're earning $80,000 a year, and that you're contributing enough to your 401(k) to take advantage of a 2.7% match. What this means is that your employer is giving you $2,160 a year in free money, which you're then able to invest and grow. Now imagine you lose your job at age 35, remain unemployed for a year, and therefore miss out on an additional $2,160 in 401(k) dollars. Since you could've otherwise invested that money for 30 more years and conceivably generated an average annual 8% return, you're not just losing $2,160 -- you're losing the almost $22,000 it would've grown to.
3. Spending money to find a new job
Job-searching doesn't just take time; it often takes money. From major expenses like travel to and from interviews to more minor costs like dry cleaning your interview suits, the longer you remain unemployed, the more you're likely to spend. And while many job search costs are thankfully tax-deductible, you'll still need to be prepared to lay out the money up-front.
...which is why you need an emergency fund
You can't always protect yourself from job loss, but what you can do is take steps to mitigate its impact on your financial health by having a well-established emergency fund in place. If you're single with no dependents, aim to have three to six months' worth of living expenses on hand. If you're the sole breadwinner for a family with kids, aim for six to nine months of expenses or more. Not only do you need to prepare for the possibility of an extended job search, but you also need to factor in the unexpected costs of getting laid off. For example, when calculating your emergency fund, be sure to account for the cost of paying a health insurance premium in full, as opposed to the portion you currently pay thanks to your employer's subsidy.
You can't always predict when a layoff might strike, and it's not unheard of for top performers to suddenly find themselves filing for unemployment benefits. But with enough savings, you can at least absorb the financial shock that comes with losing a job.
The article 3 Hidden Ways Getting Laid Off Can Cost You originally appeared on Fool.com.
Try any of our Foolish newsletter services free for 30 days. We Fools may not all hold the same opinions, but we all believe that considering a diverse range of insights makes us better investors. The Motley Fool has a disclosure policy.
Copyright 1995 - 2016 The Motley Fool, LLC. All rights reserved. The Motley Fool has a disclosure policy.