3 Healthcare Stocks Warren Buffett Really Likes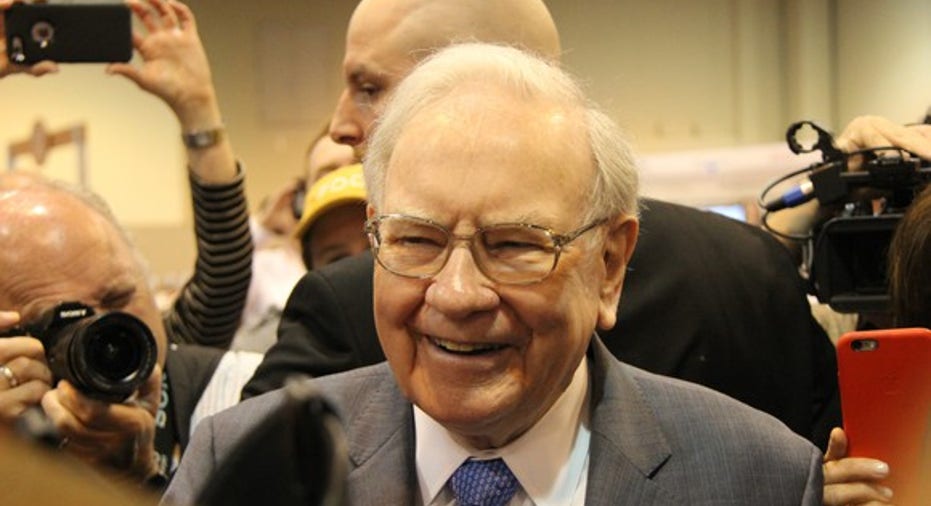 What does Warren Buffett like? Playing bridge ranks pretty high on the list. University of Nebraska football does, too. Investing makes the cut, for sure. And his investing picks include three healthcare stocks. Here's why Warren Buffett really likes DaVita (NYSE: DVA), Johnson & Johnson (NYSE: JNJ), and Sanofi (NYSE: SNY).
Image source: The Motley Fool.
Steady business model
DaVita provides dialysis services in the U.S. for patients with end-stage renal disease (ESRD). The company claims a market share of around 36%.Even better, DaVita's revenue stream has steadily increased over the last 10 years.
That revenue growth is one reason why Warren Buffett's Berkshire Hathawayowns over 38 million shares of DaVita stock. Another is the company's business model. DaVita provides a much-needed service that saves patients' lives and helps reduce overall healthcare costs. For many patients, the only viable option to dialysis is to receive a kidney transplant, which can cost hundreds of thousands of dollars.
DaVita doesn't have to worry about running short of customers. The prevalence of ESRD is increasing in the U.S. and could increase in the future. Diabetes, which is the most common cause of ESRD, is more common in older Americans -- and the U.S. population is aging.
DaVita does have one disadvantage, though: The company doesn't have much pricing power for its services. Around 42% of DaVita's dialysis services revenue in the first half of 2016 came from patients with Medicare as their primary payer. Medicare sets a bundled payment rate that covers all dialysis-related services. DaVita isn't able to simply name its price like some of the other companies that Buffett owns can.
Healthcare giant
Buffett likes Johnson & Johnson now, but he used to love the company. In 2012, the Oracle of Omaha said that J&J had "some wonderful products and a wonderful balance sheet, but too many mistakes have been made." Those mistakes included multiple product recalls.
Still, though, Berkshire Hathaway is hanging on to over 327,000 shares of Johnson & Johnson. There's plenty for Buffett to like (and even love) about the healthcare giant. I'd put how the company rewards shareholders near the top of the list. J&J spins off a lot of cash and has consistently returned much of it to shareholders through dividends and share buybacks.
Although Johnson & Johnson is 130 years old, the company hasn't stopped innovating. J&J's drug pipeline includes more than 30 late-stage clinical studies.In addition to potential new revenue from innovation, many of the company's products that have been around for a long time, such as Band-Aids and Tylenol, continue to rack up solid sales numbers.
I suspect that Buffett wishes he had held on to the shares that he sold off in recent years. Since January 2013, J&J's stock is up more than Berkshire Hathaway's. Even oracles aren't perfect at predicting the future.
Going global
Buffett is a patriotic American, but he doesn't shy away from investing across the globe. Sanofi (NYSE: SNY) proves the point. Berkshire owns over 3.9 million shares of theFrench drugmaker.
Some of the same reasons that Buffett has liked Johnson & Johnson in the past also apply to Sanofi. Rewarding shareholders through dividends is important to the company. Sanofi's dividend yield currently stands at 4.4%, one of the best healthcare stock dividends around.
Like J&J, Sanofi also continues to innovate. The company's pipeline includes 44 drugs and vaccines, 14 of which are either in late-stage studies or are awaiting regulatory approval. With his stake in Sanofi, Warren Buffett also owns a sizable chunk of biotech Regeneron, which claims another six late-stage drugs.
Declining sales for several drugs, particularly blood-thinner Plavix and allergy drug Allegra, present challenges for Sanofi. However, the company's pipeline could help the drugmaker make up for the lost revenue over time.
Be like Buffett?
Investors would be smart to copy Warren Buffett's investing principles, but that doesn't mean buying the exact same stocks that he buys is always a good idea. Many of his purchases were made years ago under different conditions.
However, I think at least one of Buffett's healthcare stock picks is a solid candidate for investors to consider. A few years ago, my Foolish colleague Brian Orelli noted,"Johnson & Johnson stock is always a buy (if you hold long enough)." Brian's view is still right on the money in my opinion. And as for holding long enough, remember what Buffett said: "Our favorite holding period is forever."
A secret billion-dollar stock opportunity The world's biggest tech company forgot to show you something, but a few Wall Street analysts and the Fool didn't miss a beat: There's a small company that's powering their brand-new gadgets and the coming revolution in technology. And we think its stock price has nearly unlimited room to run for early in-the-know investors! To be one of them, just click here.
Keith Speights has no position in any stocks mentioned. The Motley Fool owns shares of and recommends Berkshire Hathaway (B shares). The Motley Fool owns shares of DaVita. The Motley Fool recommends Johnson and Johnson. Try any of our Foolish newsletter services free for 30 days. We Fools may not all hold the same opinions, but we all believe that considering a diverse range of insights makes us better investors. The Motley Fool has a disclosure policy.