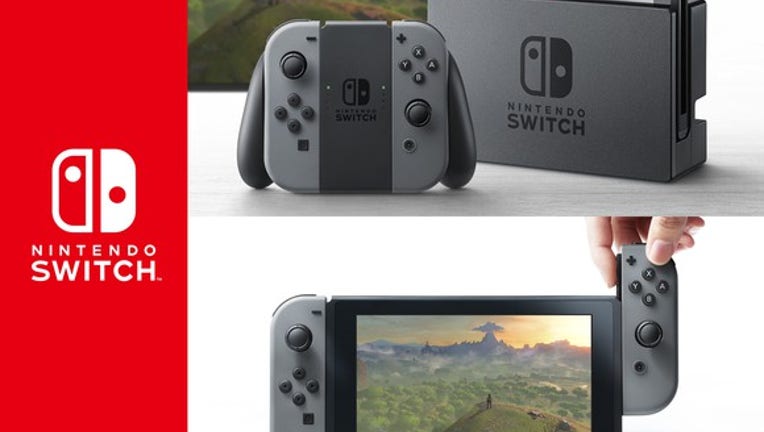 Throughout its history, gaming has been the heart and soul of NVIDIA (NASDAQ: NVDA). For the recently ended fiscal year 2017 in January, NVIDIA's gaming revenue increased 44% to $4 billion, or 58% of total revenue.
After a more than 200% increase in calendar 2016, NVIDIA's stock has stalled as investors wait to see if competition from Inteland Advanced Micro Deviceswill break NVIDIA's momentum. However, there are three notable catalysts -- both short-term and long-term in nature -- that could continue driving demand for NVIDIA's graphics processing units (GPU).
Nintendo Switch
Nintendo Switch is powered by NVIDIA. IMAGE SOURCE: NVIDIA INC.
The new Nintendo (NASDAQOTH: NTDOY) Switch video game console is powered by a custom NVIDIA Tegra GPU.The graphics specialist has a history of making GPUs for consoles going back to the original MicrosoftXbox in 2001.
After much anticipation, Nintendo finally launched its new Switch console on March 3, 2017, and the early signs look great -- Switch is on pace to be a big hit. The Wall Street Journal recently reported in March that due to strong demand, Nintendo is ramping up production from an initial 8 million units to 16 million units for the first year.
Further, a report from DFC Intelligence estimates the Switch console could sell 40 million units within its first four years on the market.This would put Switch on pace to sell about as well as Sony'sPS4, which has sold more than 50 million units since its fall 2013 launch.
Nintendo's production increase of Switch could translate to an additional $400 million in revenue for NVIDIA, according to an analyst with RBC Capital Markets.This implies a $50 cost per unit for the NVIDIA GPU inside each Switch console.
As if the news can't get any better, another report suggests that Switch production may move beyond 16 million to 20 million in the short term.These numbers are not surprising given Nintendo of America President Reggie Fils-Aime's comment that Switch was setting new records for Nintendo every day in the U.S., as of mid-March 2017.
Based on potential Switch sales of 40 million units, NVIDIA stands to gain as much as $2 billion in additional revenue from Switch sales over the next four years.As some analysts express concern about increasing competition from Intel and AMD, Nintendo Switch is an under-the-radar catalyst for the GPU maker that many probably didn't see coming.
E-sports
Looking further out, the growth of e-sports is a major opportunity for NVIDIA to expand its high-performing, GeForce GPU user base. The global audience for e-sports is estimated to be 385 million and growing.NVIDIA has its GeForce GPU brand very well entrenched with some of the biggest e-sports tournaments in the world.
Currently, NVIDIA has a roughly 70% share of the discrete GPU market.E-sports is a perfect marketing opportunity for GPUs since a lot of gaming tournaments are broadcast to millions of spectators online through Amazon.com'sTwitch or Alphabet'sYouTube.With these streaming services, millions of e-sports fans get to witness a GeForce GPU in action in front of their eyes. No graphics maker can ask for better exposure than that.
E-sports gamers are competing at the highest levels to win big cash prizes ranging from hundreds of thousands to millions of dollars.To win e-sports championships, gamers need crisp, fast gameplay and the best graphics. Since NVIDIA created the first GPU in 1999, it has catered to the needs of high-end gaming enthusiasts who can't settle for anything less than top performance.
NVIDIA has a long history with e-sports. In 2004, NVIDIA hosted the GeForce LAN event, which included gaming tournaments.In 2015, NVIDIA announced a partnership with the largest e-sports company in the world, ESL (originally known as Electronic Sports League).
The graphics specialist has even set up an e-sports lab to work with professional gamers to better understand what e-sports players are looking for in GPU performance.
The graphics company has hosted professional gaming tournaments for Activision Blizzard'sHearthstone and Starcraft 2and is currently the official hardware platform for ESL One's Counter-Strike: Global Offensive e-sports tournament.
Additionally, NVIDIA was the official graphics hardware provider for The International Dota 2 Championships for the second consecutive year in 2016. The Dota 2 tournament is one of the most popular and biggest tournaments with a cash award of $20 million in prize money, one of the biggest prize pools in e-sports -- or any sport, for that matter.
Cloud gaming
While e-sports is a great way to market its technology to existing PC gamers, NVIDIA needs a way of bringing new gamers into the fold. Over the long term, it's important for the installed base of PC gamers to grow, otherwise NVIDIA will find it difficult to grow its Gaming segment. NVIDIA estimates that 200 million PC gamers use its GeForce GPUs, but there are well over 1 billion PC gamers in the world, according to market researcher Newzoo.
Of course, not every one of these 1 billion-plus PC gamers are interested in high-end PC gaming. Still, there are very likely plenty of gamers in this pool that NVIDIA has yet to reach, especially ones who would like to try high-end PC gaming but are not able to spend $3,000 on a state-of-the-art gaming PC.
NVIDIA has been trying to reach these would-be PC gamers with its GeForce NOW subscription service. GeForce NOW is essentially a service that allows you to rent a high-end gaming PC from the cloud.
After registering, gamers can play for free for eight hours on a GeForce GTX 1060 PC, or four hours on a GeForce GTX 1080 PC, all streamed from cloud servers. Additionally, gamers can pay $25 to play about twice as long on both GPUs.
The cost of the service is about the same as upgrading to a new, high-end GPU every year.The main appeal of the service would be not shelling out several thousand dollars for a high-end gaming PC up front, making GeForce NOW a more economical option to get started in PC gaming.
3 sneaky ways NVIDIA can maintain its gaming dominance
These partnerships with Nintendo and major e-sports tournaments will be very valuable to NVIDIA in the coming years. The company's GeForce NOW cloud gaming service will help NVIDIA with the important task of expanding the installed user base of its GPUs. In addition, Nintendo's Switch is proving to be an unexpected catalyst in 2017 and beyond.
Find out why Nvidia is one of the 10 best stocks to buy nowMotley Fool co-founders Tom and David Gardner have spent more than a decade beating the market. (In fact, the newsletter they run, Motley Fool Stock Advisor, has tripled the market!*)
Tom and David just revealed their 10 top stock picks for investors to buy right now. Nvidia is on the list -- but there are nine others you may be overlooking.
Click here to get access to the full list!
*Stock Advisor returns as of April 3, 2017.
Suzanne Frey, an executive at Alphabet, is a member of The Motley Fool's board of directors. Teresa Kersten is an employee of LinkedIn and is a member of The Motley Fool's board of directors. LinkedIn is owned by Microsoft. John Ballard owns shares of Activision Blizzard, Nintendo, and Nvidia. The Motley Fool owns shares of and recommends Activision Blizzard, Alphabet (A and C shares), Amazon, and Nvidia. The Motley Fool recommends Intel. The Motley Fool has a disclosure policy.