3 Growth Dividend Stocks to Buy in November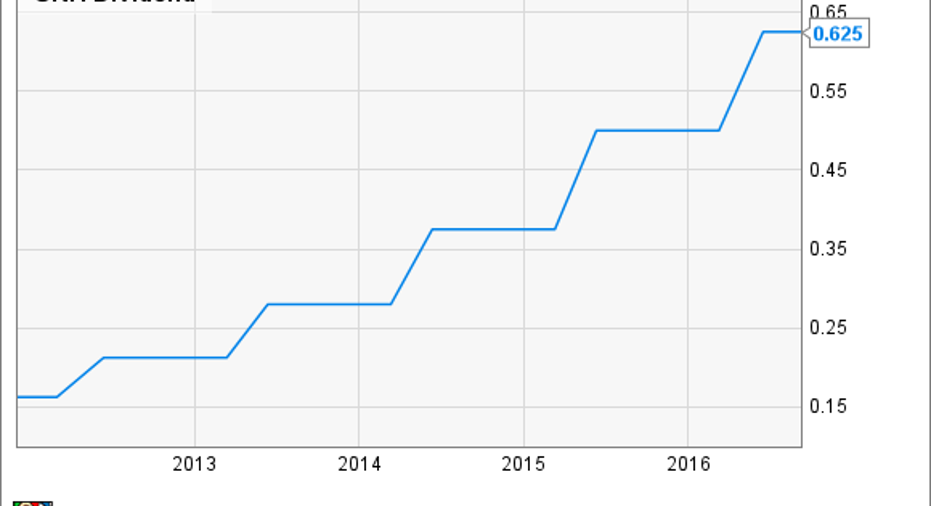 The mercury in your thermometer might be falling as winter draws near, but your quarterly dividend checks certainly don't need to follow suit. However, finding dividend stocks in your quest to put your money to work is easier said than done. So weasked three Motley Fool contributors to each choose a growth dividend stock they believe investors would be wise to buy this month. They choseCorning(NYSE: GLW),UnitedHealth Group(NYSE: UNH), andCanadian National Railway(NYSE: CNI).Read on to see why.
Image source: Getty Images.
The choice is clear
Steve Symington:If you're looking for an enduring company with a growing dividend, it's hard to find a clearer choice than glass technology specialist Corning. After all, as I pointed out earlier this year, Corning CEO Wendell Weeks has already said that shareholders can "expect us to increase their dividend payments by at least 10% annually through 2019."
That promise comes as part of what started around this time last year as a newstrategic and capital allocation framework. Through that framework,Corning initially pledged not only to invest $10 billion in the business through research, development, and engineering (RD&E) over that time, but also to return over $10 billion to investors through share repurchases and dividends. But as of its most recent quarterly report last month -- which saw shares pull back slightly from a fresh 52-week high -- Corning had already increased the latter target by 25% to $12.5 billion.
As for the business serving as the subject of this framework, Corning has endured declines in LCD glass pricing that have put pressure on growth in both revenue (up 1% year over year last quarter to $943 million) and core earnings (up 5% to $270 million) from its core display technologies segment. But those price declines continue to moderate and have been offset by solid growth in glass market volume and Corning's successful focus on operational efficiency.
Meanwhile, Corning manufacturing cost and product mix improvements leave the company nicely poised to take advantage of growth in hyper-scale data center sales with its optical communications business, where revenue grew 6% to $795 million and earnings grew38% to $98 million last quarter.
But arguably most exciting is the traction Corning has seen with its specialty materials business. This segment notably fosters the ever-expanding reach of its popular Gorilla Glass line of products, which are not only used by dozens of OEMs to protect their latest mobile devices but also generatedplenty of buzzat this year's Paris Auto Show for the company's new automotive variant.
Over the long term, with the help of the billions of dollars Corning is dedicating to RD&E through its aforementioned capital allocation framework, I suspect the company's reach and industry leadership will only continue to grow. And so, too, will its quarterly dividend payments.
Profiting from an Obamacare exit
Todd Campbell: Healthcare insurers don't get a lot of love, but dividend investors might want to pick up some UnitedHealth Groupshares for portfolios this month ahead of what's likely to be a more profit-friendly 2017.
UnitedHealth Group is the nation's biggest health insurer, and earlier this year, the company announced it's significantly retrenching its exposure to the money-losing Obamacare marketplaces. The company estimates Obamacare plans to be an $850 headwind to its bottom line this year, so the decision to exit the marketplaces should provide solid profit tailwinds in 2017. Additionally, it stands to reason that UnitedHealth thinks it can turn a profit next year in the few Obamacare markets that it's remaining in.
Despite the Obamacare overhang this year, UnitedHealth Group is still delivering robust top- and bottom-line performance, and that suggests any upside to next year will be meaningful. For example, the insurer's sales grew 11.6% to $46.3 billion in Q3, and adjusted EPS grew 23% to $2.17 versus a year ago. Those results prompted management earlier this month to increase its 2016 EPS guidance to $8 from its prior forecast of between $7.80 and $7.95.
Assuming UnitedHealth Group's profit does indeed swing upward, dividend investors should be rewarded with another increase in 2017. UnitedHealth Group's dividend rate has increased steadily over the past five years. Currently, shares are yielding a low but respectable 1.7%.
UNH Dividend data by YCharts.
A dividend train that keeps chugging along
Tyler Crowe: If we were to play a little word association game, I don't really think that many investors would couple "growth" with "railroads." Yet when you look at Canadian National Rail's dividend growth over the past two decades, you'll find a company that has increased its payout at a compounded annual rate of 17%, with room to grow that dividend significantly with its payout ratio of 31%.
There are lots of reasons why the company has been able to accomplish this rather remarkable dividend growth, but the ones that suggest Canadian National can maintain this growth are the company's lean operations and continuous improvement in the metrics that count for the rail industry. Its operating ratio -- the industry's term for operational costs, the lower the better -- sits at a very impressive 58.2, while its U.S. peers average 67.1. Canadian National accomplishes this thanks to incremental gains on train productivity, yard productivity, and average car velocity. So when there are only incremental gains in revenue -- it is a rather slow growth industry, after all -- Canadian National can deliver more of those gains to the bottom line.
Throw in the billions of dollars in free cash flow that keep its debt levels modest (for such a capital-intensive business) and a propensity to buy back loads of stock -- which lowers the total amount cash needed to pay dividends and permits faster dividend growth -- and you get a great investment in an industry that is going to be extremely difficult to upend for decades.
10 stocks we like better than UnitedHealth Group When investing geniuses David and Tom Gardner have a stock tip, it can pay to listen. After all, the newsletter they have run for over a decade, Motley Fool Stock Advisor, has tripled the market.*
David and Tom just revealed what they believe are the ten best stocks for investors to buy right now and UnitedHealth Group wasn't one of them! That's right -- they think these 10 stocks are even better buys.
Click here to learn about these picks!
*Stock Advisor returns as of November 7, 2016
Steve Symington has no position in any stocks mentioned. The Motley Fool owns shares of and recommends Canadian National Railway. The Motley Fool recommends Corning and UnitedHealth Group. Try any of our Foolish newsletter services free for 30 days. We Fools may not all hold the same opinions, but we all believe that considering a diverse range of insights makes us better investors. The Motley Fool has a disclosure policy.