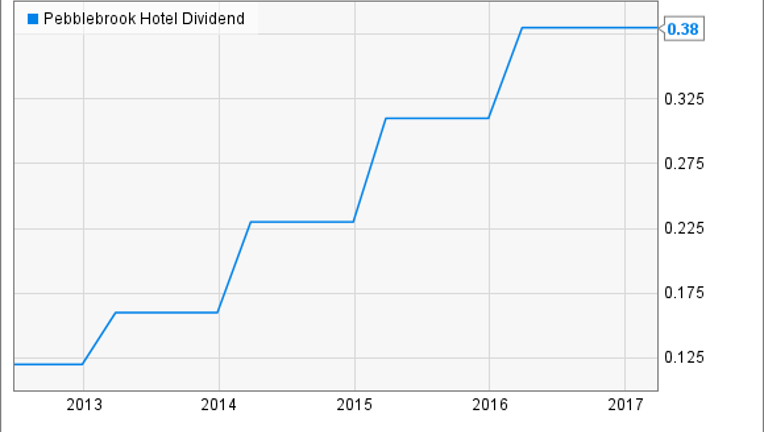 Dividends are a wonderful thing; owning shares of a company that steadily returns cash back to its investors on a regular basis can make for life-changing investments over the long term. But there's something even better: companies that steadilygrowthe size of those dividends.
Our contributors think these three dividend growth stocks are worth buying now: Toymaker giantHasbro, Inc.(NASDAQ: HAS), natural gas an NGL gathering and pipeline leaderONEOK, Inc.(NYSE: OKE), and differentiated real estate investment companyPebblebrook Hotel Trust(NYSE: PEB).
Dividend growth is a wonderful wealth-builder. Image source: Getty Images.
If it's dividend growth you're after, keep reading to learn what makes these three stocks worth buying right now.
A toy maker that's spitting off cash
Brian Stoffel(Hasbro):I don't usually like to offer up stocks that I don't personally own -- as it means more if I have my own skin in the game. But I'm breaking tradition today because there's one very well known company that's pulled off a trifecta for dividend growth investors. That company is Hasbro-- parent company of Playskool, Nerf, and Play-Doh.
When it comes to dividend growth companies, it's all about keeping a keen eye on free cash flow. At the end of the year, it is from free cash flow -- not "profit," which can be massaged with accounting techniques -- that dividends are actually paid. If we look at Hasbro's past four years, we see three things: growing free cash flow, a growing dividend payment, and -- most importantly -- a payout ratio that is shrinking.
A Blueprint for Dividend Growth at HasbroCreate column charts
Data source: Yahoo! Finance, SEC filings
Two years ago, Hasbro used 64% of its free cash flow to pay its dividend. Since then, the dividend has been hiked by 19%, but the payout ratio has dropped all the way down to 40%. That tells me two things: that the dividend is very safe, and if the underlying business continues to perform well, there's lots of room for growth.
While today's yield of just 2.4% might not look appealing, you need to remember that you only pay for the dividend once, but you get to accumulate all of the dividend growth over the years. For instance, an investor who bought shares back in 2008 got an initial yield of 1.9%. But because the payout has grown so much, they now get back a 5% yield on their initial investment. Who knows how much the company will be paying out nine years from now?
There's huge dividend growth in this company's pipeline
JasonHall(ONEOK, Inc.): ONEOK is one of my favorite energy stocks, and the company is set to change in a pretty major way that makes now an attractive time to buy shares.
Image source: OKEOK.
ONEOK has operated as a pure-play investment in the company's master limited partnership,ONEOK Partners LP(NYSE: OKS), in recent years. ONEOK Partners owns all the midstream pipeline and gathering assets, while ONEOK acts as the general partner as well as owning 41% of it, making a living on its incentive distribution rights and dividends from its equity stake. But this is changing in the second quarter, when ONEOK's $17 billion acquisition of the remaining stake of ONEOK Partners is expected to close, and all the assets will become consolidated under ONEOK.
In short, there are a number of big cash-flow benefits this move will bring, which will allow the company to substantially increase its dividend payouts. Management says they expect to increase the dividend 21% after the deal closes, and to be able to increase it at double-digit rates for several years thereafter.This has created a substantial short-term dividend growth opportunity.
Furthermore, the nature of the company's business should help support that dividend for years to come, since the vast majority of cash flows are under fixed long-term contracts and not tied to oil or gas prices. At a current yield of 4.5%, investors could see their yield on cost grow to over 7% within a few years. That's a nearly market-level rate of return just in the dividend that should put ONEOK near the top of every dividend investor's shortlist.
A shrewd hotel operator
Brian Feroldi(Pebblebrook Hotel Trust): While there isn't a lot of value to be found in the S&P 500 these days I still think that income investors can do well by looking at real estate investment trust, orREITs. One REIT that I like a lot over the long haul is Pebblebrook Hotel Trust. Pebblebrook specializes in buying mismanaged upscale hotels for value prices and then uses its expertise to them into cash cows. When an interested buyer comes along Pebblebrook then sells the refurbished hotel for a nice premium and then searches for its next target.
Pebblebrook has been operating this differentiated business model for several years with great success. Over the last five years, the company's adjusted funds from operations (AFFO) have compounded at 22% annually. In turn, management has used its growing stream of profits to reward shareholders by means of an ever-increasing dividend.
PEB Dividend data by YCharts
While Pebblebrook's financial statements have been flourishing for several years the company's stock has actually been stuck in a rut. Shares are down more than 40% from their 2014 highs over concerns that the company's growth engine could be sputtering. Withmanagement calling forAFFO to drop bydouble digitsin 2017, it is understandable why traders are feeling underwhelmed. However, management is projecting falling profits because it has been selling properties and using the proceeds to repay debt and redeem preferred shares. That's likely to be a smart long-term move given that the hotel industry has been red hot.
While the next year or two could be lean if management can't find any attractive assets to buy, over the long term I'd wager that Pebblebrook will continue to run its game plan with great success. With shares offering up a dividend yield of 5.2%, I think there is enough to like about this battle tested company that makes it worthy of a closer look.
10 stocks we like better than Pebblebrook Hotel TrustWhen investing geniuses David and Tom Gardner have a stock tip, it can pay to listen. After all, the newsletter they have run for over a decade, Motley Fool Stock Advisor, has tripled the market.*
David and Tom just revealed what they believe are the 10 best stocks for investors to buy right now... and Pebblebrook Hotel Trust wasn't one of them! That's right -- they think these 10 stocks are even better buys.
Click here to learn about these picks!
*Stock Advisor returns as of April 3, 2017
Brian Feroldi owns shares of Hasbro and ONEOK. Brian Stoffel has no position in any stocks mentioned. Jason Hall owns shares of ONEOK. The Motley Fool owns shares of and recommends Hasbro and ONEOK. The Motley Fool recommends ONEOK Partners and Pebblebrook Hotel Trust. The Motley Fool has a disclosure policy.