3 Financial Stocks You Don't Have to Babysit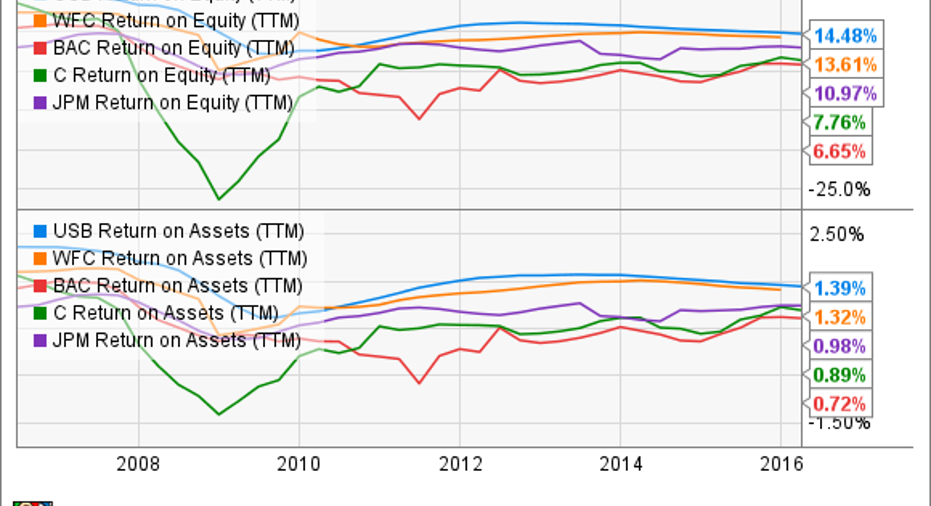 Many investors associate the financial industry with risk, and after the financial crisis and ensuing series of multibillion-dollar legal settlements, who could blame them? However, just like with any other industry, there are high-risk financial stocks as well as low-risk ones. For those who prefer to keep their risk level low, here are three examples of financial stocks you won't have to check every day or even every month to know that your investment is in good shape.
Brian Feroldi:One financial stock that I think is as close to "set it and forget it" as they come isVisa, the global payment giant. The reason I think investors can take a hands-off approach to owning this stock is that the world is shifting toward electronic payment methods, and since Visa owns and operates the largest network in the world, it's positioned extremely well for sustainable, long-term growth.
A glance at the company's recent financial performance confirms that the transition is still well underway. Revenue grew 9% on a currency-neutral basis while total payment volume leapt 12% to $1.3 trillion. Net income jumped by 10% to $1.7 billion, and they advanced by a strong 12% on a per-share basis. Visa has been pumping out great numbers like this for years on end, which speaks to just how well the company is managed.
Its near-term prospects are looking bright as well. Visa is in the process of reacquiring its European business, which, once completed, will be a major catalyst to its top-line growth. It is also rapidly investing to build out itspresence emerging markets like China, which is another enormous growth opportunity.
If you're still not convinced that this company has a bright future, consider this amazing fact: While credit and debit cards have been available for decades, more than 85% of transactions worldwide still take place with cash and check. Since electronic payments are easy, cheap, and secured, I think that more and more consumers and businesses around the world will warm up to electronic payments as the infrastructure is created.
Add it all up and I think that Visa is capable of growing at above-average rates for decades to come, which makes this is a great financial stock to buy and hold for the ultra long term.
: Markel Corporation is an exemplary financial stock you don't have to check on every few hours. It starts with its management, includes the culture that management has instilled in the company, and ends with the way management and the culture driving its operations.
Markel's core business is insurance and reinsurance. While many insurers either barely break even or even lose money on their insurance underwriting, and only make money on their investment of the "float" they hold for claim payments, Markel's track record of conservative underwriting has led the company to consistently make an underwriting profit. In 2015, the company's 89% combined ratio (lower than 100% reflects an underwriting profit) was a continuation of this history, and the best in at least three years.
Second, Markel -- under the investing leadership of co-CEO and longtime Chief Investing Officer Tom Gayner -- has done an extraordinary job of using its operating profit and float to generate even more long-term value. Gayner has proven to be a great stock picker, and under his tenure, Markel's stock portfolio has regularly outperformed theS&P 500. The company's Markel Ventures operation -- which acquires and integrates entire businesses as subsidiaries of Markel -- has also begun producing meaningful results for the company, generating $1 billion in revenue and $91 million in EBITDA in 2015, both up more than 10% from the year before.
Bottom line: Markel may not become the nextBerkshire Hathaway, but it has a lot in common with it beyond just its operations and strategy. It has amazing leadership, strong operations, and a culture that are likely to keep things that way for many years to come. It's definitely the kind of financial stock you can buy and not worry over.
Matt Frankel: U.S. Bancorp trades at a significant premium to the Big Four banks. In fact, its price-to-book (P/B) of 1.8 is more than twice that of Citigroup and Bank of America, and is even greater than Wells Fargo's, itself considered a rock-solid bank. However, there's a good reason for it -- the bank has a history of smart risk management and best-in-breed profitability year after year.
Just take a look at U.S. Bancorp's return on equity (ROE) and return on assets (ROA) history (the blue line in the chart below). No matter what was going on in the economy or banking industry, U.S. Bancorp simply outperforms its peers.
The bank also manages to earn a higher net interest margin than peers, even in this difficult environment of persistent low interest rates.
| Bank | Net Interest Margin (Q1 2016) |
| --- | --- |
| U.S. Bancorp | 3.08% |
| Wells Fargo | 2.90% |
| Bank of America | 2.31% |
| Citigroup | 2.92% |
U.S. Bancorp delivers strong profitability while continuing to grow at an impressive pace. During the first quarter of 2016, the bank's loan portfolio grew by 5.8% year over year, including 10.2% growth in commercial lending, and deposits grew by 6.3%.
In a nutshell, it's tough to match U.S. Bancorp's combination of safety, profitability, and growth potential elsewhere in the banking industry.
The article 3 Financial Stocks You Don't Have to Babysit originally appeared on Fool.com.
Brian Feroldi owns shares of Visa. Jason Hall owns shares of Bank of America, Markel, and Wells Fargo. Matthew Frankel owns shares of Bank of America. The Motley Fool owns shares of and recommends Markel, Visa, and Wells Fargo. The Motley Fool has the following options: short May 2016 $52 puts on Wells Fargo. The Motley Fool recommends Bank of America. Try any of our Foolish newsletter services free for 30 days. We Fools may not all hold the same opinions, but we all believe that considering a diverse range of insights makes us better investors. The Motley Fool has a disclosure policy.
Copyright 1995 - 2016 The Motley Fool, LLC. All rights reserved. The Motley Fool has a disclosure policy.