3 Examples of the Potential in IBM's Watson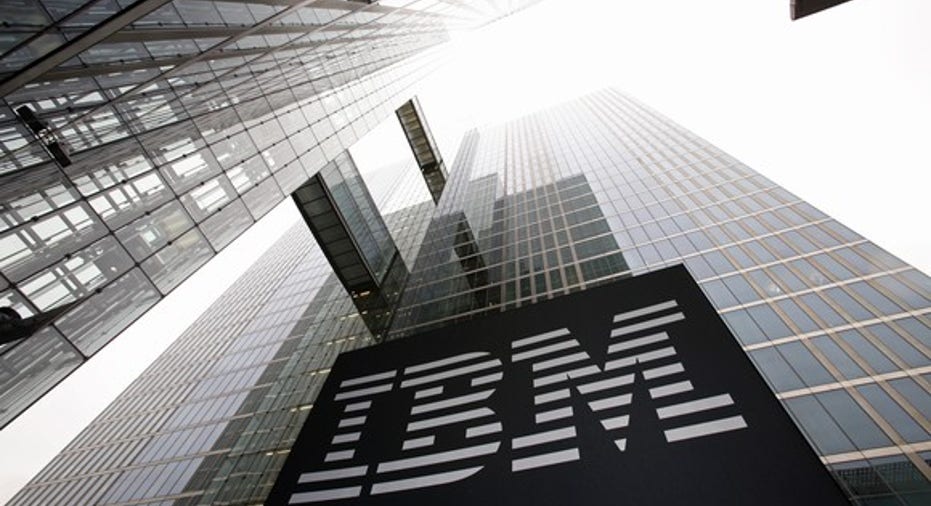 The face of International Business Machines' (NYSE: IBM) transformation is Watson. Bursting onto the scene in 2011 by winning a game of Jeopardy!, IBM's cognitive computing system is now being used in a wide variety of industries to boost efficiency and cut costs. The company predicts that 1 billion people will use Watson, either directly or indirectly, by the end of 2017.
There have been many Watson-related deals and partnerships announced in recent months, and the pace seems to be accelerating. Here are three ways Watson is being used today that speaks volumes about its future potential.
Image source: IBM.
Tax preparation
Watson is well suited for applications that involve a large amount of unstructured data. There are 74,000 pages in the federal tax code and thousands of changes each year, making the tax preparation industry ripe for an injection of IBM's flavor of artificial intelligence (AI).
IBM announced on Feb. 1 that it had teamed up with tax preparation company H&R Block to bring Watson into the world of 1040s and W-2s. Watson has already been trained and validated, and is being used by some of H&R Block's tax professionals at locations across the country to ensure that no deduction is missed. The rollout is expected to continue over the next few years as Watson improves with more data.
IBM made a big push into financial services last year with its acquisition of Promontory Financial Group, a risk management and regulatory compliance consulting firm. As with tax prep, the financial regulatory landscape involves a massive amount of unstructured data -- 300 million pages by 2020, according to IBM. With over 10% of operational spending at major banks going toward compliance, Watson has the potential to make the industry far more efficient.
The H&R Block deal is small on its own, but it represents a new application for Watson and a stepping stone into other areas in the financial services industry.
Smart elevators
IBM struck a deal with KONE, an elevator and escalator company, last year to provide cloud-based Internet of Things services. KONE manages millions of elevators and escalators worldwide, which produce vast amounts of data from embedded sensors. That data is now sent to IBM's cloud, where Watson churns through it and helps predict problems before they become outages.
You can watch the conversation between a few of KONE's elevators and the IBM cloud on KONE's website. Here's one in Illinois. It gives a good idea of the kind of information that's exchanged. Temperature, humidity, landing accuracy, speed, the length of time the door was open, and the amount of bounce upon arriving at a floor are all measured and sent to Watson for analysis. Anything out of the ordinary can be checked out before it escalates into a more serious problem.
It's not hard to imagine Watson being used to monitor all kinds of equipment beyond elevators, reducing maintenance costs and downtime. I suspect that the KONE elevator deal is just the beginning.
Customer support
IBM's vast customer base gives the company a major advantage as it transforms itself into a cloud and cognitive computing company. More than 225 local and state governments use IBM's mainframes to support various government functions, and those relationships that IBM has built over decades give the company an edge.
IBM recently won a $24 million contract to revamp New York City's 311 service using Watson. The company will build a new system supporting multiple communications channels, with Watson helping callers get exactly the information that they need. The system will replace a 15-year-old Oracle system that was originally designed to handle only phone calls and requires $1.5 million of maintenance spending each year.
Watson could potentially augment any customer support system, providing relevant answers, saving customers time, and lowering costs. Like the two deals above, the NYC 311 deal is small in the grand scheme of things. But it provides a glimpse of the future potential of IBM's cognitive computing system.
10 stocks we like better than IBMWhen investing geniuses David and Tom Gardner have a stock tip, it can pay to listen. After all, the newsletter they have run for over a decade, Motley Fool Stock Advisor, has tripled the market.*
David and Tom just revealed what they believe are the 10 best stocks for investors to buy right now... and IBM wasn't one of them! That's right -- they think these 10 stocks are even better buys.
Click here to learn about these picks!
*Stock Advisor returns as of February 6, 2017
Timothy Green owns shares of IBM. The Motley Fool owns shares of Oracle. The Motley Fool has a disclosure policy.