3 Emerging Biotech Stocks I'm Watching Like a Hawk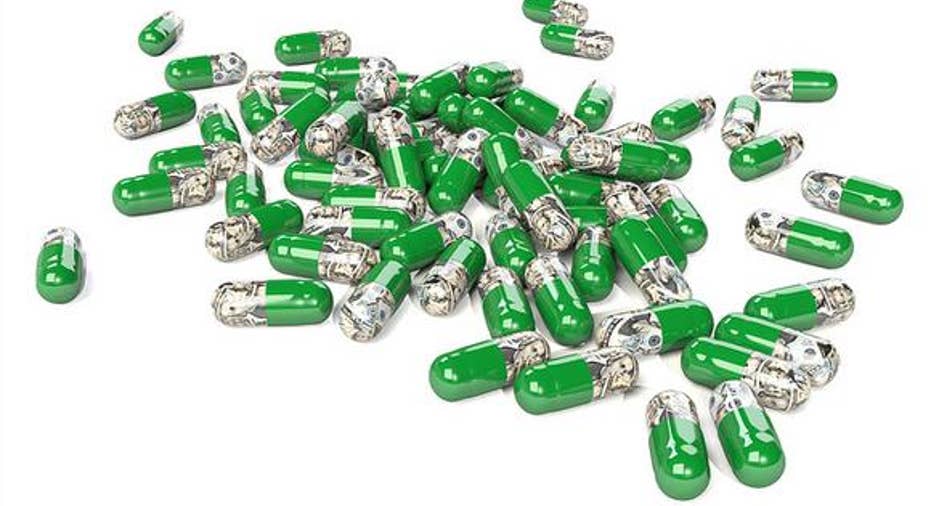 SOURCE: FLICKR USER STOCKMONKEYS.COM.
Needle-moving news could soon hit for three small-cap biotech stocks. If investors aren't paying attention, they could miss out on an opportunity. Specifically, the FDA is set to decide whether to approve Insys Therapeutics' oral Marinol on April 1, EU regulators could soon give a go-no-go decision on Amicus Therapeutics' Galafold, and Portola Pharmaceuticals could release phase 3 data for its highly anticipated factor Xa anticoagulant.
Will these events move these stocks significantly higher or lower? Let's take a closer look.
New and improvedMarinol, a medicine derived from the marijuana cannabinoid THC, has been on the market since the 1980s, and it's used to treat nausea and vomiting in chemotherapy patients, and anorexia in AIDS patients. Although the marinol market is mature and dominated by low-cost generics, it's still valued at $200 million annually, and growing.
In order to tap into that market, Insys Therapeutics has developed a liquid formulation of marinol that it believes works more effectively. Specifically, Insys Therapeutics' formulation, which will be sold as Syndros, if approved, works more quickly, and offers more consistent bioavailability than its predecessor.
The FDA is set to make its decision on Syndros on April 1, and if given the green light, it will diversify Insys Therapeutics beyond its opioid pain medication, Subsys. Although Subsys generated $331 million in sales last year, up 49% from 2014, investigations into improper off-label marketing have weighed on Insys Therapeutics' stock price. Because of the Subsys overhang, an FDA rejection would probably result in a bigger move downward than an approval would cause shares to pop higher. Nevertheless, this could be an important drug for the company, so investors should be paying attention.
SOURCE: AMICUS THERAPEUTICS.
An entirely new treatment for a rare diseaseAmicus Therapeutics' shares fell sharply last year on news that management was tossing aside its timeline to file for approval of its Fabry disease therapy Galafold in the United States. However, an application for Galafold's approval was submitted to EU regulators last year, and a decision could come at their next meeting, which is scheduled for March 29 through March 31.
If approved, Galafold will join Shire's Replagel and Sanofi's Fabrazyme as potential treatment options for this disease, which is caused by a missing enzyme. While Replagel and Fabrazyme treat Fabry disease by replacing the missing enzyme, Galafold works differently. In patients who still produce some of the necessary enzyme, Galafold helps those enzymes work more effectively.
Because Galafold has a different mechanism of action than these two other drugs, it could potentially be prescribed in concert with, rather than instead of, them. However, demand for Galafold will be more limited than Replagel and Fabrazyme because less than half of Fabry disease patients will be amenable to it.
Nevertheless, since Replagel and Fabrazyme haul in roughly $900 million in combined annual sales, an approval in Europe could provide a nice boost to Amicus Therapeutics, which boasts a market cap of $982 million. However, if EU regulators balk, then Amicus Therapeutics' shares could fall dramatically.
Targeting a blockbusterPortola Pharmaceuticals is best known for collaborating with Johnson & Johnson, Bristol-Myers Squibb, and Pfizer on a drug that can be used in an emergency to reverse the effects of their factor Xa anticoagulant drugs, Xarelto and Eliquis. An FDA decision on Portola's antidote is expected later this year, but it's trial data, which could come in April, that's currently got my attention.
Portola expects to release results next month from a trial that's comparing its factor Xa anticoagulant, betrixaban, head-to-head against Lovenox. If betrixaban outperforms Lovenox, then Portola could have a billion-dollar blockbuster drug on its hands. Prior to losing patent protection, Lovenox sales were eclipsing $3 billion annually.
If betrixaban fails to pan out, Portola's reversal agent means investors won't be left empty-handed. However, if betrixaban succeeds, then this company can become far-more valuable than it is today.
The article 3 Emerging Biotech Stocks I'm Watching Like a Hawk originally appeared on Fool.com.
Todd Campbell owns shares of Amicus Therapeutics,, INSYS THERAPEUTICS INC, and PORTOLA PHARMACEUTICALS INC COM USD0.001. Todd owns E.B. Capital Markets, LLC. E.B. Capital's clients may have positions in the companies mentioned. The Motley Fool recommends Johnson & Johnson. Try any of our Foolish newsletter services free for 30 days. We Fools may not all hold the same opinions, but we all believe that considering a diverse range of insights makes us better investors. The Motley Fool has a disclosure policy.
Copyright 1995 - 2016 The Motley Fool, LLC. All rights reserved. The Motley Fool has a disclosure policy.