3 Drugmakers With Boatloads of Cash to Spend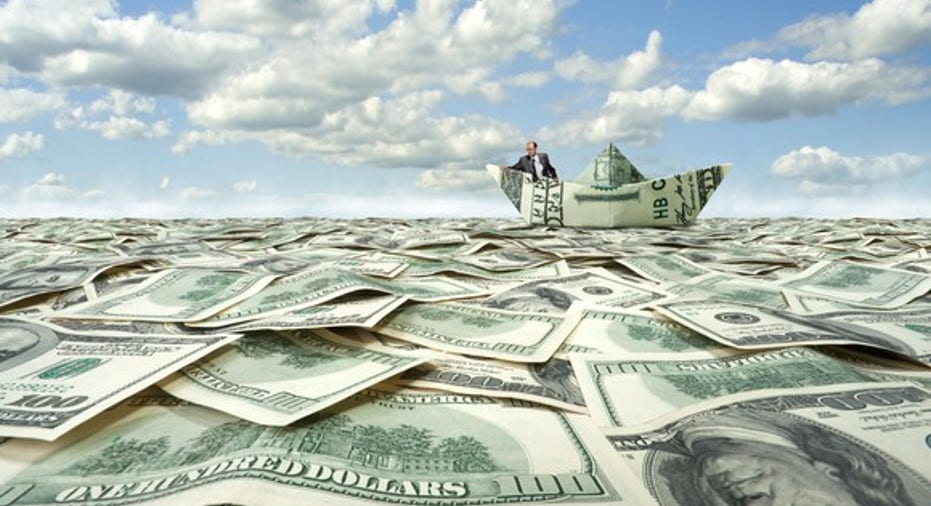 Which biopharmaceutical companies are sitting on the largest cash stockpiles? Identifying two of the most cash-rich drugmakers is easy, but there's a catch with one of them.
Johnson & Johnson (NYSE: JNJ), Amgen(NASDAQ: AMGN), and Gilead Sciences (NASDAQ: GILD) claimed the most cash (including cash, cash equivalents, and marketable securities) on hand at the end of 2016. But one of those companies will likely soon drop off the ranking, with Pfizer (NYSE: PFE) taking its place. Here are the three drugmakers with boatloads of cash -- and how they might spend some of it.
Image source: Getty Images.
Johnson & Johnson: About to write a huge check
As of Dec. 31, 2016, Johnson & Johnson had a whopping $41.9 billion in cash -- more than any other drugmaker. To put that amount in perspective, consider that there are only 14 other biopharmaceutical stocks with market caps above that level.
However, J&J's top ranking probably won't last much longer. The company announced in January that it planned to acquire Actelionfor $30 billion in cash. This deal is expected to close by the end of the second quarter of 2017.
That's a huge check to write, but Johnson & Johnson won't be exactly impoverished after buying Actelion. The company generated operating cash flow totaling $18.8 billion last year. Even after paying a nice dividend and buying back nearly $9 billion in stock, J&J added more than $5.2 billion to its cash position in 2016.
Investors shouldn't have to worry for a second about the company's long streak of hiking its dividend ending. However, another major acquisition seems unlikely for the immediate future as J&J assimilates Actelion.
Amgen: Moving into first place
Amgen appears to be poised to take Johnson & Johnson's No. 1 spot later this year. The big biotech reported nearly $38.1 billion in cash at the end of 2016.
How might Amgen use that nice pile of cash? The company seems likely to continue its pattern of annual dividend increases. Amgen's yield currently stands at 2.8%. The biotech also spent almost $3 billion in 2016 repurchasing shares and still has another $4.1 billion remaining on its approved stock buyback program.
Don't be surprised if Amgen uses some of its cash to make acquisitions in 2017. During the company's fourth-quarter earnings conference call, CEO Robert Bradway indicated that the biotech has plenty of flexibility in its balance sheet to fund big or small transactions.
My guess is that a deal could come sooner rather than later. Sales are sluggish for several of Amgen's top-selling products, including bone marrow stimulant Neulasta and Neupogen and anemia drug Epogen. Amgen seems likely to beef up its portfolio to offset these declines, although I doubt the company will attempt an acquisition as big as J&J's buyout of Actelion.
Gilead Sciences: Bet on a buyout
Coming in second (or third, if you include Johnson & Johnson) is Gilead Sciences. Gilead's cash stockpile stood at nearly $32.4 billion as of Dec. 31, 2016. It's no doubt bigger now with the company's tremendous cash flow.
Like J&J and Amgen, Gilead pays a nice dividend that has steadily increased. Its yield currently stands at just over 3%. Also like the other two drugmakers, Gilead has bought back plenty of stock -- $11 billion worth in 2016.
However, while Gilead seems set to keep the dividend hikes rolling, the company expects to sharply curtail stock repurchases. CEO John Milligan recently stated that he doesn't think further stock buybacks will "change the narrative" for the biotech's stock. Instead, Gilead's management team has said that acquisitions are a top priority for 2017.
Smaller biotechs specializing in oncology appear to be the most likely buyout candidates for Gilead. However, Milligan hasn't limited potential acquisitions to only the oncology space. Expect a large transaction (or several smaller deals that add up to a large amount). Gilead needs a big boost to offset declining hepatitis C franchise sales.
Pfizer: Stepping up
Thanks to Johnson & Johnson's pending acquisition, Pfizer can step up to take the No. 3 spot for drugmakers with the most cash. Pfizer reported a cash position at the end of last year of nearly $17.9 billion.
Where might Pfizer spend some of its money? The company claims one of the better dividends in all of healthcare, with a yield of nearly 3.8%. Expect Pfizer to increase its dividend further, with CFO Frank D'Amelio stating earlier this year that the company "is an important part to our investing thesis."
Pfizer also is poised to buy back more shares. In 2016, the company repurchased $5 billion of its stock. Pfizer entered into an accelerated share repurchase agreement with Citibank in February to repurchase$5 billionof its stock.
After several big buyouts in recent years, including Hospira, Medivation, and Anacor, you might think that Pfizer could slow down on the acquisition front. That's not likely to happen. Frank D'Amelio has said that the company is looking for acquisitions that can grow top-line revenue either "now or soon."
Biggest bang for the buck
Which of these drugmakers could make the biggest difference by a smart use of cash? I'd say Gilead Sciences.
Investors in general view the big biotech with a lot of negativity -- much more so than any of the others, in my view. If Gilead makes the right deal or two (or more), the outlook for this once high-flyer could improve significantly.
Find out why Gilead Sciences is one of the 10 best stocks to buy now
Motley Fool co-founders Tom and David Gardner have spent more than a decade beating the market. (In fact, the newsletter they run, Motley Fool Stock Advisor, has tripled the market!*)
Tom and David just revealed their ten top stock picks for investors to buy right now. Gilead Sciences is on the list -- but there are nine others you may be overlooking.
Click here to get access to the full list!
*Stock Advisor returns as of February 6, 2017
Keith Speights owns shares of Gilead Sciences and Pfizer. The Motley Fool owns shares of and recommends Gilead Sciences and Johnson and Johnson. The Motley Fool has the following options: short June 2017 $70 calls on Gilead Sciences. The Motley Fool has a disclosure policy.