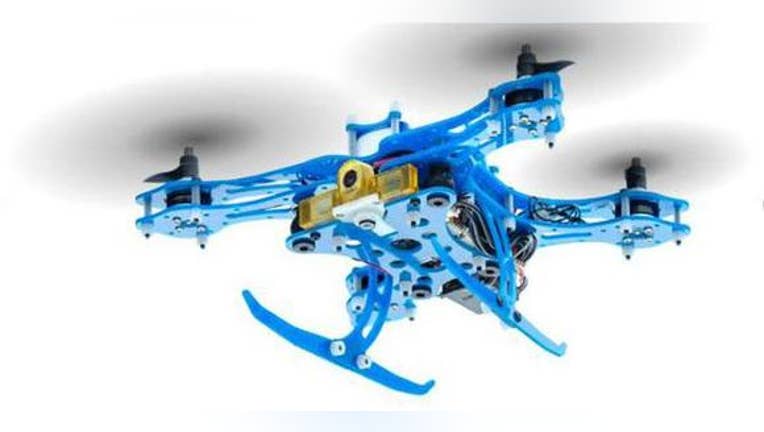 DJI Innovations , the largest drone maker in the world, expects to double its annual revenue to $1 billion this year. Unfortunately, mainstream investors can't profit from DJI's growth since the company is privately held. However, U.S. investors who are interested in drones should follow three other companies which could profit from the market's growth.
DJI's Phantom 3 Professional. Source: DJI.
AmbarellaAmbarella is best known for producing image application chips for GoPro's action cameras, which account for about a third ofits sales. However, the company also makes chips for security cameras, automotive dash cameras, and drones.
Several top drone makers, including DJI, use Ambarella's chips. During its second quarter conference call, Ambarella stated that over 10% of its revenue came from drone makers. Earlier this year, Canaccord Genuity analyst Matthew Ramsay estimatedthat Ambarella's sales of chips for drones could hit $50 million in fiscal 2017 (starting in Feb. 2016), which would account for 14% of its projected sales for the year.
Ambarella sounds like a promising way to invest in the drone market, but the stock has fallen more than 50% over the past six months due to its dependence on GoPro. GoPro's newest premium camera, the Session, flopped due to its high price tag, and the company expects its holiday quarter sales to fall 17% annually due to a lack of new flagship devices. Despite softness in that core market, analysts still expect Ambarella's fiscal 2016 sales to rise 44.5%.
GoProGoPro's stock has fallen 70% over the past year due to its action camera woes. But in the first half of 2016, the company will launch Karma, its first drone. GoPro has only revealed a single promotional video filmed with the drone so far, and hasn't revealed details regarding its hardware or pricing.
Back in May, Dougherty & Co. analyst Charles Anderson estimated that the addressable market for drones could be worth about $1.9 billion next year. Anderson estimated that if GoPro's drone can claim 25% of that market with 30% incremental margins, it would generate $475 million in annual revenues for GoPro and add $0.70 per share to its fiscal 2016 earnings. For reference, analysts currently expect GoPro to report $1.69 billion in revenue and $1.17 in earnings for fiscal 2015. Anderson believes that his numbers could be "conservative", and that GoPro's brand recognition could "act as a multiplier for demand" and expand the entire market.
That forecast sounds rosy, but investors shouldn't get too excited until GoPro actually unveils the product. If GoPro's drone fails to provide standout features or runs into the same pricing and marketing issues which plagued the Session, it could fall short of Anderson's estimates.
QualcommAnother beaten down company seeking growth in the drone market is Qualcomm , the world's largest mobile chip maker. Qualcomm's chipmaking business, which generated two-thirds of its non-GAAP revenue and 16% of its pre-tax earnings last quarter, has been losing ground to rivals in both the high-end and low-end mobile markets. Earlier this year, Samsung replaced its application processors and wireless modems with its own silicon in its flagship devices. Meanwhile, Taiwanese rival MediaTek has steadily stolen market share from Qualcomm in both product categories with cheaper chips.
To diversify away from the saturated smartphone and tablet markets, Qualcomm unveiled Snapdragon Flight, a reference design for drones, in September. The design combines Qualcomm's Snapdragon processor with wireless radios and a depth-sensing camera as an all-in-one solution for OEMs. This system is expected to lower drone production costs and make it easier for drones to fly autonomously. Chinese drone maker Yuneec, one of DJI's rivals, will release a drone based on Snapdragon Flight next year.
Qualcomm's Snapdragon Flight reference drone.. Source: Qualcomm.
Qualcomm's entry into the drone SoC market spooked Ambarella investors, but some analysts believe that those fears are overblown. Stifel Nicolaus analyst Kevin Cassidy believes thatQualcomm's SoC will likely replace "the 4 to 5 microcontrollers used in controlling drones rather than Ambarella's video processor". Therefore, there might be room for Ambarella and Qualcomm to coexist without competing in the drone supply chain.
The key takeawayAmbarella, GoPro, and Qualcomm will all benefit from the growth of the drone market. However, that growth won't solve Ambarella's dependence on GoPro, GoPro's execution problems, or Qualcomm's mobile chip woes overnight. Therefore, investors should keep a close eye on these stocks, but maintain realistic expectations about the "halo effect" of the drone market.
The article 3 Drone Stocks To Watch in 2016 originally appeared on Fool.com.
Leo Sun owns shares of GoPro and Qualcomm. The Motley Fool owns shares of and recommends Ambarella, GoPro, and Qualcomm. Try any of our Foolish newsletter services free for 30 days. We Fools may not all hold the same opinions, but we all believe that considering a diverse range of insights makes us better investors. The Motley Fool has a disclosure policy.
Copyright 1995 - 2015 The Motley Fool, LLC. All rights reserved. The Motley Fool has a disclosure policy.