3 Digital Health Companies Poised for Sizzling Growth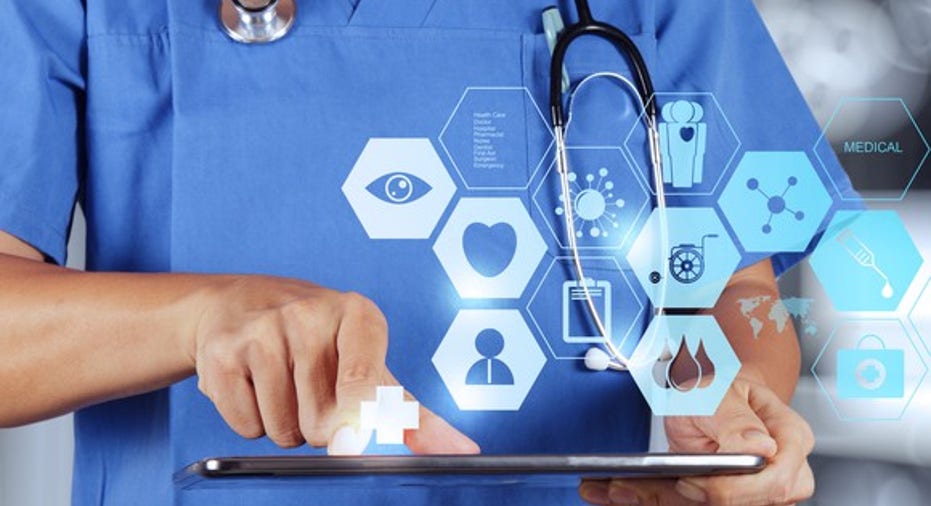 The digital health industry includes many Silicon Valley start-ups specializing in biomedical and medical solutions, mobile health, and virtual care. Some of the best and most promising companies, like Proteus Digital Health, aren't yet publicly traded, but these three stocks could be especially promising investing options.
Data source: Yahoo! Finance.
Why do Wall Street analysts have such great expectations forCastlight Health (NYSE: CSLT), Evolent Health (NYSE: EVH), and Tabula Rasa Healthcare (NASDAQ: TRHC)? Here's why these three digital health companies appear to be poised for sizzling growth over the next few years.
Image source: Getty Images.
Castlight Health: Reducing inefficiencies in healthcare spending
Castlight provides ahealth benefits platform that helps employees make better health decisions, and enables employers to communicate and measure their benefit programs. The company combinesbig data analytics, software and services delivery models, and consumer-oriented web and mobile products with the goal of reducing waste and inefficiencies in employers' healthcare spending.
Although Castlight isn't yet profitable, its revenue and gross profit have grown quickly after its initial public offering (IPO) in 2014. Castlight is on track to be breakeven on a cash flow basis by the end of 2018. That projection includes the impact of the company's acquisition earlier this year of Jiff, which markets anenterprise benefits platform that allows employees to choose from over 50 pre-integrated services.
Castlight's growth strategy relies on being able to improve several key problems that current result in poor health decisions and over-spending for healthcare. Its research has found that 73% of employees don't fully understand their health benefits, and that employees can sometimes pay up to 10 times more than other employees for the same service. The company has already attracted more than 240 employers as customers, including Walmart.
Evolent Health: Providing tools for the shift to value-based healthcare
Evolent Health completed its IPO in 2015 but was founded in 2011. The company is a pioneer in using digital health technologies toenable health systems to succeed in value-based payment models. Evolent's products include technology platforms for managing care workflows, patient engagement, population health, and financials.
The company's adjusted revenue has grown at a compounded annual growth rate of 138% over the last five years.Evolent made several strategic acquisitions last year that should drive revenue even higher. The largest of these acquisitions was the purchase in October 2016 ofValence Health, which providesvalue-based administration, population health, and advisory services.
Evolent's bottom line is improving as the company grows revenue. That growth should continue thanks to a continued transformation of the nation's healthcare system from a fee-for-service model to an outcomes-based, value-based payment model.
Tabula Rasa Healthcare: Picking up the PACE
Tabula Rasa Healthcare is a healthcare technology company focused on decreasingmedication-related risk, reducing adverse drug events, enhancing compliance and quality of care, and improving medication outcomes. The company was founded in 2011 and completed its IPO in October 2016.
Like Castlight and Evolent, Tabula Rasa isn't profitable, but it is on the right track. Its revenue grew 94% from 2014 to 2016. The company's adjusted EBITDA soared 359% during the same period. By the end of 2016, Tabula Rasa claimed 133 customers focusedon populations with complex healthcare needs and extensive medication requirements. These customers include healthcare organizations, Medicare managed care plans, self-insured employers, and post-acute care providers.
Tabula Rasa Healthcare's growth strategy consists of three core initiatives. The company intends to attract new customers in its current largest market,Program of All-Inclusive Care for the Elderly (PACE). PACE is a Medicare/Medicaid program thatprovides medical and social services to elderly individuals. Tabula Rasa is also looking for strategic acquisitions that would allow it to enter new markets, and it is continuing to develop new technologies and services.
10 stocks we like better than Castlight HealthWhen investing geniuses David and Tom Gardner have a stock tip, it can pay to listen. After all, the newsletter they have run for over a decade, Motley Fool Stock Advisor, has tripled the market.*
David and Tom just revealed what they believe are the 10 best stocks for investors to buy right now...and Castlight Health wasn't one of them! That's right -- they think these 10 stocks are even better buys.
Click here to learn about these picks!
*Stock Advisor returns as of May 1, 2017.
Keith Speights has no position in any stocks mentioned. The Motley Fool has no position in any of the stocks mentioned. The Motley Fool has a disclosure policy.